<! cd = 03/30/12 > <! MP3 03/30/12 > <! pix 03/30/12 > <! ALLBM 03/30/12 > <! icons 03/30/12 > <! UPDATES: 03/30/12 - added >

---
Brazilian songwriter Joao Do Vale rose to fame as the composer of several anthemic, politically-charged "folk" songs that were part of the theatrical show Opinao, a production that also made singers Nara Leao and Maria Bethania into national stars. Do Vale's music encompassed samba, forro and other popular styles, and several of his songs became part of the MPB canon. Here's a quick look at his work...
---
Discography
---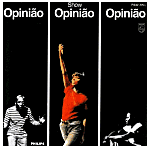 Nara Leao "O Show Do Opinao - Ao Vivo" (Philips, 1965)


An actual cast recording of the famed political theatre show... This disc includes the original stage dialog along with songs by Joao Do Vale, Ze Keti, Sergio Ricardo and others, as well as ironic renditions of "Guantanamera" and Brazil's national anthem. The show was a broadside at the military junta that took power in 1964 (and stayed in power until the 1980s), and was the first volley in a long war between Brazil's artistic Left and the government censors who would hound various musicians, authors and filmmakers in years to come. Both Do Vale and Keti perform on here, along with Leao, and the rapport and good humor they share with their audience are readily apparent. One mild complaint: as with many of these live "show" recordings, this CD reissue is programmed as one long track, rather than being indexed so that you can select individual songs. Oh, well. Maybe not the most pretty of Leao's albums, but still a very cool cultural document.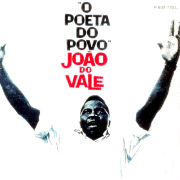 Joao Do Vale "O Poeta Do Povo" (Philips, 1965)
Rough-hewn acoustic samba music, with a distinct folkie feel, similar to Dorival Caymmi's work of the late 1950s... Do Vale and his songwriting partner Ze Keti became famous as standard-bearers of authentic "people's" culture during the politicization of the early 1960s bossa nova scene. The prole-y political posturing, along with the stentorian delivery, make this album a little less fun than it might otherwise be, but it's still pretty neat, and certainly a document of its times. I'm not sure who the backing musicians are, but overall this is a nice samba set, though perhaps not as sensuous or alluring as other albums in the style.
Joao Do Vale "Convida" (1981)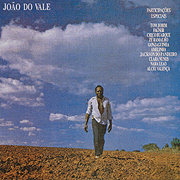 Joao Do Vale "Joao Do Vale" (Columbia, 1981)
(Produced by Chico Buarque)
Composer Joao Do Vale had huge commercial success in the early 'Sixties with his politically-oriented songs on various "shows" and theatre pieces, but for whatever reasons, he rarely recorded on his own, and this disc was only the second of three albums he completed within his lifetime. Although it starts off on shaky ground, with an overly saccharine MPB arrangement (to "Na Asa Do Vento"), this album quickly settles into more comfortable, classy terrain. Working with the top of Northeastern Brazil's pop crop -- Ze Ramalho, Jackson Do Pandeiro, Luiz Gonzaga Jr., Alceu Valenca -- and other luminaries such as Chico Buarque (who co-produced the album), Tom Jobim, Nara Leao and Clara Nunes -- Do Vale gets a nice cohesive sound out of an all-star cast. May be a bit mushy for some, but there was certainly much worse to be heard in MPB at this time. Worth checking out.
---
Tributes
---
Tiao Carvalho "...Canta Joao Do Vale" (Atracao, 2006) <! 2010? >



Various Artists "JOAO BATISTA DO VALE" (RCA, 1995)


(Produced by Chico Buarque, Sergio Carvalho & Jose Milton)
A nice all-star homage, organized by Chico Buarque, who kicks things off with a swank version of "Minha Historia" and is joined by other MPB luminaries: Alcione, Geraldo Azevedo, Maria Bethania, Joao Bosco, Paulinho da Viola, Raimundo Fagner, Edu Lobo and many others. The performances are uniformly solid (though at times a bit sedate) with Do Vale's forro roots weaving in and out in song after song. I'm not sure if all the songs on here were made specially for this compilation, or if some were taken from individual artists' albums. A nice spin on some great old songs.
---
Links
---
---



---