<! cd=12/05/04 > <! MP3 09/12/08, 11/27/09, 01/28/11, 03/21/12 > <! update 09/12/08, 11/27/09, 01/28/11 > <! pix 11/16/09 > <! icons 01/28/11 >

---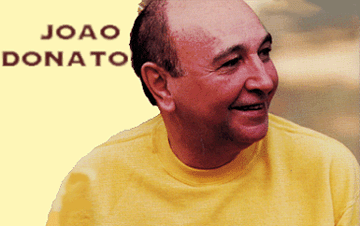 Pianist/composer/arranger Joao Donato was already an established figure on the Rio De Janeiro jazz scene when the bossa nova sound bubbled up in the late '50s... He recorded his first solo work in 1952, and was an early supporter of Joao Gilberto, the singer-guitarist who would revolutionize Brazilian music by the decade's end. Donato, however, found the nightclub scene conservative and unforgiving of innovation; with his career ground to a halt, in 1959 he emigrated to the United States, where he soon became a popular and prolific sideman for numerous jazz sessions. Somewhat of a recluse, Donato recorded sparingly over the decades, often returing to Brazil to recapture his muse. Here's a quick look at his career...
---
Discography
---
Joao Donato "Cha Dancante" (Odeon, 1956)


Joao Donato "Muito A Vontade" (Polydor, 1962)


Early work by the much-vaunted bossa pianist Joao Donato, backed here by bassist Tiao Neto, drummer Milton Banana and percussionist Amaury Rodrigues. While these performances are arguably of a higher calibre that many of their "piano trio" contemporaries (Tamba Trio, Zimbo Trio, etc.), it's still not a very rewarding style. I enjoy the percussion when it's allowed to come to the fore, but Donato's approach to the piano, like that of many of these early jazz-based bossa bands, is too punchy and rushed. There's little room for harmonic explorations or quietude; other than on a couple of tunes, it's all too hyper and plinka-plinka-plinka. Still, I suppose anyone who wants to check out this phase in Brazilian popular music would find this album more rewarding than most... The compositional approach and cohesion of the ensemble is notably stronger than their lounge band competitors. Plus, the album art is pretty cool.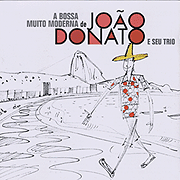 Joao Donato "A Bossa Muito A Moderna" (Polydor, 1963)


A fine instrumental album -- breezy, unchallenging, but with a lightness and lilt that set it apart from many of the rattletrap jazz performances of many contemporary Brazilian bands. This is actually quite pleasant, an album I plan to hang onto for a while.
Joao Donato/Rosinha/Bud Shank "Bud Shank/Joao Donato/Rosinha" (Elenco, 1965)


Joao Donato "The New Sound Of Brazil" (RCA, 1965)


Yawn. Kitschy Brazilian easy listening, recorded in New York with the assistance of Claus Ogerman and his stable of tame jazz cats. Lots of folks consider this album to be a classic, but I think stuff like this is just plain boring. Some cool Brazilians such as Carlos Lyra, Luiz Bonfa and Dom Um Romao pitch in, but it's still not my cup of tea.
Joao Donato & Eumir Deodato "Donato Deodato" (Muse, 1969)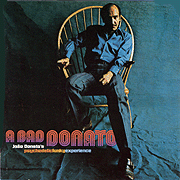 Joao Donato "A Bad Donato" (Blue Thumb, 1970)


It's such a great album title, but such a spazzy album. Working deep in the heart of the LA studio system, Joao Donato teams up again with fellow pianist/arranger Eumir Deodato gets all funky and fusion-y on this high-test set, which features a slew of well-known heavyweight players such as Oscar Castro-Neves, Bud Shank, Joe Porcaro and Ernie Watts backing Donato as he gets all dit-dit-dit and doot-doot-doot, jamming hard on the electric keyboards. Many consider this a fusion masterpiece, but it's hard for me to get on board, maybe because I don't like fusion jazz that much to begin with... At any rate, the big, thumping beat of Dom Um Romao's drums is kind of exciting, but beyond that, this disc is a combination of standard-issue fusion/loungecore tropes and overly-energetic keyboard work by Donato that ranks among the least nuanced work he's ever done, about as subtle as a pile of bricks dropped on your big toe. It's a muscular, forceful performance that bashes at the ears, kind of like Walter Wanderley on acid... It was, looking back, ahead of its time in some ways, but it was also an obvious bridge between the kitschier lounge music of he 'Sixties and the aggressive rock-jazz mixes of the 'Seventies... If you like Bitches Brew-era Miles Davis and those early Chick Corea albums, this album might appeal to you, but I didn't see a big need to hang onto it myself. I'll pass.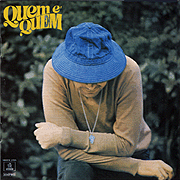 Joao Donato "Quem A Quem" (EMI-Odeon, 1973)


A fun, funky, somewhat goofy album, with Donato doot-doot-dootling his little Rhodes organ, in a breezy mix of old-style bossa and early '70s fusion. He croons, too, maybe not with the greatest range or resonance, but with the same sort of pleasantly offhand, mellow old-timer vibe as Tom Jobim or Carlos Lyra. Bossa experimentalist Marcos Valle produced the album, and several tracks have a surprising funkiness to them... One of Donato's grooviest albums... Worth checking out!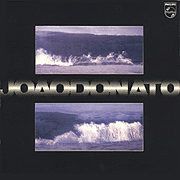 Joao Donato "Lugar Comun" (Philips, 1975)


An eye-opening collaboration with MPB star Gilberto Gil, who co-wrote most of these songs with Donato, and plays throughout the album. It's a brisk, playful jazz-fusion lovefest, with gliding, glitzy riffs and a sense of silliness that helps draw you in. If you really loathe fusion music -- and many people do -- then avoid this album at all costs. But if the funkier end of '70s fusion captures your imagination, then this disc can be considered a stone-cold classic. For me, it's a guilty pleasure: I listened to it several times and marveled at its groovy richness... Then my wife came in and complained about the crap I was listening to... It's that kind of record. At any rate, this is a landmark album for Brazilian MPB, and it's strange that it is so rarely mentioned in relation to Gil's career; he is a major collaborator and this is something of a "lost" album from his peak creative years... Defintely worth checking out!
Joao Donato "Leiliadas" (WEA, 1986) (LP)


Joao Donato "Coisas Tao Simples" (EMI-Odeon, 1995)


I remember sort of turning my nose up at this album when it first came out -- "easy listening!" I snorted, and thought nothing more about it... Until now. I recently found a cheap used copy and gave it another shot (plus, I wanted to scan the cover art...) and hey, y'know what? This is actually a pretty nice album. After a decade-long dry spell, Donato returned to revisit many of his classic compositions, performed with a lightness of touch that recalls the most elegant early bossa nova albums... It is true that the backup musicians -- who include both Japanese and Brazilian session players -- almost ruin this album, with their half-trite, easy-jazz performances, but Donato triumphs anyway, as the heart of this album is his deft piano work, and muted, mellow vocals. There's an intimacy and offhandedness that makes this quite nice and relaxed, sort of like if you'd encountered him playing an unglamorous but heartfelt lounge gig. I was surprised when I revisited this album and discovered it was a keeper, after all.
Joao Donato & Eloir De Moraes "Cafe Com Pao" (Lumiar, 1997)

Joao Donato "So Danco Samba" (Lumiar, 1999)


Joao Donato "Amazonas" (Elephant, 2000)

Joao Donato "Remando Na Raia" (Lumiar, 2001)

Joao Donato "E Lala Lay-e" (Deck Disc, 2001)


Joao Donato "Managarroba" (Deck Disc, 2002)


Joao Donato & Wanda Sa "Wanda Sa Com Joao Donato" (Deck Disc, 2004)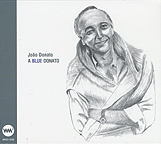 Joao Donato "Blue Donato" (Whatmusic, 2005)



A loosey-goosey, previously unreleased jazz jam session from 1973-74, with Donato improv-ing along with Brazilian jazz players including Tito Lobo on viola, bassist Edison Machado, trombonist Edson Maciel, and others. These informal sesions were recorded at vibrophonist Bill Horne's house, and while the sound quality is good, the actual music is a little ragged -- Donato's jazz bona fides are reaffirmed, but only hardcore fans are likely to be drawn in... Not my cup of tea, but jazz fans might dig it.
Joao Donato & Maria Tita "Joao Donato Reencontra Maria Tita" (Lumiar, 2006)

Joao Donato & Paulo Moura "Dois Panos Para Manga" (Biscoito Fino, 2006)


Joao Donato "O Piano De Joao Donato" (Deck Disc, 2007)


Joao Donato & Bud Shank "Uma Tarde Com..." (Biscoito Fino, 2007)

Joao Donato & Joyce "Aquarius" (Far Out, 2009)



A collaboration with Braz-jazz singer-guitarist Joyce...
Joao Donato "Sambolero" (Dubas, 2010)


Joao Donato & Paula Morelenbaum "Agua" (Biscoito Fino, 2011)


---
Best-Ofs
---
Joao Donato "Millennium" (Universal, 2000)


This best-of set collects some of Donato's early-'60s bossa trio work with the more expansive, fusion-flavored music of his 1975 Jugar Comun album... A wide stylistic divide, but still a nice way to track these elusive tracks down.
Joao Donato "Serie Bis" (EMI-Brasil, 2002)

Joao Donato "Retratos" (EMI-Brasil, 2004)

---
Tributes
---
Joao Donato/Various Artists "JOAO DONATO SONGBOOK, v.1" (Lumiar, 1999)


Joao Donato/Various Artists "JOAO DONATO SONGBOOK, v.2" (Lumiar, 1999)


Joao Donato/Various Artists "JOAO DONATO SONGBOOK, v.3" (Lumiar, 1999)


---
Related Records
---
Tito Puente "Vaya Puente" (Philips, 1962)



Donato plays trombone on these swinging salsa sessions...
Mongo Santamaria "At The Blackhawk" (Fantasy, 1962)

Astrud Gilberto "The Shadow Of Your Smile" (Verve, 1965)



Donato arranged and conducted two tracks on this album...

The Brazil All-Stars "Rio Strut" (Fantasy, 2002)


A fairly slick collaborative effort featuring a host of Brazil's jazz-pop fusion elite... Joao Donato, Dom Um Romao and Eumir Deodato preside as the grand old men of this lavish project; a dozen other artists pitch in, including the songbirdish Ithamara Koorax, Claudio Roditi, Thuiago de Mello, Dino Rangel and others. For the most part this album is too glossy and fusion-y for my tastes, but there are several lovely ballads tucked away amid the many songs with larger arrangements. These moments of grace were enough to keep my attention...
---
Other Resources
---

<! width=147 height=216 >
"Bossa Nova: The Story Of The Brazilian Music That Seduced The World"
by Ruy Castro
(A Capella Books, 2000)

Joao Donato makes an appearance as one of the revered elder figures in this charming and completely authoritative history of early bossa nova, tracking the careers of Joao Gilberto, Antonio Carlos Jobim, Vinicius De Moraes, Nara Leao and others in a gossipy, informal narrative that's a delight to read. Author Ruy Castro brings the mythic figures of Brazil back down to human scale, poking fun at their humanity, their foibles and years of obscurity, while also pointing out their sheer brilliance, and the adoration that Brazilians feel for their music. The chatty, informal tone adds a nice hometown touch that lets you feel as if you were standing on the corner yourself when that gal from Ipanema walked by, cracking jokes with the rest of the fellas. This book is also notable for its emphasis on the now-neglected figures of the great "radio singers" who ruled the public heart in the decades before bossa hit - legendary figures such as Lucio Alves, Aloysio Oliveira, Orlando Silva, Dick Farney and Sylvia Telles whose stars have faded, but are compelling nonetheless. Castro has complete command of his subject, but doesn't feel stuffy or preachy at all. An outstanding book, and required reading for anyone looking for a deeper knowledge of Brazilian culture.
---
Links
---
B.J. Bear's super-ultra complete discography includes all of Gilberto's singles, compilation tracks, and information such as catalog numbers and alternate releases. A completist's dream!
All Brazilian Music, as usual, has a good biographical sketch and discography... Recommended website!
---



---