<! cd = 01/28/10 > <! MP3 01/28/10, 01/27/11 - no change > <! update 00/00/00 > <! pix 00/00/00 > <! ALLBM 00/00/00 > <! icons 01/27/11 >

---
Jane Duboc is an elegant, subtle vocalist whose stylistic range spans from super-cheesy pop vocals to swank dinner-club jazz. She's sort of like a lighter, more accessible version of Gal Costa... Some of her stuff is pretty (in a too-perfect, upscale kinda way), and some of it is... well, not really my cup of tea. But here's a quick look at her work...
---
Discography - Best-Ofs
---

Jane Duboc "20 Supersucessos" (Polydisc, 2004)


A good best -of collection... This disc covers her work on the Movieplay label, including material from albums such as 1993's Jane Duboc, 1995's Partituras, From Brazil To Japan (1996), and one track off Todos Os Caminhos, (1998). If you like mellow dinner jazz or soft pop vocals, this disc might really thrill you -- Duboc is definitely a fine singer, though for me, personally, the best stuff on here is still kind of iffy, while the songs that feature touches like thin, tinkly keyboards or that most accursed of instruments -- the soprano saxophone -- make me clench my teeth and even groan aloud. Take that as you will...
---
Discography - Albums
---

<! Retornou ao Brasil na década de 70. Formou o "Grupo Fein" , que se apresentava cantando somente em inglźs. Gravou o compacto "Pollution", na época produzido por Raul Seixas. A letra da música composta por Jane foi vetada pela censura (considerada subversiva para a época) e ela gravou tudo em "scat". Trabalhou com Raul Seixas e participou de seus discos. Foi integrante da "Banda Veneno" do maestro Erlon Chaves. Também integrou o coral da Rede Globo gravando várias aberturas de programas e participou de um disco de Chico Anysio ("Linguinha"). Com o ex-marido americano Jay Anthony Vaquer, gravou um LP para a RCA: "Morning The Musicians" com a participaćčo de Luiz Eća, Paulo Moura, Noveli e Bil French. Ainda nos anos 70 excursionou com Egberto Gismonti nos shows "Água e Vinho I e II", participando do seu CD "Árvore" fazendo vocais e tocando percussčo. Participou do VI FESTIVAL INTERNACIONAL DA CANāŐO (FIC), defendendo com Sérgio Sampaio a música "No ano 83". Gravou a trilha sonora para o filme "Janaina" (com Marlene Franća) e da peća "Encontro no Bar" (com Camila Amado e Otávio Augusto). Para o selo Marcus Pereira, gravou o LP "Acalantos Brasileiros" e participou da série "Música Popular do Norte" cantando músicas folclóricas regionais. Desta série também participaram Elis Regina (Sudeste) e Nara Lečo (Nordeste). Compôs e gravou com Guto Graća Melo a trilha sonora do filme "Amor Bandido" de Bruno Barreto. >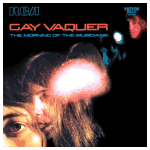 Gay Vaquer "Morning Of The The Musicians" (RCA Victor, 1972) <! date? >
A fairly taxing, frequently underwhelming free-jazz/psychedelic art-rock album, featuring American-born Jay Anthony Vaquer (at the time married to Jane Duboc, who sings on here in English) Several Braz-jazz luminaries are on here as well, including pianist Luiz Eca, horn player Paulo Moura and bassist Novelli... It's authentic hippie-era musical excess, of historical interest but not something I'd put on just for fun. Prior to this album, Duboc was more in the background, singing in the bands of Erlon Chaves and rocker Raul Seixas... Vaquer and Duboc also had a son, rock'n'roller Jay Vaquer, who has several albums of his own.
Egberto Gismonti "Arvore" (ECM, 1973)


In the early '70s, Duboc was briefly in Egberto Gismonti's band... Here, she sings and plays percussion on some tracks...
Chico Anisio "Linguinha" (Som Livre, 1972) (LP) <! year? >


This was, I believe, a sort of soundtrack album for a children's TV show that starred comedian Chico Anisio as a character called Linguinha... Duboc's website says she was on this album, so I'll take her word for it.
Jane Vaquer & Jose Tobias "Acalantos Brasileiros" (Discos Marcus Pereira, 1977)
A traditionally-oriented set which, I think, originally came out under Duboc's married name, Jane Vaquer. I'm not sure whether Duboc and Tobias perform together on here, or if this is actually a split album, with each artist performing on their tracks alone.
Jane Duboc "Musica Popular Do Norte" (Som Da Gente, 1982)
Part of a series of folkloric recordings; other volumes included regional sets by Elis Regina and Nara Leao...
Jane Duboc "Languidez" (Aycha, 1980)

Jane Duboc "Jane Duboc" (Som Da Gente, 1982)


Bacamarte "Depois Do Fim" (Som Arte, 1983)


This legendary Brazilian prog album is an intriguing change of pace for Duboc, who is better known for her work in the world of jazz and bossa ballads. Mainly it's a showcase for guitarist Mario Neto, who wrote or co-wrote all but two of the songs, but Duboc is highlighted on several tracks, and sounds quite comfortable in the role. There are some lyrical, pastoral passages (particularly those featuring flautist Marcus Moura) but also a lot of searching, note-heavy guitar work, reminiscent of guitar heroes such as Jeff Beck and Yngwie Malmsteen. This is really not my kind of music, but I will take the word of the many prog fans who've flocked to this record: good for the genre.


<! In spite of being a Brazilian progressive rock album, I think this music really belongs to Loronix. Every friend with a bit of curiosity and willing to hear a masterpiece on a style never made available at Loronix should take this one for a hearing. I was hunting this album for a long time; in fact, the hunting is not over, this is another of those albums that I had when young that had disappeared from my possession. Anyway, better summarize with a statement, this is a MASTERPIECE. Let's see. This is Bacamarte - Depois do Fim (1983), for Som-Arte Discos. I'm making available the 1995 Som-Arte CD reissue from the original 1983 first and independent issue. Depois do Fim is internationally acclaimed, I read some reviews a couple of minutes ago at progarchives.com, which is the ultimate resource for progressive rock music, and I need to highlight an excerpt of a review made by James Unger, an official progarchives.com reviewer, as follows: "If you were going to buy only 1 cd this year you should make it BACAMARTE's "Depois Do Fim". Brazillian progressive rock masterpiece with incredible musicianship and the gorgeous voice of Jane Duboc, who adds an Annie Haslam influence to the music. BACAMARTE delivers killer guitar with amazing keyboards around some superb melodies. Songs change themes, tempo and moods frequently with epic delivery. "Depois Do Fim" was well recorded and has been masterfully transferred to CD offering excellent sound quality, instrument distinction and speaker separation. An exceptionally intoxicating album I endorse with the greatest of convictions... wonderful music." - James Unger, progarchives.com Jane Duboc (vocals) Mario Neto (guitar, violao) Sergio Villarim (keyboards) Delto Simas (electric bass, acoustic bass) Marcos Verissimo (drums) Marcus Moura (flute, accordion) Mr. Paul (percussion) 01 - UFO (Mário Neto) 02 - Smog Alado (Mário Neto) 03 - Miragem (Mário Neto) 04 - Pássaro de Luz (Mário Neto) 05 - CaĖo (Marcus Moura) 06 - Último Entardecer (Mário Neto / Sergio Villarim) 07 - Controvérsia (Delto Simas / Marco Veríssimo) 08 - Depois do Fim (Mário Neto) >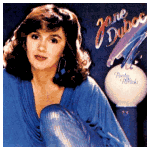 Jane Duboc "Ponte Da Partida" (Antena, 1985)
Duboc kicks this off on a bluesy, emotive note, with her own "Nove E Meia"; all but three of the songs were original Duboc co-compositions, so that's kind of nice. The synthy '80s production is hopelessly tacky, though: her voice sounds sweet, but I can't get past the yucky, phony feel of the keyboards and bloob-bloob-bloobing electric bass. I remember the Eighties... the bad connotations are just too strong, and this kind of music still bugs me. It's a personal failing, I'm sure. But actually, there is a fair amount of heart here, and I'd say if you wanted to check out some of her older work, this is worthwhile record to explore.


<! 01. Nove e Meia (Jane Duboc / Luca Salvia) 02. Doces Mentiras (Toquinho) 03. Um Pouco Mais (Jane Duboc / Sergio Duboc) 04. Pé na Estrada (Jane Duboc / Luca Salvia) 05. Cantor (Walter Santos / Jane Duboc) 06. Ao Jarreau (Jane Duboc / Luca Salvia) 07. Aqui e Além (Thomas Roth / Luis Guedes / Sá) 08. Ponto de Partida (Jane Duboc / Luca Salvia) 09. Namoro (Carlinhos Menezes / A. C. de Mello) 10. Vire a Página (Ivo de Carvalho / Jane Duboc) >

Jane Duboc "Jane Duboc" (Continental, 1987)
Starts with "Chama De Paixao," "Minas Em Mim..."


<! 1 Chama de paixčo (Thomas Roth - Cido Bianchi) 2 Minas em mim (Luca - Jane Duboc) 3 Matinal (Édson Aquino) 4 Segredos (Geraldo Alves Pinto - Lula Barbosa) 5 A cores (Sergio Natureza - Tunai) 6 Além de nós (Márcio Borges - Toninho Horta) 7 Sonhos (Mauro Motta - Lincoln Olivetti - Robson Jorge) 8 Contos da lua vaga (Márcio Borges - Beto Guedes) 9 Coraćčo vira-lata (Aécio Flávio) 10 Verdes anos (Tulio Mourčo - Ronaldo Bastos) 11 Bem querer Ricardo Magno - Tavito) 12 Natural (Milton Nascimento - Fernando Brant) >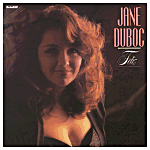 Jane Duboc "Feliz" (Continental, 1988)
(Produced by Matheus Nazareth & Arnaldo Saccomani)
An absolutely dreadful album, with a lot of over-the-top arrangements and super-glossy pop-jazz production. It's well-constructed, her voice sounds nice, but if you aren't into the style, you'll really hate it. I did. Includes an almost unrecognizable Portuguese-language cover of "Wichita Lineman," as well as one Duboc original, "Como Se Deixa Passar," which is possibly just slightly less horrible than the rest of the record. Can't say I'd recommend this one.


<! 01. Louco Amor (Cláudia Olivetti / Lincoln Olivetti / Robson Jorge) 02. Nossos Momentos (Wichita Lineman) (J. Webb / Vrs. Rosana Herman) 03. De Corpo Inteiro (Aécio Flávio / Luis Fernando) 04. Olhar no Teu Olhar (Arnaldo Saccomani / Thomas Roth) 05. Meu Menino (Walter Santos / Arnaldo Saccomani) 06. Vem Pra Mim (Now And Forever) (You And Me) (D. Foster / J. Vallance / R. Goodrum / Vrs. Rosana Herman) 07. Feliz (Jerry Adriani / Cury) 08. Só Nós Dois (Cido Bianchi / Thomas Roth) 09. Como Se Deixa Passar (Jane Duboc) 10. Rádio Romance (Nico Rezende / César de Mercźs) >

Jane Duboc "Alem Do Prazer" (BMG-Ariola, 1991)





Jane Duboc "Brasiliano" (Globo, 1992)





Jane Duboc "Movie Melodies" (Movieplay, 1992)


Jane Duboc "Jane Duboc" (Movieplay, 1993)





<! 1 A flor e o espinho (Alcides Caminha - Guilherme de Brito - Nelson Cavaquinho) 2 Capim (Djavan) 3 Esse moćos (Lupicínio Rodrigues) 4 Nossos momentos (Luiz Reis - Haroldo Barbosa) 5 Estrada do sol (Dolores Duran - Tom Jobim) 6 Primavera (Carlos Lyra - Vinicius de Moraes) 7 Folhetim (Chico Buarque) 8 Qualquer coisa (Caetano Veloso) 9 Acontece (Cartola) 10 Linda flor (CČndido Costa - Henrique Vogeler - Marques Porto - Luiz Peixoto) 11 Comećaria tudo outra vez (Gonzaguinha) 12 Ternura antiga (Dolores Duran) 13 Latin lover (Aldir Blanc - Jočo Bosco) 14 Aos nossos filhos (Vitor Martins - Ivan Lins) 15 Alguém como tu (Jair Amorim - José Maria de Abreu) 16 Contrato de separaćčo (Dominguinhos - Anastácia) 17 Bom dia (A . Cabral - Herivelto Martins) 18 Chove lá fora (Tito Madi) 19 Só louco (Dorival Caymmi) >

Jane Duboc & Gerry Mulligan "Paraiso" (Telarc, 1994)


Jane Duboc "Partituras" (Movieplay, 1995)


Jane Duboc "From Brazil To Japan" (Movieplay, 1996)


Jane Duboc "Todos Os Caminos" (Movieplay, 1998)


Jane Duboc & Sebastiao Tapajos "Da Minha Terra" (Jam Music, 1998)

Jane Duboc & Zeze Gonzaga "Classicas" (Pau Brasil, 1999)

Jane Duboc "Sweet Lady Jane" (Jam Music, 1994)

Jane Duboc "Velvet Collection" (Tokuma-Japan, 2004)

Jane Duboc "Uma Voz, Uma Paixao" (MSI, 2005)

Jane Duboc & Arismar Do Espírito Santo "Uma Porcao De Marias" (Biscoito Fino, 2007)






<! other best-ofs? > <! Jane Duboc - Canćčo da Espera - Jane Duboc Canta Egberto Gismonti (2008) >

Jane Duboc & Victor Biglione "Tributo A Ella Fitzgerald" (Rob Digital, 2009)

---
Links
---
---



---