<! cd = 03/21/12 > <! MP3 00/00/00 > <! pix 00/00/00 > <! ALLBM 00/00/00 > <! icons 00/00/00 > <! UPDATES 03/21/12 - posted >

---
Dolores Duran (1930-1959) was considered one of the greatest singers of her generation, while still a teenager, Duran emerged as a major star of the "radio singers" era of the 1940s and '50s. She performed on radio and headlined nightclubs, was a noted interpreter of new songs and worked with some of the best performers of the era, including pianist Joao Donato. Duran was plagued by poor health throughout her life, as well as by substance abuse problems which contributed to her poor health and to the heart attack which killed her in 1959. Duran recorded only four albums, along with a trove of 78s which have been gathered in various formats over the years. Here's a quick look at her work...
---
Discography
---



Dolores Duran "Dolores Duran Viaja" (Copacabana, 1955)



<! 1 Sinceridad (Gastón Perez) 2 Ma cabane au Canada (M.Brocey - C.Conn - L.Gastá) 3 Kaiser waltzer (Strauss) 4 No other love (R.Rodger - Hammerstein II) 5 Nigraj manteloj [Coimbra] (J.Galhardo - R.Ferrčo - O.Baena) 6 Vieni sul mar 7 Ojos verdes (Quiroga - Valverde - León) 8 Canćčo da volta (Ismael Netto - Antônio Maria) >

Dolores Duran "Canta Para Voce Dancar, v.1" (Copacabana, 1957)


A nice album recorded just at the cusp of the bossa nova revolution. At the time, Duran was a pre-bossa pop singer, dishing out softened renditions of samba cancao, along with covers of North American teen pop ballads such as "Only You" and "Love Me Forever". She did some work with Billy Blanco (who was also working with Antonio Carlos Jobim, future master composer of bossa, so she did have her foot in the door, as it were...) Overall, this is some nice stuff, by a solid and personable performer... the Brazilian equivalent, perhaps, of Peggy Lee. Of particular note are a couple of covers of French pop tunes by Charles Aznavour and Gilbert Becaud -- traces of Brazil's lingering Europhilia. Recommended!
Dolores Duran "Canta Para Voce Dancar, v. 2" (Copacabana, 1958)







Dolores Duran "Esse Norte E Minha Sorte" (Copacabana, 1959)



<! 1 Te cuida, Zeca (Miguel Gustavo) 2 Saudade ingrata (Claudionor Nascimento - Ted Moreno) 3 Prece de Vitalina (Chico Anísio - Dolores Duran) 4 Minha toada (Édson Franća - Dolores Duran) 5 Tá nascendo fio (Haydée de Paula - Chico Anísio) 6 Zefa cangaceira (Chico Anísio) 7 Quando se tem amor (Armando Nunes - Altamiro Carrilho) 8 Nčo se avexe nčo (Haydée de Paula - Chico Anísio) 9 śsse norte é minha sorte (Ruy Duarte - Miguel Gustavo) 10 Quase louco (Victor Simon) >

Dolores Duran "Serie Bis" (EMI, 2002)

Dolores Duran "A Musica De Dolores Duran" (2007)

Dolores Duran "Reconstituicao Com Orquestra E Coro Em 16 Canais" (2007)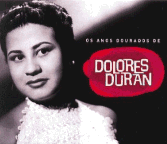 Dolores Duran "Os Anos Dourados De Dolores Duran" (Box Set) (EMI-Brasil, 2010)


The late Dolores Duran (1930-1959) was one of Brazil's most highly-regarded singers of the pre-bossa nova era, and remained popular after the bossa revolution swept the old styles aside. This massive, 8-CD box gathers vintage recordings made for the Copacabana label -- the old stuff on which her legend was made. Also included are a couple of dozen tracks written by Duran and later recorded by some of the singers who came in her wake, such as Elizeth Cardoso and Nelson Goncalves. A real treasure trove of Brazilian popular song from the "radio singers" era, and the early bossa nova scene.


<! 8-CD set The golden years of Dolores Duran – one of the most important female singers in Brazilian music in the pre-bossa years! This massive set features the complete work that Duran recorded for Copacabana music from the 30s through the 50s – a huge collection that features classic album art, and 75 songs sung by Dolores herself, plus 28 more penned by Duran, but sung by other Brazilian artists – including Nelso Goncalves, Cauby Peixoto, and Elizeth Cardoso! The package also features a great booklet, filled with notes and photos – and some great original album cover art too! >

---
Links
---
---



---