<! cd = 03/22/12 > <! MP3 00/00/00 > <! pix 00/00/00 > <! ALLBM 00/00/00 > <! icons 00/00/00 > <! UPDATES 00/00/00 >

---
The Brazilian singer-songwriter known as Ednardo was born in Fortaleza and was one of the generation of younger Northeastern artists who created a new regional style based on contemporary (1970s) pop and rock, as opposed to the forro and baiao of decades earlier. Here's a quick look at his work...


<! Nascido em Fortaleza, estudou piano e violčo na juventude. No comećo dos anos 70, ao lado dos conterrČneos Rodger e Teti, gravou um disco com o nome de "Pessoal do Ceará". Ao lado de Fagner e Belchior fez parte da geraćčo que tornou pop a heranća de fundadores da música nordestina como Luiz Gonzaga e Jackson do Pandeiro. Trabalhou também com cinema e televisčo, fazendo trilhas. Seu maior sucesso foi "Pavčo Misterioso", música baseada na literatura de cordel, incluída em 1976 na trilha da novela "Saramandaia", da TV Globo. Já gravou 12 discos, e sua música é tocada em países como Argentina, Uruguai, Israel, Portugal e Espanha. >

---
Discography
---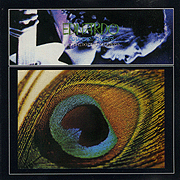 Ednardo "O Romance Do Pavao Mysteriozo" (RCA, 1974)


The cover art was all psychedelic, but the music is fairly reserved... It's basically folk-tinged rock, clearly within the troubadour tradition set by Chico Buarque, Geraldo Vandre and the like. This won't blow your mind, but it's a nice record, worth checking out for a glimpse at the music of the time.

Ednardo "Birro" (RCA Victor, 1976)


Pleasant stuff from Fortaleza, in the Northeast, this gets goofy, but it's not bad... A folk-tinged rock balladeer, perhaps midway between early Novos Baianos and Joao Bosco, with just a hint of forro in the mix. These mid-'70s albums by Ednardo do Ceara didn't blow me away at first, but they kinda grew on me after a while. Although he's not a dazzling performer, Ednardo displayed only minimal cheesiness, at least this early in his career.
Ednardo "O Azul E O Encarnado" (RCA Victor, 1977)


This album features guest appearances by Raimundo Fagner and Roberto de Recife, and though it drifts into questionable areas, it's nowhere near as excessive as much of the mainstream MPB of the time... Mellow, worth checking out.
Ednardo "Cauim" (Warner Brothers, 1978)

Ednardo "Ednardo" (CBS-Epic, 1979)





<! 1 A manga rosa (Ednardo) 2 Numa boa (Rogério - Ife - Régis - Ednardo) 3 Flora (Climério - Dominguinhos - Ednardo) 4 Enquanto engoma a calća (Climério - Ednardo) 5 Brincando é que se aprende (Dominguinhos - Ednardo) 6 Lupiscínica (Petrúcio Maia - Augusto Pontes) 7 Lagoa de Aluá (Climério - Vicente - Ednardo) 8 Torpor (Ednardo) 9 Desconcerta-te (Ednardo) 10 Araguaia (Ednardo) 11 Cariri (Ednardo) 12 Pelo coraćčo do Brasil (Ednardo) >

Ednardo "Ima" (CBS-Epic, 1980)

Ednardo "Terra Da Luz" (EMI-Odeon, 1982)

Ednardo "Ednardo" (EMI-Odeon, 1983)





<! 1 Super X (Ednardo) 2 Rockcordel (Ednardo) 3 Arraial (Ednardo) 4 Papai mamče (Ednardo) 5 Tudo (Ednardo) 6 Rubi (Ednardo) 7 Café com leite (Ednardo) 8 Encantado (Ednardo) 9 Nova raća (Ednardo) 10 Ponto de conexčo >

Ednardo "Libertree" (EMI-Odeon, 1985)

Ednardo "Rubi" (Aura, 1991)

Ednardo "Unica Pessoa" (GPA, 2000)

Ednardo "Ingazeira" (Continental, 2001)

Ednardo/Amelinha/Belchior "Pessoal Do Ceara" (Continental, 2002)

Ednardo "Maxximum" (Sony-BMG, 2005)

---
Links
---
---



---