<! cd = 03/23/12 > <! MP3 00/00/00 > <! pix 00/00/00 > <! ALLBM 00/00/00 > <! icons 00/00/00 > <! UPDATES: 03/23/12 - posted >

---
Evinha (who also recorded under the name "Eva") was a member of the jovem guarda-era vocal group Trio Esperanca, where she crafted sweet harmonies with her sister Regina and brother Mario. While Trio Esperanca was a great group, the family talent ran even deeper than that: their brothers -- Renato, Roberto and Ronaldo -- were also jovem guarda stars, recording as The Golden Boys in the late 1960s and early '70s. Evinha had a successful solo career, recording several albums, often with the assistance of her brother, '70s songwriter and producer Renato Correa. Evinha was replaced in the Trio by a fourth sister, but later rejoined the group in the 1990s. Here's a quick look at her work...
---
Discography - Solo Releases
---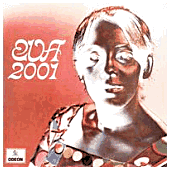 Evinha "Eva 2001" (EMI-Odeon, 1969)


(Produced by Milton Miranda, Lyrio Panilcali & Renato Correa)
A sweet, slightly sappy set of sunshine-y soft-pop, with Evinha setting out on her solo career. I love her voice, although the arrangements are a little cloying and cutesy. It's very much in keeping with the soft-pop sounds of the era, not just in Brazil, but in the US and Europe as well, with gentle horn arrangements, mellow rock-pop rhythms and an occasional marimba riff that Herb Alpert would be proud to call his own... The song selection is intriguing: several from her brother Roberto Correa, a couple by Marco Valle and a couple by jazz pianist Antonio Adolfo, who may have played on these sessions (although the liner notes don't indicate that he did...) The pop sound provided by the EMI crew isn't very challenging, but in some ways that's a good thing -- it has a modern feel but doesn't go way out into the avantnik goofiness of Rogerio Duprat and the tropicalistas... Mostly it's just a nice, simple, uncomplicated frame for Evinha's sweet vocals, and I really do love her youthful, girlish voice. Definitely worth a spin.


<! From the futuristic title and the cover (a silvery negative of a photograph), listeners would be tempted to expect a piece of experimental Brazilian music in similar company to Gal Costa or Maria Beth‰nia. Instead, this Evinha album is a piece of bright, sunny pop with very few rough edges or surprising moments. Still, considered as such, it's a nice little record; producer/arranger Milton Miranda marshals his repertoire of instruments, engaging guitar, brass, and woodwinds to create a very dynamic portrait of Brazilian pop. The compositions are also good, virtually all of them contemporary to the recordings, including two by Marcos Valle (with brother Paulo Sergio) and two by Renato Correa. (And despite the lack of experimentation, there is one glimpse of the Now Sound, a cover of "Theme from Valley of the Dolls," with Brazilian lyrics, of course.) Evinha's vocals are up to the task, although it's clear she doesn't belong to the first rank of Brazilian females (not even in the pop ranks), closest to the warmth and charm of D—ris Monteiro or Astrud Gilberto. (John Bush, AMG) >
Evinha "Eva" (EMI-Odeon, 1970)



<! "Evinha" CD B000BYRB3O (?) green album cover >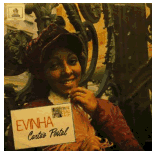 Evinha "Cartao Postal" (EMI-Odeon, 1971) (LP)


A pleasant, if relatively pedestrian, solo album from a member of the Trio Esperanca vocal group. This album, with ambitious pop-vocals by Orlando Silveira and Geraldo Vespar, largely lacks the simplicity and naifishness that made the Esperanca recordings so sweet... It's nice, if you're into brightly orchestrated "sunshine pop" and there are some kooky musical ideas and fine vocal phrasing... But it didn't quite grab me; a little too close to Olivia Newton-John/Roberta Flack territory for me, a little too stuck in the "square" sensibilities of the major-label pop world, despite a repertoire that includes songs from some fairly hip rock/MPB composers.


<! This is Evinha - Cartao Postal (1971), with arrangements by Geraldo Vespar and Orlando Silveira. If it is not the best, for sure is one of her finest with songs composed by Abilio Manoel, Marcos Valle, Beto Guedes, Roberto Carlos, among others. Tracks include: 01 - Que Bandeira (Marcos Valle / Paulo Sergio Valle / Mariozinho Rocha) 02 - Feira Moderna (Beto Guedes / Fernando Brant) 03 - Cart‹o Postal (Renato Correia / Guarabyra) 04 - Olha o Futuro (Arnoldo Medeiros) 05 - De Tanto Amor (Roberto Carlos / Erasmo Carlos) 06 - Esperar Pra Ver (Renato Correia / Guarabyra) 07 - Tema de Ad‹o (Taiguara) 08 - S— Quero (Dal / Tom / Lilito) 09 - Rico Sem Dinheiro (Ab'lio Manoel) 10 - Encontro (Jacks Wu / Adour) 11 - Por Mera Coincidncia (Getœlio Cortes) 12 - Onze e Quinze (Eduardo Souto Neto / Geraldo Carneiro) Evinha (1951) cantora carioca que fez parte de uma familia totalmente musical. Seus irm‹os Ronaldo, Roberto e Renato eram integrantes do Golden Boys e suas irm‹s Maria, Regina e Marizinha do Trio Esperana, o qual ela integrou de 1961 a 1968. Seu primeiro sucesso na carreira solo foi cantando ŇCantiga por LucianaÓ(Edmundo Souto e Paulinho Tapaj—s) com a qual se sagrou campe‹ do 4. Festival Internacional da Can‹o. Em 71Ő ela grava o seu terceiro disco solo. Nele ela traz o seu estilo moderno e pastoso da Jovem Guarda misturando com a musicalidade contempor‰nea de grupos emergentes da MPB como Marcos Valles, Beto Guedes, Geraldo Carneiro, Taiguara e Guarabyra. Mas o que vale mesmo neste disco, alŽm deste gosto de transi‹o; Ž a voz marcante e afinada de Evinha. Escute ŇFeira ModernaÓ (Beto Guedes/Fernando Brant) com Evinha >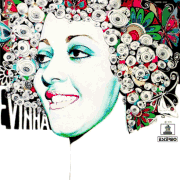 Evinha "Evinha" (EMI-Odeon, 1973) (LP)


In contrast, I like this album a lot -- the arrangements are a lot tighter, and denser, and more intense, with a hint of the brooding power of "serious" MPB artists such as Chico Buarque, et al. Many of the same composers are represented here -- Renato Correa, Erasmo Carlos -- as well as a few songs from newcomer Ze Rodrix and his crew... Overall, this just seems like a stronger, more tightly focussed album, the music is inventive and her voice is confident and appealing. It's a cool record -- worth tracking down!


<! Evinha, which was member of the legendary Trio Esperana, a successful vocal group from the 60's. 01 - O que Ž que eu estou fazendo na rua (Luis Carlos S‡ - Guarabyra - ZŽ Rodrix) 02 - No meio da madrugada (Jon Lemos - Roberto Corra) 03 - Foi assim [Juventude e ternura] (Renato Corra - Ronaldo Corra) 04 - Tiro de cores (Cassiano - Robson Jorge) 05 - As can›es que voc fez pra mim (Erasmo Carlos - Roberto Carlos) 06 - Deixa rolar (Luis Carlos S‡ - Guarabyra - ZŽ Rodrix) 07 - Moa (Maria Thereza Guinle) 08 - Como vai voc (M‡rio Marcos - Ant™nio Marcos) 09 - Vozes vazias (Ely de Oliveira - Fernando Araœjo) 10 - N‹o v‡ ficar debaixo das rodas (Augusto Magalh‹es - Sidney Matos) 11 - Ben (B.Black - W.Share) 12 - Trechos: - O que Ž que eu estou fazendo na rua (Luis Carlos S‡-ZŽ Rodrix-Guarabyra), - As can›es que voc fez pra mim (Roberto Carlos-Erasmo Carlos), - Foi assim (Juventude e ternura) (Renato Corra-Ronaldo Corra), - No meio da madrugada (Roberto Corra-Jon Lemos), - Moa (Maria Thereza Guinle) APPARENTLY ALSO "EVA" (!) (?) A successful vocalist in the Jovem Guarda in the Trio Esperana, Evinha had hits in her solo career with songs like "Teletema" (Ant™nio Adolfo/TibŽrio Gaspar), "Que Bandeira" (Marcos Valle/Paulo SŽrgio Valle), "Como Vai Voc" (Ant™nio Marcos), and "As Can›es Que Voc Fez Para Mim" (Roberto Carlos/Erasmo Carlos). Since her childhood, she sang together with siblings M‡rio Correia JosŽ Maria and Regina Correia JosŽ Maria. In 1958 the three of them formed the Trio Esperana, which had great success during the Jovem Guarda times and is still active. In 1968, she departed from the trio to pursue her solo career, being replaced by her sister Marisa Correia JosŽ Maria. Her first hit was "Casaco Marrom" (Guarabyra/Danilo Caymmi/Renato Corra). In the IV FIC (International Song Festival) in 1969, she won first place with "Cantiga Por Luciana" (Paulinho Tapaj—s/Edmundo Souto). In 1977, she recorded with Paul Mauriat. As the crooner of Mauriat's orchestra, she toured Japan and China. In the '90s, she rejoined the Trio Esperana. Appeared in solo performances in Brazil in 1999. > <! http://images.google.com/imgres?imgurl=http://www.jovem-guarda.com/romanticas/evinha/evinha%25203.JPG&imgrefurl=http://www.jovem-guarda.com/evinha.htm&usg=__4rXCU2Q6PPBwzs_ltdpNfqnFGyE=&h=200&w=200&sz=19&hl=en&start=6&sig2=qy9Y9-3flGRusMHMRnX-3g&um=1&tbnid=_4WTvoEDq6dHnM:&tbnh=104&tbnw=104&prev=/images%3Fq%3DEvinha%2B-%2BCartao%2BPostal%26hl%3Den%26client%3Dfirefox-a%26rls%3Dorg.mozilla:en-US:official%26sa%3DN%26um%3D1&ei=3YVNS6TWIYWeswOG17jWBw >

Eva "Eva" (EMI-Odeon, 1974)


(Produced by Milton Miranda, Maesto Gaya & Renato Correa)
This later album features disco-era pop vocals, with a light touch of soul. You could as easily make a case for her having become a Brazilian Olivia Newton John as you could claim her as a South American soul sister (as many websites have). Mainly this is fairly kitschy (I refer you to Exhibit A: her English-language disco update of "Moon River...") And yet, there is something oddly appealing to this album, in much the same way you might find yourself humming a David Gates & Bread song once in a while... She did have a nice voice, and as usual there are few songs were written by her brother, Renato Correa, as well as one by rocker Luiz Vagner.


<! Paul Mauriat "Brasil Exclusivamente" (Philips, 1977) (LP) B004HCMIHU # L'Oiseau et l'Enfant (1977) # Overseas Call (1978) # Dans les Yeux d'ƒmilie (1978) # Brasil Exclusivamente Vol.2 (Philips, 1978) found online pic that gives date as 1980 # Too Much Heaven (1979) # Nous (1979) # Copacabana (1979) # Aerosong (1980) # Chromatic (1980) # Brasil Exclusivamente Vol.3 (1980) >

Evinha "Reencontro" (Polygram, 1999)



<! 03/2012: no ASIN >


Evinha & Trio Esperanca "Millennium" (Universal, 1999)


Includes some of Evinha's solo hits, as well as her work with the family band...
---
Links
---
---



---