<! cd = 02/20/10 > <! MP3 01/26/11, 03/24/12 - none > <! pix 02/20/10 > <! ALLBM 00/00/00 > <! icons 01/26/11 > <! update 02/20/10 >

---
Pop stylist Raimundo Fagner is one of the major performers to come from the Northeastern region of Brazil. COming to fame during the creative peak of the 1970s MPB scene, his early work is remarkably experimental; later his approach became more musically conservative and overtly commercial. Here's a quick look at his work...
---
Discography
---

Raimundo Fagner "Manera Fru Fru Manera" (Philips, 1973)


(Produced by Roberto Menescal)
Raimundo Fagner's first album is a rich, rewarding mix of folk, rock and Brazilian styles, solidly in the tradition of the budding tropicalia and MPB sounds of the early 1970s. Some tracks are surprising, such as the electric/psychedelic blues tune, "Nasci Para Chorar," a rock oldie by Dion, adapted by jovem guarda star Erasmo Carlos, and morphed into something freakier by the young, up-and-coming Northeastern rocker. There's plenty of groovy music on here, with echoes of Caetano Veloso and the other established stars of the style, including a couple of plodding, spacey, heavily orchestrated ballads. Nara Leao and Nana Vasconcelos both contribute lovely duets <! on "Penas Do Tie," and ""> while Gilberto Gil, Ivan Lins and others contribute as well, along with the then-unknown rock artist Belchior, who co-wrote several original songs on this disc. All all-star cast contribute to a remarkable, memorable debut: certainly worth checking out, particularly if you are into the hippie-era gems of the early MPB scene. (Also known as A Ultima Pau-De-Arara...)


<! O primeiro elepź de Raimundo Fagner, intitulado ''O ÚLTIMO PAU-DE-ARARA'' ou ''MANERA FRU FRU, MANERA'' (Philips, No. 6470.569) foi lanćado com um grande show, numa terća-feira, 15 de maio de 1973. Com produćčo de Roberto Menescal, coordenaćčo de Paulinho Tapajós, arranjos de Ivan Lins e Luiz Cláudio e direćčo musical do próprio Raimundo Fagner, o elepź tem a participaćčo de Bruce Henry, um contra-baixista trazido por Gilberto Gil da Inglaterra, Naná Vasconcelos e Nara Lečo. Raimundo Fagner sozinho ou em parceria, assina nove das doze composićões do disco: Penas do Tiź, uma adaptaćčo do folclore feita por ele e registrada em dueto com Nara Lečo; Moto 1 e Mucuripe, ambas em parceria com Belchior; Como se Fosse, em parceria com Capinan; Sina e Manera Fru Fru, Manera, ambas com Ricardo Bezerra; Nasci para Chorar, uma versčo de Erasmo Carlos para Born to Cry; Pé de Sonhos, de Petrúcio Maia e Brandčo; Tambores, em parceria com Ronaldo Bastos; Serenou na Madrugada, outra adaptaćčo do folclore feita por Raimundo Fagner e gravada com a participaćčo do baixista Bruce Henry; Último Pau-de-Arara, de VenČncio, Corumba e J. Guimarčes; e Canteiros. Porém, parecia que as participaćões de nomes como Nara Lečo e Naná Vasconcelos nčo eram suficientes para avaliar o talento de Raimundo Fagner. Foi preciso, segundo a Philips, lanćar um disco-promoćčo que se intitulava ''Essas pessoas tźm um recado importante para vocźs'', e que trazia depoimentos de amigos e colegas sobre o trabalho de Raimundo Fagner. Para Maggy Tocantins, entčo divulgadora da gravadora Philips-Phonogram ''foi depois de uma reuničo na companhia que ficou decidido que esta seria a melhor maneira de se conhecer o artista e, ao mesmo tempo, homenagear seu talento indiscutível''. Mas o elepź nčo funcionou comercialmente (atingindo apenas a venda de 5 mil exemplares iniciais) e logo foi tirado de catálogo. Em junho de 1976 o ''MANERA FRU FRU, MANERA'' retornou ąs lojas vendendo com a nova tiragem cerca de 15 mil exemplares, impulsionado pela crescente execućčo nas rádios de todo o País da música Canteiros, até entčo creditada como sendo de sua autoria. O disco foi relanćado com algumas curiosidades. No relanćamento, em 1976, aparece o nome de Belchior como co-autor de Canteiros. Um outro detalhe é o tempo registrado nas músicas do elepź original e diferente na nova versčo, além de uma nova distribuićčo das faixas no disco. Moto 1 aparece na quarta faixa do lado ''A'' no elepź original e Sina como terceira do lado ''B''. Na edićčo seguinte acontece a inversčo das músicas. etc etc http://www.itarget.com.br/clients/raimundofagner.com.br/manera_disco.htm >

Raimundo Fagner "Ave Noturna" (Continental, 1975)


Raimundo Fagner "Raimundo Fagner" (CBS-Columbia, 1976)
(Produced by Carlos Alberto Sion)
(Arrangements by Raimundo Fagner, Robertinho de Recife & Wagner Tiso)
This opens with "Sinal Fechado," a fado-tinged acoustic song that seems normal enough, with Fagner singing in a declarative, emphatic style to minimal accompaniment... but it gets weird midway through, with his voice suddenly multi-tracked and launching schizophrenically in multiple directions, amid increasingly kooky musical backing. The fado-y guitars continue on the next song, which is a nice touch; Beatles-y harmonies, a harpsichord and some steel guitar kick in elsewhere, although amid the adventurous arrangements, some fairly conventional song structures come out. Fagner sings ballads with an intense, impassioned yelp; personally, I enjoy his softer, more lyrical, Cat Stevens-y moments, but he's clearly committed to his music and pushing at the boundaries. Not as groovy as some of his other records from this time, but still a nice echo of the creative wildness of the tropicalia crowd, along with some of that homegrown northeastern idiosyncrasy. Worth checking out, but less of a wow than some of his other early albums.


<! with: Chico Batera, drums -- Robertinho de Recife, guitar, Liminha, bass, Wagner Tiso, Dominguinos on sanfona, & others >

Raimundo Fagner "Oros" (CBS-Columbia, 1977) (LP)


(Produced by Raimundo Fagner & Jairo Pires)
(Arrangements by Hermeto Pascoal)
A willfully weird record. Still trippy, still vital, still off-center, with a mix of folk-rock and lavishly orchestrated MPB-pop, with impassioned, rugged vocals throughout. Hermeto Pascoal is part of the free jazz/samba crew, while accordionist Dominguinhos adds regional flavor. Some of the kookier songs seem a bit forced (on "Epigrama" and "Romanza," for example) but this disc is still certainly worth checking out for its determination to keep the experimental side of '70s MPB alive. Unusual, to say the least. Difficult, too.


<! featuring Fagner, Hermeto Pascoal and a constellation of Brazilian musicians, including: Robertinho de Recife, Itibere, Nivaldo Ornellas, Marcio Montarroyos, Chico Batera, J.T. Meirelles, Mauro Senise, Dominguinhos, among many others. The repertoire brings Raimundo Fagner compositions with Fausto Nilo, Robertinho of Recife, Belchior and a song by Hermeto Pascoal, >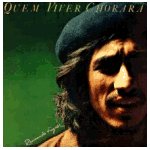 Raimundo Fagner "Eu Canto/Quem Viver Chorara" (CBS-Columbia, 1978)
(Produced by Raimundo Fagner & Jairo Pires)
(Arrangements by Raimundo Fagner)
Folk-freaky stuff, difficult listening, for sure, but a historical curio as well... This opens with the track "Revelacao," filled with cosmic electric guitar work that's patently derivative of George Harrison; the rest of the record leans more towards a fado-ish acoustic guitar (12-string, from the sound of it...) and the vocals are weird and challenging, overly emphatic, searching, melodramatic, and more than a little taxing. This is a good record to know about, but not one I personally could return to very often.

Raimundo Fagner "Beleza" (CBS, 1979)


(Produced by Raimundo Fagner)
Egad, this is terrible!! The opening track on Side One are sluggish, overly-florid pop-schmaltz disasters, and it never really gets much better from there... Plus, I know that the whiny nasal thing is a defining trait of Northeastern Brazilian music, but even taking that into consideration, Fagner has a rather unlikeable voice. Mostly this is filled with impassioned, emotive vocals, but he also tries a little Milton Nascimento-style ululating on a song on Side Two, as well as a bit of torturous wailing that helps close the album, amid swirling accordions and shrill, meandering violins. Nothing magical here, though -- it feels very leaden and effort-ful. And yucky. Joao Donato plays piano helped with the production of this album, although not with any discernable positive influence; Dino 7 Cordas and Dominguinhos are among the other performers on here...
Raimundo Fagner "Raimundo Fagner" (CBS-Columbia, 1980)

Raimundo Fagner "Traduzir-Se" (CBS-Columbia, 1981)

Raimundo Fagner "Fagner" (CBS-Columbia, 1982)

Raimundo Fagner "Palvra De Amor" (CBS-Columbia, 1983)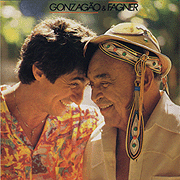 Raimundo Fagner & Luiz Gonzaga "Luiz Gonzaga & Fagner" (RCA, 1984)


The pairing of Northeastern forro elder Luiz Gonzaga and the younger rock-pop innovator Raimundo Fagner proves fruitful, as Fagner adds sonic depth to Gonzaga's tried-and-true sound... The pacing is still manic and wild, but the mix has more textures to it, and the two performers are clearly having a lot of fun working together. The best songs on here have a buoyancy and joyfulness that is delightful to hear. Still, it's pretty hardcore forro, and it ain't gonna be for everyone. Definitely worth checking out if you like the genre!
Raimundo Fagner "A Mesma Pessoa" (CBS-Columbia, 1984)

Raimundo Fagner "Fagner" (CBS-Columbia, 1985)

Raimundo Fagner "Fagner" (RCA Victor, 1986)

Raimundo Fagner "Romance No Deserto" (RCA Victor, 1987)

Raimundo Fagner & Luiz Gonzaga "ABC Do Sertao - Gonzagao & Fagner 2" (BMG-Ariola, 1988)

Raimundo Fagner "O Quinze" (BMG Ariola, 1989)

Raimundo Fagner "Pedras Que Cantan" (BMG Ariola, 1991)

Raimundo Fagner "Cabloco Sonhador" (BMG Ariola, 1994)


There's one swell forro instrumental on here, "O Casamento Da Raposa," but the rest of the record is bland, gooey pop-crossover stuff. Fagner's very cheerful and earnest, but the music is pretty underwhelming, from my perspective.


<! 03/12: no producer credits on CD >

Raimundo Fagner "Retrato" (BMG Ariola, 1995)

Raimundo Fagner "Raimundo Fagner" (BMG-Brasil, 1996)

Raimundo Fagner "Terral" (BMG-Brasil, 1997)

Raimundo Fagner "Amigos E Cancoes" (BMG-Brasil, 1998)

Raimundo Fagner "Ao Vivo" (Sony-Epic, 2000)

Raimundo Fagner "Fagner" (Sony, 2001)

Raimundo Fagner "Me Leve" (Sony, 2002)

Raimundo Fagner "Me Leve" (DVD) (Sony, 2002)


Raimundo Fagner & Zeca Baleiro "Raimundo Fagner & Zeca Baleiro" (Universal-Indie, 2003)


A surprisingly effective, pleasant collaboration between indie-ish rocker Baleiro and Raimundo Fagner, an '80s rock/soft pop star whose work became both proggish and super-wimpy. This gentle, multi-layered album offers a wide variety of tropical styles, from modernized samba-pop to the Hawaiianized mariachi of "Cantor De Bolero," which closes the album. These two really seem to have hit a warm, profoundly sympathetic mutual vibe, where the music flows easily and sounds soulful and accomplished. I hadn't expected a lot from this record when I picked it up, and have been pleasantly surprised and consistently engaged each time I've listened to it. Very nice stuff, definitely recommended!
Raimundo Fagner "Donos Do Brasil" (Indie, 2006)

Raimundo Fagner "Fortaleza" (Sony, 2007)

---
Best-Ofs
---
Raimundo Fagner "Serie XXI" (Sony-Columbia, 2000)


Raimundo Fagner, a pop star from the Northeast of Brazil, is featured in this odd and eclectic best-of... There are plenty of forro rhythms woven into his glitzy, mostly mainstream material. What's weird, though, is how all over the map he was musically -- some of these tracks are drekky pop, others feature goofy scats and semi-jazzy riffs, while a few are even a bit funky. I'm not sure I would recommend anyone rush out and buy this right away, but it's more interesting than I thought it would be -- a bit challenging, even. I'll keep mulling it over, and get back to you sometime.
Raimundo Fagner "Raimundo Fagner (Box Set)" (Sony, 2004)


A 12-CD box set with re-pressings of several albums, and added bonus tracks.
---
Links
---
---



---