`````````

<! cd = 11/01/12 > <! MP3 11/01/12 > <! pix 11/01/12 > <! SOURCES 11/01/12 - WP, AMG > <! icons 11/01/12 > <! UPDATES: 11/01/12 - need review of Respire Fundo >

---
Walter Franco was an avant-rock/post-tropicalia oddball artist who, like many Brazilians, started his music career as a competitor in the early 1970's song festivals, but who swerved into weirdo territory as soon as possible. His debut album, Ou Nao, vies with Caetano Veloso's equally experimental Araca Azul as one of the worst-selling Brazilian albums of all time. Although later albums were more commercially viable, Franco's avant streak persisted, making his work some fo the most challenging -- and intriguing -- in the Brazilian rock canon. Let's take a look...


<! Walter Franco was a composer who made important contributions displayed in the historic festivals of Brazilian popular music. As a student of dramatic arts, Walter Franco wrote music for several plays by Albee, Esquilo, and others. In 1971, he wrote the theme song of the soap opera Hospital, which was released as a single. He participated in the first, second, and third Festival Universitário of TV Tupi with the songs "Nčo se Queima um Sonho" (performed by Geraldo Vandré), "Sol de Vidro" (with Eneida, taking third place), and, in the third festival, "Animal Sentimental" and "Pátio dos Loucos." "Cabeća," presented in the VII FIC, in 1972, received a special prize in the festival despite widespread booing because of the content. In 1973 he recorded his first LP, Nčo, possibly the one which sold the least copies in the history of Brazilian phonography. The album opened what Franco called the "Cycle of No," the negation of the dark period of dictatorship. At the Abertura festival two years later, his "Muito Tudo" won third place, in spite of being received with jeering again. This opened the "Cycle of Yes," where, with the help of yoga and pacifism, he advocated positive thoughts against violence. The rock album Revolver came out in this period (1976). Three years later Franco participated in TV Tupi's festival with "Canalha." In 1982 he performed "Serra do Luar" in the MPB shell. In 1984, his song "Seja Feita a Vontade do Povo" was successful during the campaign for the democratic elections. In 1997, Franco toured Brazil with the show Nčo Violźncia. He also released other albums throughout his career, including Ou nčo (reissued as a CD in 1994), Respire Fundo, Vela Aberta. ~ Alvaro Neder, All Music Guide >

---
Discography
---

Walter Franco "Ou Nao" (Continental, 1973) (LP)


(Produced by Rogero Duprat)
Bizarraloid, weirdo stuff, with a similar vibe to Tom Ze and Lula Cortes... This is primarily acoustic, but pushing hard against the boundaries. The first half of the record is freeform, deconstructionist folk-rock, and only midway through, on the forro-flavored "Xaxados E Perdidos," does a more recognizable, Brazilian-tinged musicality come into play (bit even then, the bouncy accordion is interrupted in the middle of the song, and replaced by near-silence until bursting back again...) This is artsy difficult-listening, played on a world music stage, purposefully abstract and inaccessible, certainly not for everyone, but probably of interest to the receptive few.


<! 11/12: Duprat credit from blog reference; haven't SEEN credit myself - didnt see it in any album art on blog >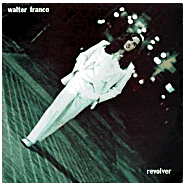 Walter Franco "Revolver" (Continental, 1975) (LP)


A very cool album, and one that really, really needs to be reissued. The opening track is a leaden, electric guitar-laden rocker, but things quickly get much more interesting, with Franco progging and psychedelicizing in ways worthy of many cutting-edge contemporaries, Brazilians and non-Brazilians alike. Syd Barrett, Brian Eno, Tom Ze and Frank Zappa come to mind, but Franco's really off on his own, unique trip here. Although this is purposefully difficult music, it's also very skillful: the synthesizers on the salsa-flavored "Partir Do Alto/Animal Sentimental" are ahead of their time; "Toque Fragil" would have made the Tubes or Devo proud; the English-language "Nothing" is a novelty song worthy of Dr. Demento-ization, and by the time Franco returns to more straightforward '70s rock, you'll feel much more forgiving; indeed a few songs are surprisingly quite listenable. This is bizarre, challenging stuff, but it's fun, funny, well-crafted and definititely worth tracking down. Even though I'd have a hard time listening to it recreationally, I'd say this is Franco's masterpiece.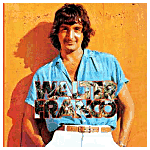 Walter Franco "Respire Fundo" (CBS-Epic, 1978)
A spacy, more acoustic-based album, but with mellow, melodic cosmic folk-rock leanings and strong echoes of David Bowie. I don't think there's much here I'd want to listen to just for fun, but it's a cool, quirky Brazilian rock album, a good one to "know about," for sure. Lots of heavyweight talent playing on here, including Joao Donato playing piano on about half the tracks, Sergio Dias (of Os Mutantes) playing guitar, percussionist Chico Batera and guest appearances by folks such as Geraldo Azevedo, Ze Ramalho, Sivuca, Lulu Santos, and the band <"terco_01.html">O Terco, to name a few. A creative, far-flung outing, though challenging and perhaps a bit inaccessible to many listeners. In other words, another kooky Walter Franco album!


<! 01 - Respire fundo (Walter Franco) 02 - Fado do destino (Walter Franco) 03 - Coraćčo tranquilo (Walter Franco) 04 - Lindo blue (Walter Franco) 05 - Até breve (R.Bonvicini - Walter Franco) 06 - Criaturas (Cid Franco - Walter Franco) 07 - Os bichos (Cid Franco - Walter Franco) 08 - Plenitude [Ubiqüidade] (Walter Franco) 09 - Govinda (Walter Franco) 10 - Berceuse dos elefantes (Walter Franco) Arranjos: Paulo Machado (2,4,8) Wagner Tiso (6) Walter Franco - voz (1,2,3,4,5,6,7,8,9,10), violčo (1,3,6,7,8,10), ovation (9) Nivaldo Ornelas - saxofone (1), flauta (4,6,7,8) Leonel Villar - violčo (2) Antônio Ferreira - guitarra portuguesa (2) Chico Batera - percussčo (3,5,7,9), congas (6) Geraldo Azevedo - viola 6 cordas (3,7) Jočo Donato - piano elétrico (3,5,7,10), piano acústico (10) Picolé - bateria (3), percussčo (7) Sivuca - acordeon (3,7),vocal(3) Zé Ramalho - baixo elétrico (3),viola 12 Cordas (3,6), viola 10 cordas (7) Altamiro Carrilho - flauta (4,6,8) Antônio CČndido Sobrinho - trompa (4,6,8) Arnaldo Dias Baptista - piano (4) Celso Woltzenlogel - flauta (4,6,8) Geraldo Moreira - flauta (4,6,8) Jayme Araújo - sax alto (4,6,8) Jočo Luiz Lobčo - bateria (4) Jorginho da Flauta (Jorge Ferreira da Silva) - flauta (4,6,8) José de Oliveira - clarinete (4,6,8) Lulu Santos - viola 6 cordas (4) Paulo Cesar Barros - baixo elétrico (4) Pedro Silveira Neto - clarinete (4,6,8) Ricardo Pontes - flauta (4,6,8) Sérgio Dias Baptista - guitarras (4), violčo (5), viola 10 Cordas (5), cítara (9), viola 12 cordas (9) Zdenek Svab - trompa (4,6,8) Djalma Corrźa - percussčo (5), berimbau (5), congas (5) Luiz Carlos dos Santos - bateria (5) Márcio Montarroyos - trompete (5) Waldecir Machado - baixo elétrico (5) Elber Bedaque - bateria (6) Luizčo Maia - baixo elétrico (6) Wagner Tiso - piano (6), órgčo (6) Chico Julien - baixo elétrico (7) Jočo Daltro de Almeida - violino (7) Dadi Carvalho - baixo elétrico (8) Guga Stroeter - bateria (8) Mu Carvalho (Maurício Magalhčes Carvalho) - piano (8) Paulinho Soledade - violčo ovation (8) Renato Ladeira - violčo (8) Candinho Faria - percussčo (9), tabla (9) Jaques Morelenbaum - violoncelo (9) Participaćčo especial (1) - O TERāO: Cesar de Mercźs - vocal, guitarra Chico Batera - percussčo Luis Moreno - bateria, vocal Sérgio Caffa - teclados Sérgio Hinds - guitarra Sérgio Magrčo - vocal, baixo elétrico coro (2,4,8) Elba Ramalho, Lizzie Bravo, Mônica Schmidt, Renato Ladeira, Terezinha de Jesus >

Walter Franco "Vela Aberta" (Columbia-Epic, 1980) (LP)


(Produced by Romeu Giosa & Carlos A. De Sousa)
Impassioned, proggy pop-rock with some catchy riffs and a Latin/Brazilian undertone... This is a little overblown, but certainly easier on the ears than some of his early work. Sergio Hinds (of the band O Terco) plays lead guitar, and certainly some of his proggy leanings are on display... Some tracks, like the thumping "Canalha," even lapse into Spinal Tappy grandiosity -- it's still relatively difficult music, but kind of cool if you're into proggy-hard rock kitsch.
Walter Franco "Walter Franco" (1982) (LP)

Walter Franco "Tutano" (YB Music, 2001)


---
Links
---
---



---