<! cd = 03/30/12 > <! MP3 03/30/12, 12/02/12 > <! pix 03/30/12 > <! ALLBM 03/30/12 > <! icons 03/30/12 > <! UPDATES: 03/30/12 - posted, some adds 12/02/12 - new review, asins >

---
Composer-arranger Francis Hime was a star of the second wave of post-bossa MPB artists, a pianist who collaborated with or provided songs for many of Brazil's greatest performers. His wife, singer-producer Olivia Hime, is also a great promoter of classic and modern Brazilian music, releasing dozens of albums through her thriving independent label, Biscoito Fino. Here's a quick look at Hime's work...


<! Francis Victor Walter Hime (Rio de Janeiro, 31 de agosto de 1939) é um compositor, arranjador, pianista e cantor brasileiro. Possui formaćčo em composićčo, regźncia, harmonia e arranjo. Francis Hime iniciou seus estudos de piano aos 6 anos. Em 1955, se mudou para a cidade de Lausanne, na Suíća, onde permaneceu até 1959, dedicando-se ą música. De volta ao Brasil, Francis passou a desenvolver uma amizade com alguns dos artistas que faziam parte do já consolidado movimento da bossa nova, tais como Vinícius de Moraes, Carlos Lyra, Baden Powell, Edu Lobo, Dori Caymmi, Wanda Sá e Marcos Valle. É dessa época sua primeira parceria com Vinícius, "Sem mais adeus", gravada na época por Wanda Sá e posteriormente por vários outros intérpretes. Em 1969, formou-se em Engenharia MecČnica e casou-se com a cantora e letrista Olívia Hime, com quem viria a ter trźs filhas: Maria, Joana e Luiza. No mesmo ano, Francis mudou-se para os Estados Unidos, onde deu continuidade a seus estudos musicais. Lá permaneceu por 4 anos. Francis Hime possui mais de quinze discos e dvds lanćados. É parceiro de grandes nome da música brasileira, como Vinícius de Moraes, Chico Buarque, Toquinho, Dias Gomes, Gilberto Gil, Milton Nascimento, Paulinho da Viola, Ruy Guerra, Paulo César Pinheiro, Ivan Lins, Victor Martins, Cacaso, Capinan e outros. Entre suas composićões, destacam-se aquelas feitas em parceria com Chico Buarque, tais como: "Vai passar", "Atrás da porta", "Luíza", "Trocando em miúdos". Segundo o musicólogo Ricardo Cravo Albin, "Francis Hime pertence ą realeza musical do Brasil, sendo da mesma linhagem de Tom Jobim, Carlos Lyra, Cartola, Chico Buarque e alguns poucos". >

---
Discography
---

Francis Hime "Francis Hime" (Odeon, 1973)


Soundtrack enthusiasts will love this one... Not that this album actually is a soundtrack, mind you, just that it's got that sort of sound. Overly lush electronic keyboards set a nice tone at the start, a bit reminiscent in tone of Milton Nascimento's groundbreaking work on Odeon at the same time, yet Hime's melodic crescendi sometimes lack subtlety, particularly as the strings and horns kick in (arranged courtesy of Maestro Gaya...) There's clearly an Edu Lobo-ish aspiration to pick up where Jobim left off, but again, the album lacks a certain restraint and elegance... It's just too punchy, too consistently and too often. Hime's whispery vocals are nice, though... This is worth checking out if you want to give Hime a fair shake, it's certainly less florid and overblown than his later, synthier efforts.


<! B00008O6YW > <! 1 Atrás da porta 2 A meia-luz 3 Olivia 4 Sem mais adeus 5 Ave-Maria 6 Valsa rancho 7 Minha 8 Último canto 9 Réquiem >

Francis Hime "Passaredo" (Som Livre, 1977)



(Produced by Olivia Hime & Sergio Mello)
A classy, mellow MPB album, very much in the highbrow tradition of Antonio Carlos Jobim or Chico Buarque. Hime melds classical and jazz elements, in a fairly studied, formal way, crafting a measured mix of style reminiscent of the masters of the style, although you can detect the rivets that hold things together more readily in Hime's work than Jobim's: his placement of, say, a wispy, Miles Davis-style trumpet calls attention to itself in ways that you would not hear in a Jobim arrangement. Still, it's a very nice record -- substantial, formal, but also pretty and intoxicating in the way the best '70s MPB can be. On board is an all-star cast, with radio-days elder Altamiro Carrilho on flute (as well as Danilo Caymmi on several tunes), sambista Wilson Das Neves on drums and Nelson Angelo playing guitar throughout. Hime's wife, Olivia, co-produced the album and sings on several songs, while Chico Buarque croons a duet on "Luisa," the tune that closes the album, co-written with Hime... All in all, a strong record... It might not have the same mystic feel as some of the more legendary albums, but it's definitely worth checking out.


<! Nelson Angleo - g.m Altamiro Carrilho flute, also Danilo Caymmi flute on several tunes, Wilson Das Neves drums. CHico Buarque duets on one song, "Luisa," which he co-wrote with Hime... studied, formal, a highbrow mix of classical and jazz reminiscent of Jobim and Buarque >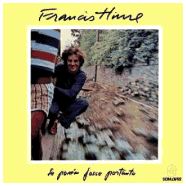 Francis Hime "Se Porem Fosse Portando" (Som Livre, 1978) (LP)


(Arranged and conducted by Francis Hime)
Another exemplary '70s MPB set, with elegance, diversity, magicality and a bit of on-purpose goofiness and musical nostalgia. Hime dips into various styles of jazz, pop ballads and regional music, even a bit of what sounds like Mexican sones (on "A Noite") and Argentine tango (on the soundtrack-ish instrumental, "Joana"). Olivia Hime joins him on a few enchanting duets, and co-composes as well. Other collaborators include Chico Buarque, Vinicius de Moraes, Ruy Guerra and Edu Lobo and a couple of songs with lyrics by the poet Antonio Carlos de Brito (aka Casaco) The performers include Nelson Angelo and Novelli, as well as Wilson das Neves and Chico Batera on drums, along with a host of '70s session players. Cristina Buarque sings on one song as well... This is classic, high-class MPB, perhaps most closely aligned with Buarque's cool cosmopolitanism. The duets with Olivia are particularly nice. Recommended!


<! This is Francis Hime - Se Porem Fosse Portanto (1978), for Som Livre. It is not necessary to say that Francis Hime was the most celebrated among the "new artists". Se Porem Fosse Portanto is delicious to hear, the first track 01 - Pivete, worth the entire album that has Francis Hime at the cover riding one of those "bondinhos", which is an old transportation service in Rio de Janeiro that remains in Santa Teresa neighbor. You should ride one, such like Francis Hime next time you come to Rio de Janeiro. Personnel listing is so huge that I will ask for the help of Discos do Brasil, always complete, here. Tracks include: 01 - Pivete (Francis Hime / Chico Buarque) 02 - Santa Tereza (Francis Hime / Olivia Hime) 03 - Se Porém Fosse Portanto (Francis Hime / Cacaso) 04 - Demolićčo (Francis Hime / Carlos Queiroz Telles) 05 - Ode Marítima (Francis Hime / Ruy Guerra) 06 - A Noite (Francis Hime / Renata Palotini) 07 - Saudade de Amar (Francis Hime / Vinicius de Moraes) with Olivia Hime 08 - Ieramá (Francis Hime / Ruy Guerra) 09 - Trźs Marias (Francis Hime / Olivia Hime) 10 - Desembolada (Francis Hime / Chico Buarque) with Olivia Hime 11 - Maria (Francis Hime / Vinicius de Moraes) 12 - Joana (Francis Hime) 13 - O Sim Pelo Nčo (Francis Hime / Edu Lobo) 14 - Terceiro Amor (Francis Hime / Cacaso) Francis Hime - voice (1,2,3,4,5,6,7,8,9,10,11,13,14), piano (1,2,3,4,5,6,7,8,9,10,11,12,13,14) Nelson Angelo - acoustic guitar (1,2,3,5,6,8,9,10,12,14), guitar (4) Novelli - bass (1,2,3,6,8,9,10,12,14) Wilson das Neves - drums (1,2,3,6,8,9,10,12),14, bass (4) Chico Batera - percussion (1,3,6,8,10,12,14) Chacal - percussion (1,3,4,6,10,12,14), tamborim (9) Ariovaldo - percussion (1,3,6,8,10,12) Nei - surdo (1,14) Celso Woltzenlogel - flute (1,2,5,6,9,11,12,13) Jorginho - flute (1,2,6,11,12) Franklin - flute (1,11,12) Copinha - flute (1,11,12) Marcio Montarroyos - trumpet (1,4,6,12,13), flugelhorn (14) Maurilio - trumpet (1,6,12) Maciel - trombone (1,4,6,12) Jočo Luiz - trombone (1,6,12) Manuel Flamarion - trombone (1,4,6,12) Botelho - clarinet (2,6,13) Netinho - alto sax (3), soprano sax (8) Schwab - trompa (4) Geraldo Mello - trompa (4) Chiquinho do Acordeon - accordion (6,10) Hermes - percussion (8) Alceo - cello (11,13) Jorge Luiz - acoustic guitar (12) Neco - viola (12) Niltinho - trumpet (12) Cristina, Olivia, Pii, Telma - vocals (6,8) Cristina - vocal (9) >

Francis Hime "Francis" (Som Livre, 1980)

Francis Hime "Sonho De Moco" (Som Livre, 1981) (LP)

Francis Hime "Pau Brasil" (Som Livre, 1982) (LP)





<! B001CK1CH2 - correct ASIN? >

Francis Hime "Essas Parcerias" (Elenco/Opus, 1984)


(Reissued on Hime's label, Biscoito Fino. See below.)
Francis Hime "Clareando" (Som Livre, 1985)

Francis Hime "Choro Rasgado" (Universal, 1997)






<! is MP3 link right? >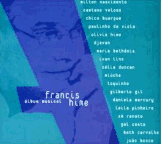 Francis Hime/Various Artists "Album Musical" (Warner Brothers, 1997)


An all-star songbook featuring eighteen songs co-composed by Hime, along with Chico Buarque, Ruy Guerra and others. Guest performers include Hime's wife, Olivia, as well as Maria Bethania, Joao Bosco, Chico Buarque, Paulinho Da Viola, Djavan, Gilberto Gil, Daniella Mercury, Milton Nascimento, Caetano Veloso and many others. Whew! Talk about a lineup of heavy-hitters!

Francis Hime/Various Artists "Sinfonia De Rio De Janeiro De San Sabastiao" (Biscoito Fino, 2002)


This peppy, operatic MPB musical features a libretto by Paulo Cesar Pinheiro and Geraldo Carneiro, with music by Francis Hime and strong performances by Ze Renato, Sergio Santos, Leila Pinheiro, Lenine and Hime's wife, Olivia. I was surprised by how much I enjoyed this high-concept album -- the direction and arrangements are quite crisp and clear-cut, smoothly achieving the glitzy, sweeping grandeur aimed at in similar efforts of the 1970s (particularly by Elis Regina), but rarely with such elegance or economy. For fans of MPB's old-fashioned pop-cabaret crossovers, this is an album worth tracking down and checking out. Recommended!

Francis Hime "Choro Rasgado" (Biscoito Fino, 2002)



A delightful update of the classic choro style, which emerged at the turn of the 19th and 20th Centuries as a Brazilian parallel to New Orleans Dixieland and jazz. Here, classic choro themes are smoothed out and given a sleek, modern, MPB gloss, but still quite pleasant. Hime seldom overplays his hand, and this is a lovely record from start to finish, glitzy at times, but not overly so. The songs are all Hime originals, but have a perky bounce that will be appreciated by fans of classic choro tunes by Jacob do Bandolim or Pixinguinha. Recommended!
Francis Hime "Brasil Lua Cheia" (Biscoito Fino, 2004)


Francis Hime "Essas Parcerias" (Biscoito Fino, 2005)

Francis Hime "Arquitectura Da Flor" (Biscoito Fino, 2006)


Francis Hime "Ao Vivo" (Biscoito Fino, 2007)






<! B0017PQ768 "Meus Caros Pianistas" >

Francis Hime "O Tempo Das Palavras... Imagem" (Biscoito Fino, 2009)


Francis Hime & Olivia Hime "Alma Musica: Ao Vivo" (Biscoito Fino, 2012)






<! Dec 4, 2012 >

---
Tributes
---
Clara Redig "...Canta Francis Hime" (CID, 2007)


---
Links
---
---



---