<! cd= 12/17/06> <! MP3 09/12/08 > <! pix 12/05/09, 04/30/12 > <! icons 01/22/11 > <! UPDATES: 09/12/08 >

---
Guitarist Toninho Horta is one of Brazil's best-known and most highly regarded jazz players... A native of the Minas Gerais region, Horta was linked to the "corner club" of Milton Nascimento, and has played guitar for many of the biggest names in Brazilian popular music. On his solo albums, guest artists have included jazz heavyweights such as Pat Metheny and Nana Vasconcelos and Horta's work is widely appreciated by guitar enthusiasts worldwide... Here's a quick look at his work.
---
Discography
---
Toninho Horta/Various Artists "Beto Guedes/Danilo Caymmi/Novelli/Toninho Horta" (Odeon, 1973) (LP)

Toninho Horta "Terra Dos Passaros" (EMI, 1980)



Toninho Horta "Toninho Horta" (EMI, 1980)


An all-star cast joins Horta on this slick yet soulful outing -- Lo Borges and sambista Roberto Ribeiro add vocals on a couple of tracks; fusion-jazz legend Pat Metheny plays throughout while Brazilian talent includes Jose Roberto Bertrami, Paulo Braga, Raul De Souza, Nivaldo Ornellas, Wagner Tiso and others, with several songs co-written by Ronaldo Bastos and Fernando Brant. Some songs are okay, some are just dreadful... It does all sound very dated, though, very much a product of its time, defined by the conventions and stylistic tics of synthy 1970s/80s fusion and the Minas Gerais/Brazilian jazz scene that included folks like Milton Nascimento. Not my cup of tea, but probably good for the genre.

Toninho Horta "Diamond Land" (Verve, 1988)


(Produced by Toninho Horta & David Hadjes)
Pure syrupy muzak. Horta works with a mix of Brazilian and non-Brazilian jazz musicians, including Wayne Shorter, Nivaldo Ornellas, Robertinho Silva... and a bunch of other folks I don't really care about. Joyce sings sweet lead vocals (in English) on "Beijo Partido," a Horta original and a nice song, but also hopelessly cheesy in this rendition. Of historical note: Paula Morelenbaum sings as part of the vocal chorus on several songs; likewise, Jaques Morelenbaum chimes in on cello. Horrible album, though, unless you're a true-blue smooth-jazz fan, in which case I imagine it could be considered heavenly.
Toninho Horta "Moonstone" (Verve, 1989)


Toninho Horta/Various Artists "Concerto Planeta Terra" (Independente, 1989)
A live album, with Nelson Ayres, Nivaldo Ornelas and Marcio Montarroyos
Toninho Horta "Once I Loved" (Verve, 1992)


With Gary Peacock and Billy Higgins
Toninho Horta "Durango Kid" (Big World, 1993)

Toninho Horta "Foot On The Road" (Verve, 1994)

Toninho Horta & Carlos Fernando "Qualquer Cancao: A Musica De Chico Buarque" (Dubas, 1994)



An homage to songwriter Chico Buarque with guitarist Toninho Horta joined by vocalist Carlos Fernando, of the band Nouvelle Cuisine.
Toninho Horta "Durango Kid 2" (Big World, 1995)

Toninho Horta & Joyce "Sem Voce" (Omagatoki/Discmedi, 1995)
A very nice, very mellow collaboration with Brazilian bossa guitarist Joyce. Horta sings on a couple of tunes, and plays acoustic throughout, she sings on the rest of the album, and plays acoustic lead on a couple of tracks as well. It's a another de facto Jobim tribute album, with one standard after another. This duo definitely put their personal stamp on these songs, though, and their gentle collaborative vibe is quite pleasant to tune into. Recommended!
Toninho Horta "Seranade" (Aqui-Oh, 1997)


Toninho Horta & Flavio Venturini "Ao Vivo No Circo Voador" (Dubas, 1997)

Toninho Horta "From Ton To Tom: A Tribute To Tom Jobim" (Discmedi, 1998)

Toninho Horta "Quadros Modernos" (Independente, 2000)


With Chiquito Braga and Juarez Moreira...
Toninho Horta "Com O Pe No Forro" (Minas, 2004)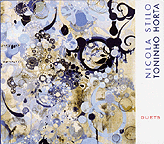 Toninho Horta & Nicola Stilo "Duets" (Adventure Music, 2005)


Suuuuuper-mellow instrumental duets between Brazilian guitar legend Toninho Horta and Italian flautist Nicola Stilo (who once played in Chet Baker's band...) Make no mistake: this is lite-jazz easy listening, but if you go for that kinda stuff, this is also very good lite-jazz easy listening... Certainly worth checking out, if this sounds up your alley
---
Best-Ofs
---
---
Links
---
All Brazilian Music, as usual, has a good biographical sketch and discography... Recommended website! (In English and Portuguese.)
---



---