<! cd = 10/15/12 > <! MP3 10/15/12 - check soundtrack titles next? > <! pix 00/00/00 > <! SOURCES 00/00/00 > <! icons 00/00/00 > <! UPDATES: 10/15/12 - posted >

---
Guilherme Lamounier worked extensively in Brazilian radio and television, contributing to numerous soundtracks, as well as recording several solo albums, which bridged several different pop styles. Here's a quick look at his work...


<! a relative of Cia Lamounier?? >

---
Discography
---
Guilherme Lamounier/Various Artists "V Festival Internacional Da Cancao vol.2" (Odeon, 1970) (LP)
Like many artists of the era, Lamounier got his start in the popular song festivals where artists competed either as performers of composers... I haven't heard this one yet, but I am curious.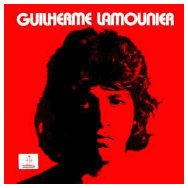 Guilherme Lamounier "Guilherme Lamounier" (Odeon, 1970) (LP)
(Produced by Carlos Imperial)
(Orchestrations by Leonardo Bruno, Cipo & Salvador)
Lamounier's debut was a mix of heavily orchestrated soul music and elaborate pop/rock, with emphatic vocals and brassy arrangements. This has a distinctly early-'70s feel, pretty much in line with the sunshine pop scene developing in the United States at the time, sort of in a Timmy Thomas/Philly soul mode. Carlos Imperial, one of Brazil's hipper producers, has his hands all over this one, writing or co-writing all the songs, with Lamounier credited on several, as well as a number of other collaborators, including Brazilian soul star Tim Maia, who co-wrote "Cristina," with Lamounier yowling away in a very tortured, Maia-esque way. Nothing on here really wowed me -- I didn't find any of it very fun to listen to -- but anyone delving into the Black Rio soul scene definitely has to check this one out. The spidery psychedelic guitar work on "Febre" and the sleek arrangements on "As Lagrimas Caem" and "O Deus" are highlights...


<! is that Dom Salvador? > <! all songs co-written by Carlos Imperial, with Lamounier and other as collaborators. Includes one, "Cristina," that was co-written with Tim Maia. >

Guilherme Lamounier "O Homem Que Deve Morrer" (Soundtrack) (Som Livre, 1971) (LP)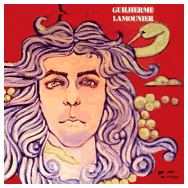 Guilherme Lamounier "Guilherme Lamounier" (Continental, 1973) (LP) <! Atco?? >
(Arranged and conducted by Luis Claudio)
A super-cool album, with very listenable light-psychedelic/groovy-folkie MPB material from festival performer and soundtrack composer Guilherme Lamounier. This isn't as kooky and out-there as Os Mutantes and the tropicalista crowd, but also not as wanky or unlistenable. It's a very good example of the mellow, eclectic vibe of the time, and Lamounier comes off as a very nice, relaxed performer, and there are some seriously "heavy" acid rock touches, along with some lighter, sweeter material. Definitely worth checking out. Also worth noting is that all the songs were co-written with Tiberio Gaspar.
Guilherme Lamounier "14 Super Sucessos Brasileiros" (Philips, 1977) (LP)

Guilherme Lamounier "Locomotivas (Soundtrack)" (Som Livre, 1977) (LP)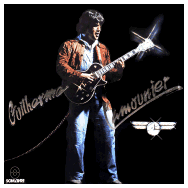 Guilherme Lamounier "Guilherme Lamounier" (Som Livre, 1978) (LP)


(Produced by Guto Graca Mello)
At first I didn't like this record, but revisiting it, I found it more subtle than I originally thought. A dense yet sleek pop-soul outing, this features contributions from several notable jazz and samba-soul performers, including guitarist Ze Menezes, trombonist Ed Maciel, Lincoln Olivetti on piano and organ, and Jane Duboc singing backup throughout most of the album. Lamounier croons and includes a few Tim Maia-styled soul contortions, but it's tempered by a silky, Sgt. Pepper-ish orchestral sound, and it's mostly kinda classy, although some tracks are over the top and even a bit irritating ("Para, Chega, Basta" and "Eu Preciso De Alguem," for example...) It's complex, layered pop stuff...sort of like a Brazilian Nilsson, perhaps? Anyway, this is definitely worth checking out.


<! ALT: This time around Lamounier gets into some Tim Maia-styled Brazilian funk and R&B, most of it pretty rough-edged and irritating, and much of it lapsing (perhaps on purpose?) into stylistic self-parody. This one didn't do much for me, but it is worth checking out if you're into the whole "Black Rio" soul scene. > <! drummer: Picole >

Guilherme Lamounier "Feijao Maravilha (Soundtrack)" (Som Livre, 1979) (LP)





Guilherme Lamounier "Disco Show" (Som Livre, 1979) (LP)





Guilherme Lamounier "Marron Glace (Soundtrack)" (Som Livre, 1979) (LP)





Guilherme Lamounier "A Era Dos Halley (Soundtrack)" (Som Livre, 1985)



<! children's music > <! Guilherme Lamounier "Guilherme Lamounier" (Continental, 1973) (LP) B0042VSO1K - Atco?? Guilherme Lamounier "Será que eu pus um grilo na sua cabeća?/Mini Neila" (Atco, 1974) Compacto simples Guilherme Lamounier "Banda da lua/Orquestra divina" (EMI-Odeon, 1982) compacto simples >

---
Links
---
---



---