<! cd=02/18/07 > <! MP3 09/12/08 > <! update 09/12/08 > <! pix 11/26/09 > <! icons 01/24/11 >

---
One of the key members of Milton Nascimento's Clube Da Esquino collective, songwriter Lo Borges is probably best known for his compositions, "O Trem Azul" and "Vento De Maio." Like Nascimento, Borges explores somewhat undefinable musical terrain, blending pop, rock, and jazz with regional Brazilian styles. His own work tilts a little more towards the rock end to the spectrum, but it's still very much a not-for-everyone, acquired taste. He's recorded sparingly over the years, but here's a quick look at his work...
---
Discography
---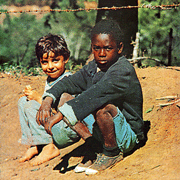 Milton Nascimento & Lo Borges "Clube Da Esquina" (EMI Odeon, 1972)



Nascimento's masterpiece. An expansive, kaleidoscopic 2-LP set covering an amazingly wide range of styles, from folky space rock-tropicalia, to various regional Brazilian styles and rich traces of jazz fusion. Includes some of Nascimento's loveliest melodies and most memorable tunes, as well as trippy tracks which push the envelope a bit. This album was sort of a declaration of purpose for the budding music scene of the Minas Geraes region, much as the Tropicalia album that brought Caetano Veloso and Os Mutantes to the fore was a musical manifesto for Brazilian psychedelia... In addition to Nascimento's contributions, this album also introduced the work of artists such as Nelson Angelo, Lo Borges and Beto Guedes, among others. Romantic samba singer Alaide Costa, whose career was plagued by health troubles, also made her commercial comeback here, singing a lovely version of "Me Deixa Em Paz." A landmark album... Highly recommended!
Lo Borges "Lo Borges" (EMI-Odeon, 1972)



Milton Nascimento & Lo Borges "Clube Da Esquina 2" (EMI Odeon, 1978)


Another 2-LP set that (in theory) follows in the same footsteps as the first Clube Da Esquina album. However, it lacks the depth and variety of that brilliant outing. Pretty slushy and syrupy; doesn't do a lot for me, though many Milton fans swear by it.
Lo Borges "A Via Lactea" (EMI-Odeon, 1979)



Os Borges "Os Borges" (EMI-Odeon, 1980)



The Borges family band, featuring Lo Borges and his half-dozen brothers, as well as their mom and dad, as well as guest performers Lucio Alves, Gonzaguinha, Milton Nascimento and Elis Regina... A little more accessible than Lo's own work, but definitely some similarities that give a sense of what his musical roots were like... Interesting!


<! Os Borges (1980), for Odeon, featuring the Borges family and some very special guests. Os Borges are a musical family from Minas Gerais state, consisting of the brothers Nico Borges, Telo Borges, Marilton Borges, Márcio Borges, Yź Borges, Lô Borges and Solange Borges, the father and mother Salomao Borges and Dona Maricota Borges. The very special guests are Toninho Horta, Elis Regina, Gonzaguinha, Milton Nascimento and Lucio Alves. The cover shows Os Borges room with instruments all around the floor with a picture of The White Album from The Beatles, strong influence to the Borges brothers and Clube da Esquina movement from Minas Gerais. By the way, if love the Clube da Esquina album with Milton Nascimento and Lo Borges, you should consider this one. Personnel listing was not made available by Odeon, but the session photos brings some musicians in the session, such like, Marcal, Nivaldo Ornellas, Cesar Camargo Mariano, Paulinho Carvalho, Helvius Vilela, Nana Vasconcellos, Guilherme Arantes, among others. Nico Telo Marilton Marcio Ye Lo Solange Salomao Maricota 01 - Em Família (Yé Borges / Márcio Borges) - Os Borges 02 - Carona (Marilton Borges) - Marilton Borges with Gonzaguinha 03 - Voa Bicho (Telo Borges / Márcio Borges) - Telo Borges / Solange Borges 04 - Um Sonho na Correnteza (Yé Borges / Márcio Borges) - Solange Borges / Yé Borges 05 - Ainda (Telo Borges / Márcio Borges) - Telo Borges / Marilton Borges 06 - O Sapo (Tradicional / Adpt. Salomčo Borges) - Os Borges 07 - Eu Sou Como Vocź É (Lô Borges) - Lô Borges / Marilton Borges 08 - Outro Cais (Marilton Borges / Duca Leal) - Elis Regina 09 - No Tom de Sempre (Chico Lessa / Márcio Borges) - Chico Lessa / Lô Borges 10 - Qualquer Caminho (Márcio Borges) - Márcio Borges / Marilton Borges 11 - Daniel (Nico Borges / Solange Borges) - Solange Borges 12 - Pros Meninos (Nico Borges / Duca Leal) - Nico Borges / Milton Nascimento >

Lo Borges "Nuvem Cigana" (EMI, 1982)



Swooping, cluttered arrangements surround Borges' tinny vocals... The songs are all uniformly baroque, almost impentetrably dense, anchored by a flanged, Methenyesque guitar and a frothy, hypermelodic wall-of-sound approach. The opening songs were too brash and too busy, but I have to admit (almost ashamedly) that I was able to settle into Borges' wavelength as the album goes on. This isn't my cup of tea, but fans of fusion-jazzy pop-prog (and fans of Milton Nascimento, in particular) may find this a compelling album. It's, um, at least an interesting look at how lavish Brazilian pop could become. Some of the quieter acoustic moments (few and far between) are nice.
Lo Borges "Sonho Real" (Barclay-Ariola, 1984)

Lo Borges "Solo" (CBS, 1987)

Lo Borges "Meu Filme" (EMI, 1996)

Lo Borges "Feira Moderna" (Sony, 2001)


A new album that includes a dip into his old hits, re-recorded here with the help of a younger generation of Brazilian rockers, guys from bands like Ira! and Skank...
Lo Borges "Um Dia E Meio" (Albatroz, 2003)

---
Best-Ofs
---

Lo Borges "Meus Momentos" (EMI, 1999)


This 2-CD retrospective of his solo work starts out with promise -- the first few tracks are much in keeping with the style and feel of some of Nascimento's better, spacier albums. Glossy and ornate, but unfocused and slightly askew. Unfortunately, it rapidly becomes simply cloying and saccharine. I would not recommend this record, though if you're really into filling in the blanks in your understanding of Milton Nascimento, this may be of interest.
Lo Borges "Serie Bis" (EMI, 2000)


2-CD best-of set, including a lot of overlap with the earlier Meus Momentos collection.
Lo Borges "Serie Identidade" (EMI, 2002)

Lo Borges "Retratos" (EMI, 2004)

Lo Borges "Para Sempre" (EMI, 2006)

---



---