<! cd = 04/16/12 > <! MP3 00/00/00 > <! pix 00/00/00 > <! ALLBM 00/00/00 > <! icons 00/00/00 > <! UPDATES: 05/01/12 - posted >

---
Ary Lobo (1930-1980) was a forro and baiao star hailing from Fortaleza who had a series of hits in the 1950s and '60s. I like his stuff: he had a more relaxed, swinging style than the better-known Luiz Gonzaga and a nice melodic bounce... Here's a quick look at his work...


<! Gabriel Eusébio dos Santos Lobo (Belém, Pará, 14 de Agosto de 1930 - Fortaleza, Ceará[1], 22 de Agosto de 1980), mais conhecido como Ary Lobo, foi um cantor e compositor brasileiro. Ary Lobo teve mais de 700 músicas gravadas[carece de fontes?] por ele e outros cantores, músicos e intérpretes. Era defensor da música nordestina de raiz. De estilo semelhante ao de Jackson do Pandeiro, cantando derivativos do baičo, entre cocos e rojões, Ary Lobo lanćou vários sucessos nos anos 50 e 60 em seus nove LPs na RCA. Retratava a vida e os costumes nordestinos em números divertidos, como "Cheiro da gasolina" e "Madame Paraíba". Suas gravaćões mais conhecidas sčo, provavelmente, "O último pau-de-arara" e "Eu vou pra lua". >

---
Discography
---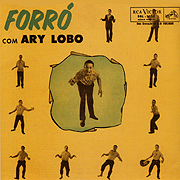 Ary Lobo "Forro Com Ary Lobo" (RCA, 1959)



Fun stuff! A forro singer with a more modern bent, Lobo managed to transcend the severity and monotonous feel of the style's master, Luiz Gonzaga, and got into a swinging mode that was more varied and less manic... Fans of Lobo's contemprary Jackson Do Pandeiro will find lots to get excited about here: there's the same freewheeling mix of samba rhythms and forro instrumentation... And Lobo's vocals are fluid and expressive as well; he digs into the lyrics and croons them rather than belts them out, adding to this album's eclectic, playful feel.... This was his first full-length album -- mighty fine stuff, and definitely recommended!

Ary Lobo "Cheguei Na Luna" (RCA, 1961)



Another excellent album by forro star Ary Lobo, with a fun, flexible melodic approach that is as scintillating and cheery now as it was several decades ago. Recommended!

Ary Lobo "Ary Lobo" (RCA, 1962)



This is a nice record -- Lobo's fifth for the RCA label -- packed with baiaos, cocos, rojaos and sambas. Maybe it's a smidge less catchy or lively as his earlier work, but the elements are all the same -- bright, melodic passages, samba backbeats, a perky vocal chorus and some zippy accordion playing. Other albums sound fresher and more heartfelt, but this is still pretty good, and way more accessible than most of Luiz Gonzaga's stuff. Includes the song "Garganta De Cera," which was also recorded by '70s pagode star, Alcione. Worth checking out!


<! 04/12: no producer info on CD >

Ary Lobo "Poeira Na Ritmos" (RCA, 1963)


Ary Lobo "Ze Mane" (RCA, 1965)


Ary Lobo "...E Seus Grandes Sucessos" (Movieplay, 1998)






<! http://pt.wikipedia.org/wiki/Ary_lobo Gabriel Eusébio dos Santos Lobo (Belém, Pará, 14 de Agosto de 1930 - Fortaleza, Ceará[1], 22 de Agosto de 1980), mais conhecido como Ary Lobo, foi um cantor e compositor brasileiro. Ary Lobo teve mais de 700 músicas gravadas[carece de fontes?] por ele e outros cantores, músicos e intérpretes. Era defensor da música nordestina de raiz. De estilo semelhante ao de Jackson do Pandeiro, cantando derivativos do baičo, entre cocos e rojões, Ary Lobo lanćou vários sucessos nos anos 50 e 60 em seus nove LPs na RCA. Retratava a vida e os costumes nordestinos em números divertidos, como "Cheiro da gasolina" e "Madame Paraíba". Suas gravaćões mais conhecidas sčo, provavelmente, "O último pau-de-arara" e "Eu vou pra lua". [editar] Discografia * 1958 - Forró com Ary Lobo * 1958 - Último Pau de Arara * 1960 - Cheguei na Lua * 1962 - Ary Lobo * 1963 - Poeira de Ritmos * 1964 - Forró em Calcaia * 1965 - Zé Mané * 1966 - Quem é o Campečo? * 1966 - Súplica Cearense * 1969 - Aqui Mora o Ritmo * 1970 - O Valor do Homem * 1972 - Piedade Senhor * 1973 - Fim de Verčo * 1974 - Ari Lobo * 1975 - Segredos do Sertčo * 1977 - Cria Juízo Mulher * 1979 - A Mensagem de Ary Lobo * ???? - Quem Vem Lá? * ???? - Ary Lobo (Esquema) * ???? - Uma Prece para os Homens Sem Deus (Cantagalo) >

---
Links
---
---



---