<! cd = 04/16/12 > <! MP3 04/16/12> <! pix 00/00/00 > <! ALLBM 04/16/12, WP > <! icons 00/00/00 > <! UPDATES: 04/16/12 - posted >

---
Jards Macale established himself as a songwriter, performer and producer in the tumultuous era of the late 1960s and early '70s, when Brazil's lurch towards military dictatorship produced a powerful countercultural backlash... Though he wasn't a household name, Macale was in the thick of it, performing in the politically charged Opinao stage show, then helping craft key albums for the stars of the tropicalia movement: Maria Bethania, Gal Costa, and Caetano Veloso among others. His own albums reflected the wildly eclectic spirit of tropicalia and the classic '70s MPB scene -- here's a quick look at his work.


<! Nasceu no bairro da Tijuca, ao pé do Morro da Formiga, rodeado de música: no morro, os batuques; no vizinho, Vicente Celestino e Gilda de Abreu. E em casa, os foxes, as valsas e as modinhas tocadas ao piano pela mče, dona Lígia, (que também cantava) e no acordeom, pelo o pai. O coro familiar tinha Roberto (o irmčo caćula) e Jards. No rádio, Orlando Silva, Marlene, Emilinha Borba. Ainda menino, mudou-se para Ipanema, onde ganhou o apelido de "Macalé" - nome do pior jogador do time do Botafogo, ą epoca. Adolescente, formou seu primeiro grupo musical - o duo "Dois no Balanćo"; veio depois o Conjunto Fantasia de Garoto, de jazz, seresta e samba-canćčo. Estudou piano e orquestraćčo com Guerra Peixe, violoncelo com Peter Dauelsberg, violčo com Turíbio Santos e Jodacil Damasceno, análise musical com Ester Scliar.[1] Comećou carreira profissional em 1965, como violonista no Grupo Opiničo. Fez direćčo musical dos primeiros espetáculos de Maria BethČnia. Teve composićões gravadas por Elisete Cardoso, Nara Lečo. Com Gal Costa, Paulinho da Viola e o parceiro José Carlos Capinam, criou a agźncia Tropicarte, para administrar os próprios espetáculos. Em 1969, participou do 4.ľ Festival Internacional da Canćčo apresentando a canćčo Gotham City, e lanćou o primeiro disco, "Só Morto". Trabalhou com Gal Costa no disco Le-Gal e no show Meu nome é Gal. Em 1971, foi para Londres, a convite de Caetano Veloso, com quem tocou e gravou. No mesmo ano, volta ao Brasil, e lanća seu primeiro LP, Jards Macalé. Em 1974, lanćou o LP Aprender a Nadar. Participou como ator e compositor da trilha sonora dos filmes Amuleto de Ogum e Tenda dos Milagres, de Nelson Pereira dos Santos. Também compôs para as trilhas sonoras de Macunaíma de Joaquim Pedro de Andrade, O Dragčo da Maldade contra o Santo Guerreiro, de Glauber Rocha, A Rainha Diaba, de Antônio Carlos Fontoura, Se segura, malandro!," de Hugo Carvana, Getúlio Vargas, documentário de Ana Carolina, e "Se segura malandro", de Hugo Carvana. Compôs também trilhas sonoras para teatro. Em 1976, se tornou parceiro de Moreira da Silva no samba de breque Tira os óculos e recolhe o homem. Macalé é autor de canćões como Vapor Barato, Anjo Exterminado, Mal Secreto, Movimento dos Barcos, Rua Real Grandeza, Alteza, Hotel das Estrelas, Poema da Rosa. Teve como parceiros Capinam, Waly Salomčo, Torquato Neto, Naná Vasconcelos, Xico Chaves, Jorge Mautner, Gláuber Rocha e ainda Abel Silva, Vinícius de Morais, Fausto Nilo. Entre os intérpretes de suas canćões, estčo Gal Costa ("Hotel das Estrelas" e "Vapor barato"), Maria BethČnia ("Anjo exterminado" e "Movimento dos barcos"), Clara Nunes ("O mais-que-perfeito"), Camisa de Vźnus ("Gotham City") e O Rappa ("Vapor Barato"), entre outros. Embora tenha também parcerias com Gilberto Gil e Caetano Veloso, rompeu com eles por considerar que o tropicalismo havia sido cooptado pela indústria cultural, perdendo a independźncia.[2] >

---
Discography
---
Jards Macale "So Morto" (EP) (1970)
I haven't heard this one, but apparently progster pianist Ze Rodrix and percussionist Nana Vasconcelos were among those backing Macale on this "compacto duplo" (double 7") which marked his emergence from the song festival competitions...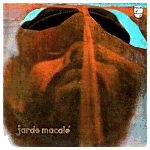 Jards Macale "Jards Macale" (Phonogram, 1972)
Very cool. If you enjoy the classic "tropicalia" albums of Caetano Veloso and Gilberto Gil, particularly the ones with a more acoustic sound, you'll definitely want to check this one out. Before recording this album, Macale had just been hanging out with Veloso in his London exile, and wen he returned to Brazil he was carrying the tropicalia torch high, not merely doing the style justice, but innovating and creating new material that artists such as Gal Costa would embrace and record for years to come. He mainly plays acoustic, and goes off on blues-based improvisations that are unlike almost anything else in Brazilian music at the time; the opening track includes a rambling, rambunctious solo that flits from Doc Watson-esque licks to John Renborn-ish jazziness and demonstrates Macale mastery of a variety of North American styles. Perhaps the best-known song on here is "Mal Secreto," which Costa memorably covered the year before, on her A Todo Vapor live album -- Macale's version is calmer and distinctive, a nice counterpoint. Indeed, his bright personality comes through on this giddy, defiant debut -- definitely a record you'll want to check out.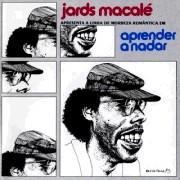 Jards Macale "Aprender A Nadar" (Phonogram, 1974)
(Arranged by Wagner Tiso)
Branching out from the scappy guerrilla tactics of his acoustic debut, Macale parades through a variety of styles, opening with a Rogerio Duprat-ish musique concrete arty audio montage, easing into a bossa-flavored (but still artsy and arch) medley, a few orchestral bossa numbers and a rollicking, uptempo version of "Anjo Exterminado" (famously recorded by Maria Bethania) played here like one of those propulsive jazz tunes by a bossa trio of the early '60s. Even wilder is his glitzy, Cuban-styed rendition of Gordurinha's "Mambo Da Cantareira," which again draws on musical styles that were outside the Brazilian mainstream -- a fun song and an album highlight. Of course, this is all tinted with an ironic tone that tugs at the listener, but Macale is sincere enough that he doesn't pull you all the way out of the songs the way the old Os Mutantes albums did, for example. And again, his affinities for Veloso and Gil are apparent, especially on the softer songs. A far-ranging and pleasantly challenging record, and a satisfying one as well... Check it out!
Jards Macale "Contrastes" (Som Livre, 1977)

Jards Macale "Quatro Batutas E Um Coringa" (Continental, 1984)

Jards Macale & Dalva Torres "Pecam Bis" (Atracao, 1988)


A tribute to Ismael Silva...




Jards Macale "Let's Play That" (The Rock Company, 1994)



<! 1 Let's play that Ouvir (Jards Macalé, Torquato Neto) 2 Pano pra manga Ouvir (Xico Chaves, Jards Macalé) 3 Mulheres no retrato Ouvir (Fausto Nilo, Jards Macalé) 4 Luz Ouvir (Ezra Pound) 5 Lua luar Ouvir (Jards Macalé) 6 Língua de mosquito Ouvir (Jards Macalé) 7 Puntos cardinales Ouvir (Jorge Maultner, Jards Macalé) 8 Estranha Ouvir (Xico Chaves, Jards Macalé) 9 Encontro Ouvir (Jards Macalé, Naná Vasconcelos) 10 Let's play that 2 Ouvir (Jards Macalé, Torquato Neto) >

Jards Macale "O Que Eu Faco E Musica" (Atracao, 1998)

Jards Macale "Macale Canta Moreira" (Lua Discos, 2001)



A tribute to Moreira Da Silva...
Jards Macale "Amor, Ordem & Progresso" (Lua Discos, 2003)


Jards Macale/Various Artists "Real Grandeza" (Biscoito Fino, 2005)





<! contendo exclusivamente canćões de sua parceria com Waly Salomčo: e com a participaćčo de Maria BethČnia, Adriana Calcanhotto e Luiz Melodia, entre outros artistas. >

Jards Macale "Macao" (Biscoito Fino, 2008)

Jards Macale "Jards" (Biscoito Fino, 2011) <! 04/12 - MP3 only >

---
Tributes
---
Zeze Motta "Negra Melodia: As Cancoes De Jards Macale E Luiz Melodia" (Tratore, 2011)

---
Links
---
---



---