<! cd = 04/16/12 > <! MP3 05/15/12 > <! pix 05/15/12 > <! ALLBM 00/00/00 > <! icons 00/00/00 > <! UPDATES: 05/01/12 - posted 05/15/12 - new reviews, pix >

---
Alexandre Manuel Thiago de Mello, aka Manduka (1952-2004) was one of Brazil's most genuinely freaky folk-freak artists, with a series of '70s albums that are just plain weird and wacky. Sound cool to you? Read on! Manduka was the son of poet Thiago de Mello, a seminal figure in Brazilian literature and a long-time political exile. On the cultural avant garde himself, Manduka was also frequently in exile, and while abroad in the 1970s, he met and collaborated with figures such as Brazilian folk singer Geraldo Vandre and Nana Vasconcelos. He lived in several South American and European countries, eventually returning to Brazil at the end of the decade.
---
Discography
---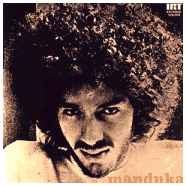 Manduka "Manduka/Brasil 1500" (IRT, 1972)
A genuine folk-freak gem, with long, gentle acoustic improvs and spacey musical passages. Although he did well in the song competitions of the early 1970s, the man known as Manduka seems like a quintessential outsider artist. His emphasis is primarily poetical, although he used music to support his poetry in some very intersting ways. On this first album, the music is fairly amorphous and marginal, although amusing in a quaint, cute-hippie kinda way. On some tracks, Manduka is joined by a female singer identified simply as "Valeria," whose Judy Collins-goes-Brazilian keening adds another layer of freaky folk charm. Worth checking out if you're into the faeries-in-the-woods vibe of classic experimental psychedelic folk music.


<! 01. Brasil 1500 02. Entra Y Sale 03. Naranjita 04. De La Tierra 05. Patria Amada Idolatrada Salve Salve 06. Oiticumana 07. De Un Extranjero 08. Qué Dirá El Santo Padre > <! Manduka "Brasil 1500" (IRT/ILS, 1972) (Chile) Manduka & Los Jaivas "Los sueĖos de America" (Movieplay, 1978) ? Manduka "Caravana" (Le Chant Du Monde, 1978) >

Manduka "Manduka" (CBS, 1974) (Argentina)





Manduka & Nana Vasconcelos "Manduka E Nana Vasconcelos" (Le Chant Du Monde, 1975)





Manduka "Brasil" (Edigsa, 1976) (Spain)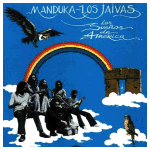 Manduka & Los Jaivas "Los Suenos De America" (Movieplay, 1974)


Originally released in Spain, this is a collaboration with the Chilean band Los Jaivas, who were known, in part, for their musical adaptations of poems by the great Chilean poet Pablo Neruda. This is a fun, sometimes goofy, album with a strong trans-Amazonian streak, a folkie vibe which gives way to a wilder, free-jazz jam session on the 12-minute long title track. Mellow at first, then increasingly challenging, both sonically and socially.

Manduka "Caravana" (Le Chant Du Monde, 1978)
Pan-American difficult listening. An interesting fusion of conventional folk music, jazz and salsa, with a strong dose of Latin American regional styles, and avantnik experimentalism ala Tom Ze, et. al. This is a little too high-minded and arty for me, but it's certainly substantive and intriguing. Worth checking out, but I'm not sure you'll want in in heavy rotation for long.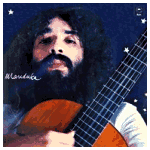 Manduka "Manduka" (CBS, 1979)
Although this starts out with a rock-tinged, freakadelic number with a forro touch courtesy of accordionist Dominguinhos, but it quickly settles into an all-acoustic mode, with a folkie/folkloric vibe that becomes increasingly static in song after song. Manduka was hanging out with Cuba's Pablo Milanes around this time, and this album clearly shows the influence of the Cuban nueva trova movement, with its curious mixture of prim formalism and emphatic, dramatic folkie intonation. To my ears it sounds rigid and forced, and gets old quick. Tania Alves joins him for a duet on "Maldigo Del Alto Cielo," which is also one of the most irritating tracks on the album. This might be interesting on an intellectual level, but I thought it wasn't much fun to listen to.


<! Este disco foi gravado em 1979-80. Antes, em 72, ele fez um Chile, em parceria com Geraldo Vandré; um outro sensacional, chamado Caravana, com dois percussionistas uruguaios, em 73; no mesmo ano, fez um com o gurpo chileno Los Jaivas; um outro, em Paris, com Naná Vasconcelos, em 75. Depois desse disco brasileiro, ele gravou um em Cuba, com Pablo Milanés, Septima Vida; e um outro no Brasil, Terceira Asa. Tem um disco nunca lanćado, com Dominguinhos e muitas fitas de shows e gravaćões espalhadas pelo mundo. Um verdadeiro artista maldito. > <! sweet, well-produced>

Manduka "Eterna" (1986) (Mexico)





Manduka & Pablo Milanes "Setima Vida" (EGREM, 1986)





Manduka & Thiago De Mello "Os Estatutos Do Homem" (Edicoes Paulinas (1989)





Manduka "Terceira Asa" (1996)





---
Links
---
---



---