<! cd=01/19/07 > <! MP3 09/12/08, 01/23/11 > <! update 09/12/08 > <! pix 12/01/09 > <! icons 01/23/11 >

---
Originally a stage actor, Bahian powerhouse Margareth Menezes became one of axe music's best-known stars -- she was introduced to international audiences by rock music's David Byrne, who got the Brazilian bug in the late 1980s and brought Menezes to tour with him up North and helped produce her third album. Her version of the song, "Elegibo," became one of the best-known anthems of the "world music" scene in the early '90s, and established her as one of Bahia's top performers... Here is a quick look at her work...
---
Discography
---
Margareth Menezes "Margareth Menezes" (Polydor, 1988)
Her debut album, which includes the anthemic hit, "Eligibo," certainly a high point of the late '80s Bahian axe scene...
Margareth Menezes "Um Canto Pra Subir" (EMI, 1989)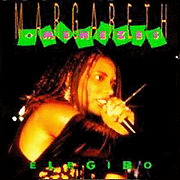 Margareth Menezes "Eligibo" (Mango, 1990)


Potent Afro-Brazilian pop, with strong vocals by Bahian Carnaval star Margareth Menezes, who toured the United States with David Byrne around the same time this album came out. Good material, especially the percussion-heavy title track which had already been a huge hit for Olodum in the 1980s. It does coast into some fairly cheesy production, though, and may not hold up as well as it might have, had they left in a little more bite. This album was her global debut, although it was actually a best-of, drawn from her first two discs, Margareth Menezes and Um Canto Pra Subir. Great stuff, and definitely representative of its time.

Margareth Menezes "Kindala" (Mango, 1991)


A strong, smooth album, blending pop, samba and reggae with the heavy Afro-Brazilian rhythms pioneered by the Olodum collective. Menezes' voice is cooler and more controlled here than on her previous album, and the pop production, while slick, is quite good. Jimmy Cliff guests on one track (unimpressively), as well as lite-jazz saxman, Leo Gandelman. Recommended.
Margareth Menezes "Luz Dourada" (Verve/Polygram, 1993)


Like her previous efforts, a kitschy but cohesive brand of Afro-Brazilian pop, lifting percussion riffs from Olodum and Carlinhos Brown, and grafting them onto glossy, hit-oriented rock. This album starts out with promise, but quickly sinks under a flood of synth riffs that remind me of an "Elmo Goes Soca" album that might be made someday by the Sesame Street folks. Some good tracks, but ultimately not my cup of tea.

Margareth Menezes "Gente De Festa" (Warner, 1995)


A shift to the Warner label seems to have relegated Menezes into the realm of by-the-numbers "world beat", with tacky, tinkly keyboards and unvaried tempi galore... My eyebrows raised a bit to hear the West African-style highlife guitar runs, but this outing is so predictable and flatly produced, it's hard to work up much interest. Sure, Caetano Veloso pitches in on one number ("Vestido de Prata"), and a duet with Maria Bethania yields pleasant results, but really there's not a lot to get excited about here.

Margareth Menezes "Maga: Afropopbrasileiro" (Universal, 2003)


(Produced by Carlinhos Brown)
I saw that Carlinhos Brown was listed as this album's producer, and I had high hopes that this disc would mark a renewal of Menezes's creative muse. The two had worked together on Marisa Monte's Tribalistas album, on the delightful tune, "Pase Em Casa," and I hoped that some of that record's multilayered, genre-bending magic would spill out into this album as well. The closest this comes to that song's easygoing ebullience is on the opening track, "Pelo Mar Lhe Mando Flor"; the song "Dandalunda" was apparently a huge hit during Bahia's 2003 Carnaval celebrations. Much of the album has a fairly flat, by-the-numbers "world beat," Afro-Bahian axe feel, disappointing those of us who had wished for more complex and rewarding from both Menezes and Brown. Oh, well. It's okay, but not great.
Margareth Menezes "Tete A Tete: Afropopbrasileiro" (Tratore, 2005)



A live album...
Margareth Menezes/Various Artists "Festival De Verao Salvador" (CD) (Som Livre, 2004)

Margareth Menezes/Various Artists "Festival De Verao Salvador" (DVD) (Som Livre, 2004)

Margareth Menezes "Pra Voce" (EMI, 2005)


Margareth Menezes "Brasileira -- Ao Vivo" (EMI, 2006)



A live album...


<! "Uma Homenagem Ao Samba Reggae" >

Margareth Menezes & Relight Orchestra with DJ Andrea "Uma Historia De Ifa (Elegibo)" (Art & Trade, 2007)


A 4-song EP of "Eligibo" remixes.
Margareth Menezes "Naturalmente" (MZA, 2009)


---
Best-Ofs
---
Margareth Menezes "Axe Bahia: O Melhor De Margareth Menezes" (Universal, 2006)

---
Related Records & Other Media
---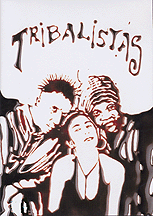 Carlinhos Brown/Marisa Monte/Arnaldo Antunes "Tribalistas" (DVD) (Phonomotor/EMI, 2002)


Wow... what a great video! Menezes makes a radiant guest appearance on this amazing portrait of these three super-hip, modern Brazilians working together on a truly beautiful project. This gorgeously shot, skillfully edited film documents the year-long process that led to the completion of the densely-layered, gently melodic, supremely life-affirming Tribalistas album, featuring in-studio performances of the taping of all the songs, each prefaced by a brief glimpse of the collaborative process that went into its conception and perfection. The friendly creative interplay and cheerfulness of the musicians comes through brilliantly -- I already was a fan all three artists before seeing this video, but now I feel immense affection for them, and a much greater appreciation for them and their muse. The delicate attention to detail and to the texture of their performances is impressive, as is the playful, positive message of their music. Optional English subtitles are a boon for all us dumb Yankees, and additional behind-the-scenes features amplify the insights into their creative bond. The album itself is great, but the DVD is indispensible for fans who want to get delve deeper into the mystique of these fab neo-tropicalistas. HIGHLY recommended!
---
Links
---
Margareth Menezes' official website has a long biographical entry, as well as information about her appearances at Carnaval...

Clique Music/AllBrazilianMusic has a good discography and biographical profile... In Portuguese and English
---



---