<! cd = 05/22/12 > <! MP3 00/00/00 > <! pix 00/00/00 > <! ALLBM 00/00/00 > <! icons 00/00/00 > <! UPDATES: 00/00/00 >

---
Germano Mathias


<! Sambista nascido no bairro da Barra Funda, em Sčo Paulo, foi contratado pela Rádio Tupi em 1955, depois de se apresentar em um programa de calouros da emissora cantando um samba. No ano seguinte lanćou o primeiro disco, com a música "Minha Nega na Janela" (com Doca). Em 1957 saiu seu primeiro LP, "Germano Matias, o Sambista Diferente", título que se devia ą sua maneira diferente de interpretar sambas e ao acompanhamento percussivo feito por tampa de lata, que executava. "Guarde a Sandália Dela", samba composto em parceria com Sereno em 1958, foi um dos seus grandes sucessos. Foi também um intérprete assíduo dos sambas de Zé Kéti: "Nega Dina", "Malvadeza Durčo" e "O Assalto" sčo exemplos. Firmou-se como um dos grandes nomes do samba paulista, mas ultimamente nčo tem gravado tanto. Apresentou-se em 2000 no programa Musikaos, da TV Cultura. >

---
Discography
---
Germano Mathias "Germano Mathias, O Sambista Diferente" (Polydor, 1957)

Germano Mathias "Em Continźncia Ao Samba" (RGE, 1958)

Germano Mathias "Hoje E Batucada" (RGE, 1959)


Germano Mathias "Ginga No Asfalto" (Odeon, 1962)


(Produced by Mario Duarte)
Stylistically, this upbeat album is a complete contrast not only to the bossa nova/jazz wave of the early '60s, but also to most of the samba cancao of the time as well. Although the music is samba, the delivery seems more like Cuban-style son, particularly in Mathias's punchy vocals, which echo the style of Cuban singers such as Beny More or Cascarita. A fun album, with perky arrangements and brisk horn charts, and a brace full of songs written mainly by Mathias or by Jorge Costa... I don't know much about Mathias's career, but when I get the full scoop, I'll let you know!
Germano Mathias "Samba De Branco" (Polydor, 1966)

Germano Mathias "O Catedratico Do Samba" (CID, 1967) (LP)

Germano Mathias "O Catedratico Do Samba" (Cantagalo, 1967)
Same title, but a different album...
Germano Mathias "Samba E Comigo Mesmo" (CBS, 1968) (LP)


Germano Mathias "Sambas Pra Seu Governo" (Chantecler/Warner, 1970) (LP)


(Produced by Poly)
A pleasant set of latter-day samba cancao, kind of a throwback to the early-'60s production style, when many Brazilian artists still hadn't quite taken in the new bossa nova style. Not stunning, or overly dynamic, but perfectly nice and fun to listen to. Backing Mathias are the long-lived group, Demonios Da Garoa.
Germano Mathias "O Catedratico Do Samba" (CID, 1971) (LP)


(Produced by Durval Ferreira & Mario Duarte)

Germano Mathias "Germano Mathias" (Beverly, 1974)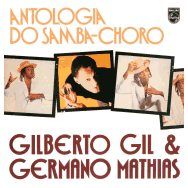 Germano Mathias/Gilberto Gil "Antologia Do Samba-Choro" (Philips, 1978)


(Produced by Roberto Santana & Paulo Sergio)
While arguably at the peak of his fame, superstar Gilberto Gil dips into nostalgia, honoring '50s samba singer Germano Mathias, who was a master of the dynamic, swinging "samba de breque" style. This is an odd album in that the tracks alternate between classic tracks recorded by Mathias in 1958 and contemporary recordings made twenty years later by Gil with his funky, mid-'70s MPB sound. He's backed by a slick studio crew that included several veteran studio musicians of the "radio singer" era, such as sax players Aurino and Ze Bodega, baiao legend Jackson do Pandeiro and notable younger players such as drummer Paulinho Braga. The archival Germano Mathias tracks sizzle with energy and good cheer, and for an oldies fan like myself, they dominate this album, though Gil's sleek reinterpretations of Mathias's old hits are also quite nice. This is Gil at the cusp, playing electrified pop that still has soulfulness and joy -- it's a good band, and while the production flirts with synthy overproduction, the perfromances sound vital and fresh. A very good record and one of Gil's best nods towards the past... It's a pity more of Mathias's old, original recordings aren't available -- still...!!! -- for fans who were excited by what they heard here.


<! Fč de Germano, Gilberto Gil gravou em 1978 o álbum "Antologia do Samba-Choro", que traz também algumas gravaćões originais do sambista nascido na Rua Santa Rita, no bairro paulistano do Pari. 01 - Acertei no milhar (Geraldo Pereira-Wilson Batista) - Gil 02 - Falso rebolado (VenČncio-Jorge da Costa) - Germano 03 - Escurinho (Geraldo Pereira) - Gil 04 - Minha pretinha (Jair Gonćalves-Edison Borges) - Germano 05 - Senhor delegado (Jaú-Antoninho Lopes) - Germano 06 - Senhor delegado (Jaú-Antoninho Lopes) - Gil 07 - Minha nega na janela (Firmo Jordčo-Germano Mathias) - Gil 08 - Nčo volto para casa (Oswaldo Guilherme-Denis Brean) - Germano 09 - A situaćčo do Escurinho (Padeirinho-Aldacyr Louro) - Gil 10 - Rua (Jair Gonćalves) - Germano 11 - Samba rubro-negro (Jorge de Castro-Wilson Batista) - Gil Arranged by: Antônio Perna Fróes and Gilberto Gil (1,7) Gilberto Gil and J.T.Meirelles (3,6,9,11) (1,3,6,7,9,11) Gilberto Gil - acoustic guitar, guitarr Jackson do Pandeiro - pandeiro Paulinho Braga - drums Rubčo Sabino - electric bass Cidinho Teixeira - piano Aurino Ferreira de Oliveira - tenor sax, baritono sax José Barreto Sobrinho - trumpet Maurílio da Silva Santos - trumpet Wagner Nagele - trumpet Celso Woltzenlogel - flute Jorginho da Flauta - flute Netinho - clarinet Zé Bodega - clarinet, tenor sax Jočo Gomes - tamborim Walter Batista Azevedo - trombone Geraldo Gomes - agogô Melquíades Cavalcanti - maracas Germano Mathias (2,4,5,8,10), original records from 1958 >

Germano Mathias "Ginga" (DVD) (2002)





Germano Mathias "Talento De Bamba" (Atracao, 2002)


Germano Mathias "Tributo A Caco Velho" (Atracao, 2005)








Germano Mathias "20 Preferidas" (1997)



<! Sony? >

---
Links
---
---



---