<! cd = 06/01/12 > <! MP3 06/01/12 > <! pix 06/01/12 > <! ALLBM 06/01/12 > <! UPDATES: 06/01/12 - posted >

---
Saxophonist Joao Theodoro Meirelles (1940-2008) (J.T. Meirelles, or just "Meirelles" for short) was one of the leading Brazilian jazz musicians of the bossa nova era, and a key figure in the jazz-oriented MPB scene of the 1960s and '70s. He is perhaps best known for his work with Joao Donato's band in the late '50s, as well as his arrangements and backing on some of Jorge Ben's debut album, which yielded the big hit. "Mais Que Nada." His successes with Jorge Ben led to a vigorous career as a record producer and arranger, and to the formation of his own band, Os Copa 5. Here's a quick look at his work...
---
Discography
---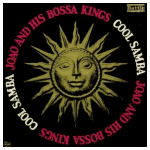 Joao & His Bossa Kings "Cool Samba" (Battle, 1962) (LP)

Os Gatos "Os Gatos" (Philips, 1964)


Os Cobras "O LP" (RCA, 1964)



An all-star Brazilian jazz band, featuring hot-shot players such as Milton Banana, Tenorio, Jr., Raul De Souza, Paulo Moura and J.T. Meirelles. Like many of the Brazilian jazz albums that actually are jazz albums, this is more jazz than "Brazilian"... With the exception of a cover of Clifford Brown's "Blues Walk" (which was a favorite standard in Brazil), these songs are all homegrown compositions... yet they sound like straight-up hard jazz from the 'Fifties, early 'Sixties era. This album is notable both for the calibre of talent in the band, but also for the weight of their playing -- this still isn't my cup of tea, but I like it better than the tinkly, hyperactive cabaret style which predominated in the bossa nova years.

Meirelles & Os Copa 5 "O Som" (Phillips, 1964/Dubas, 2001)


Saxophonist J.T. Meirelles leads a powerhouse band in one of the best Brazilian jazz albums of the early 1960s... Luiz Carlos Vinhas and Eumir Deodato sit in on piano; Edison Machado and Dom Um Romao split the drumming; Roberto Menescal plays acoustic guitar, and Waltel Branco plugs in on electric. Add bassist Manoel Gusmao and trumpeter Pedro Paulo, and you've got one heckuva an all-star band. There's a strong musical debt to Miles Davis and Bill Evans, particularly their work on Kind Of Blue, with some lighter, melodic influences as well. Personally, I'm not enough of a straight jazz fan to really get into it (I wouldn't listen to this recreationally) but I can certainly recognize that these guys were playing with more passion and earnest musicianship than the vast majority of their contemporaries. At a time when the overly-perky, clattersome "bossa trios" dominated the Brazilian jazz scene, this ensemble played with a lot more depth and tonal texture than was the norm. Certainly worth checking out if you're delving into the classic Braz-jazz scene. (Note: the 2001 reissue includes three bonus tracks taken from Meirelles' next album, O Novo Som.)
Meirelles & Os Copa 5 "O Novo Som" (Philips, 1965/Dubas, 2003)


Os Gatos "Aquele Som Dos Gatos" (Philips, 1966)


(Produced by Dori Caymmi)
Meirelles plays in this all-star bossa-jazz schlockfest... String-laden easy listening, arranged by Eumir Deodato and produced by Dorival Caymmi's son, Dori. Mostly slow, tacky instrumental versions of bossa nova standards, featuring the tragically squandered talent of Paulo Moura, and other Brazz-jazz luminaries. One point of interest, though: could the "Betty" Carvalho listed as a backup singer actually be future samba star, Beth Carvalho? Seems likely; anyone know for sure?


<! 130 x 130 > <! The Gimmicks "The Gimmicks Of Sweden" (Philips, 1971) B00005HRNA http://www.gimmicks.se/history.php Alvarado "Golden Sounds" (Odeon/Coronado, 1973) another alias >
Meirelles & Os Copa 7 "Tropical" (Odeon/London, 1967) <! 1969? >

Meirelles E Sua Orquestra "Brazilian Beat, v.1" (Odeon/London) (LP)

Meirelles E Sua Orquestra "Brazilian Beat, v.2" (Odeon/London, 1967)

Meirelles E Sua Orquestra "Brazilian Beat, v.3" (Odeon/London) (LP) <! year? >

Meirelles E Sua Orquestra "Brazilian Beat, v.4" (Odeon/London, 1969)

Meirelles E Sua Orquestra "Brazilian Beat, v.5" (Odeon/London, 1972) (LP)


Meirelles "Brasilian Explosion" (London-EMI, 1973)
I don't get it. Why anyone would want to reissue this tepid easy listening fusionfest is beyond me... Sure, there are goofy, outlandish reinterpretations of classics by Ary Barroso, Pixinguinha and Jorge Ben... but they're *sucky* reinterpretations... At its best, this has a "Thus Spoke Zarathusa"-meets-"Who's That Lady" sound, but it's rarely that creative. Mostly, it's just muzaky moosh.
Meirelles & Os Copa 5 "Samba Jazz!" (Dubas, 2004) <! 2002? >


Meirelles & Os Copa 5 "Esquema Novo" (Dubas, 2005)



Meirelles "Serie Raizes Do Samba" (EMI, 2000)


This collection covers Meirelles' career from a hyperactive, Vegas-y samba bandleader (1967) to a purveyor of proto-disco orchestral pop in the early '70s. A bit scary, but those of a more ironic pop-culture bent may get into the cheesieness of his later stuff. The earlier stuff has some great percussion, but is somewhat undone by the blaring, casino floor-show horn arrangements.
---
Links
---
---



---