<! cd=11/10/03 > <! MP3 09/12/08 > <! update 09/12/08 > <! pix 12/03/09 > <! icons 01/23/11 >

---
---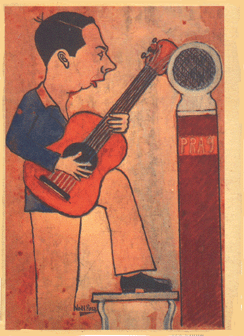 Songwriter Noel Rosa (1910-1937) was one of the most prolific composers of the golden age of Brazilian samba cancao, author of hundreds of hits recorded by the great singers of the time. A notorious nightclubber, he died young of tuberculosis (which was aggravated by his drinking and carousing), but left behind a body of work which, along with the music of contemporaries such as Ary Barroso and Dorival Caymmi, became recognized as one of the pillars of modern Brazilian pop. Here's a quick look at his recorded legacy...
---
Select Discography
---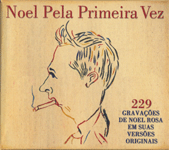 Noel Rosa/Various Artists "NOEL PELA PRIMEIRA VEZ" (Velas/Funarte, 2000)


Rosa himself didn't make that many records, but his songs were widely covered by the biggest stars of early Brazilian samba cancao... What songs he did record are on this stupendous 14-CD set, along with vintage performances by golden age samba stars such as Araci Almeida, Mario Reis, Francisco Alves, Carmen Miranda, as well as more modern MPB singers who helped reestablish Rosa's reputation after decades of neglect. This collection gathers all of the original versions of Rosa's 229 compositions, arranged chronologically by the recording date... It's quite simply a stunning set, endlessly rich, and endlessly rewarding. Hard to find, but worth the search!
Noel Rosa/Various Artists "FEITICO DA VILA" (Revivendo)

Noel Rosa/Various Artists "COISAS NOSSAS" (Revivendo)

Noel Rosa/Various Artists "QUE SE DANE" (Revivendo)

Aracy Almeida/Mario Reis "Noel Rosa Por Aracy Almeida E Mario Reis" (Revivendo)

Noel Rosa/Mario Reis "Enciclopedia Musica Brasileira" (WEA, 2000)

Noel Rosa "As Musicas De Noel Rosa Em Bossa Nova" (CID, 1999)


Noel Rosa/Araci De Almeida "Mestres Da MPB" (Warner, 1993)


Another unusual volume in this oddball best-of series. This disc stands out even more than the others in its actual distance from MPB proper: this is a lovely set of classic recordings by one of the great early samba cancao composers, Noel Rosa. A healthy sprinkling of Rosa's own versions of his favorite songs (recorded in the early 1930s) is mixed with recordings by one of Rosa's first and best interpreters, vocalist Araci De Almeida. She, in turn, was apparently a great role model for many of Brazil's finest singers, particularly Maria Bethania, when the young Bahian diva began her career. The material by De Almeida appears to have been drawn from over several decades -- several tracks clearly date back to the 1930s and '40s, others to the '50s or '60s, and possibly later. If you see this disc, pick it up. It's a great chance to check out two artists whose work is lamentably hard to find.

Noel Rosa/Aracy De Almeida "Noel Rosa" (Continental, 1968/Warner, 2002)
A neat reissue of a neat reissue. This album first came out in 1968, collecting a dozen classic samba cancao tracks from the 1930s (and '40s?), and has been reissued on CD with five more songs. It's not clear to me whether Rosa actually performs on any of these recordings -- I think really this is a set of music by Aracy De Almeida, who was one of his major early interpreters. Classy, lacrymose stuff
---
Tributes
---
Johnny Alf & Leandro Braga "Noel Rosa -- Letra E Musica" (Lumiar, 1997)

Marilia Batista "Historia Musical De Noel Rosa, v.1" (Gruenzi, 2002)

Marilia Batista "Historia Musical De Noel Rosa, v.2" (Gruenzi, 2002)

Cristina Buarque & Henrique Cazes "Noel Rosa, Sem Tostao" (Kuarup, 2002)


Nelson Goncalves "Noel Rosa - Na Voz Romantica De Nelson Goncalves" (RCA Victor, 1956)


On his first full album, romantic balladeer Nelson Goncalves pays tribute to samba-cancao composer Noel Rosa. Also released as Nelson Goncalves Interpreta Noel Rosa.
Ivan Lins "Tributo A Noel Rosa, v.1" (Velas, 1996)


Ivan Lins "Tributo A Noel Rosa, v.2" (Velas, 1996)


Ivan Lins "Ivan Lins Sings Noel Rosa" (Velas, 1997)


A syrupy tribute to one of the great early samba-cancao songwriters of the 1930s. While I by far prefer the older, contemporary recordings of Rosa's own time, this is a decent album for the style. Glossy pop, with electric pianos and flugelhorns galore. This does have the advantage, though, that it includes English translations to several of Rosa's best-known songs.

Joao Nogueira "Wilson, Geraldo, Noel" (Polydor, 1981)


A tribute to three samba legends: Noel Rosa, Wilson Batista and Geraldo Pereira. Oddly enough, it's here that the temptation to go "pop" starts to arise... This disc has more overt jazz and pop influences -- nothing hideous, by any means, but definitely a noticible change of tone. Still, it's a good record, also notable for a booming duet with Alcione, on Noel Rosa's "De Babado."

Ione Papas "Noel Por Ione" (Dabliu, 2000)


A solid modern tribute to Noel Rosa, one of the great early songwriters of the classic samba cancao era of the Great Depression. Papas glides atop sleek, bright, catchy MPB arrangements, reminiscent (and on a par with) the best work by Gal Costa and Elis Regina. The cover art's a bit "blah," but the record's certainly worth checking out!
Portinho & Sua Orquestra "Noel Rosa E Portinho Da Samba" (Philips, 1964)

Various Artists "NOEL ROSA SONGBOOK v.1" (Lumiar, 2002)


Gathering together versions of Rosa standards recorded by Antonio Carlos Jobim, Gal Costa, Gilberto Gil, Djavan, Luiz Melodia, Maria Bethania, Caetano Veloso, Cassiano and others.
Various Artists "NOEL ROSA: COISAS NOSSAS" (2007)


With tracks by Carmelia Alves, Emelinha Borba, Conjunto Galo Preto, Zeze Gonzaga, Ivone Lara, Marlele, Nelson Sargento, and others.
---
Links
---
---



---