<! creation date: 06/12/06> <! MP3 09/12/08, 12/03/09 (none) > <! update 09/12/08, 01/04/10 > <! pix 12/03/09, 01/04/10 > <! icons 01/23/11 >

---
Novos Baianos were one of Brazil's premiere experimental rock bands in the early 1970s... Taking up the banner from late-'60s tropicalia artists such as Gilberto Gil, Caetano Veloso and Os Mutantes, Novos Baianos fused rock, funk and jazz-tinged psychedelia with samba, forro, and various regional brazilian styles. The band included dual guitarists Moraes Moreira and Pepeu Gomes (who each had some pretty sharp chops) and vocalist Baby Consuelo (also known as "Baby Brazil"), who made a nice stand-in for Gal Costa... All three went on to successful solo careers, but it is their work together which is the most electrifying and dynamic... and memorable! Here's a quick look at their work.
---
Discography
---

Os Novos Bahianos "E Ferro Na Boneca" (RGE, 1970)


(Produced by Joao Araujo)
A delicious slice of pure, unfettered, acid-rock tropicalia kitsch from Brazil's first burst of psychedelic rock... Novos Baianos, joining the talents of guitarists Moraes Moreira, Pepeu Gomes, Luiz Galvao and singer Baby Consuelo, were one of the liveliest and most joyful Brazilian rock bands of the early 1970s. Here, they were clearly taking their cues from tropicalia founders Caetano Veloso, Os Mutantes and Gal Costa, replicating the goofy cultural boundary-hopping of tunes such as Veloso's "Superbacana" and "Baby." But where in retrospect those gleeful songs look like juvenelia or ephemera in Veloso's long career, this record, which takes the garage-rock/samba mix and extends it to an album's length, is just a good old psychedelic pop album, fun from start to finish. The deep, sometimes dense exploration of regional Brazilian styles that later came to define Novos Baianos is almost entirely absent here... So if you're looking for cool old hippie music from foreign climes, then this disc is a must-have. Check it out!

Novos Baianos "Acabou Chorare" (Som Livre, 1972)


Novos Baianos were one of those rare Brazilian bands that could handle both the "North American" rock and hometown traditional music with equal aplomb. This album leans heavily and pleasantly on the acoustic side of things... including forro, choro, and samba, as well as some pretty solid rock-prog riffs. These folks had a nice, free-wheeling feel and sounded like they were having a lot of fun. On this disc, it takes a while for the rock music to kick in, as they more gracefully explore acoustic Brazilian stylings beforehand. Definitely one of the best bands of the era... highly recommended!

Novos Baianos "Novos Baianos F.C." (Warner, 1973)


(Produced by Ramalho Neto & Marcio Antonucci)
The band delved even deeper into the acoustic side of their sound, placing the mandolin (or bandolim) square into the center of their sound, in a way that recalled the virtuosity of master picker Jacob Do Bandolim, yet with one foot still firmly planted in the present, with hints of rock, funk and prog seeping in around the edges. Several tracks are notable for their nods to the music of the samba and choro, particularly their lively cover of Dorival Caymmi's classic, "O Samba Da Minha Terra" and Pepeu Gomes' "Alimente," a dazzling instrumental number that recalls the finest classic choro music... Less overtly rock-oriented than their other albums, but a winner nonetheless.

Novos Baianos "Novos Baianos" (Warner, 1974)


More fun, lively tropicalia inspired rock... As with the albums reviewed above, this is a fairly breathtaking mix of styles... Your eyebrows might start to raise a bit when they start getting all math-y and proggy, but even then they pull through with inspired grace. Tasty stuff; interesting version of Joao Gilberto's "Bebel," a song I've come to know and love from having listened to the Joao album it comes from about a half bazillion times...
Novos Baianos "Linguagem Do Alunte" (Continental, 1974)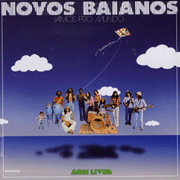 Novos Baianos "Vamos Pro Mundo" (Som Livre, 1974)


(Produced by Joao Mello & Eustaquio Sena)
Beautiful! This disc, despite the atrocious artwork, was easily one of the best and most cohesive albums by this energetic, eclectic Brazilian tropicalia/choro/regional/rock supergroup. Guitarists Pepeu Gomes and Moraes Moreira are both in fine form, swapping licks and doubling each others melodies in both acoustic and electric settings; vocalist Baby Consuelo is at her youthful peak as well, singing with greater clarity and good cheer than I've heard on her other recordings. If you've heard other Novos Baianos albums and liked bits and pieces but found them a bit challenging, then by all means check this record out -- it's less herky-jerky and all over the map, and doesn't delve as deep into fusion-influenced material (at least not until the last few tracks of the album, and even that stuff is quite good). This is a cool record -- highly recommended!

Novos Baianos "Caia Na Estrada E Perigas Ver" (Tapecar, 1976)
(Produced by Andre Matarazzo & Carlos Caramez)
Yikes. This started out nice, with a pretty, melodic acoustic number reminiscent of Quinteto Violado -- soft and unhurried; nice. Then it's a plunge into manic, hyperactive rock/regional music, played at a breakneck pace, with Baby Consuelo's jagged, semi-screechy vocals colliding with the aggressive guitar-cavaquinho duets. It's a bit much -- technically impressive but rather irritating, especially when you hear it all from start to finish. This was apparently the band's first album with out Moraes Moreira - he came back later, but honestly, you're better off searching out his solo stuff from this period, which is a lot mellower and less in-your-face.


<! With Baby Consuelo, Paulinho Boca de Cantor, Galvao and Pepeu Gomes -- Moraes Moreira that left the group earlier. >

Novos Baianos "Praga De Baiano" (Tapecar, 1977)


Novos Baianos "Farol Na Barra" (CBS, 1978)


(Produced by Carlos Eduardo Caramez & Pepeu Gomes)
Mellower, smoother, in some ways more "pop" than their work earlier in the decade, but still pretty darn eclectic and challenging, albeit in more of a proggish way, as opposed to their earlier psychedelic incarnations. The nice thing is that, as their sound got more cohesive (one hesitates to say "tamer..."), Baby Consuelo's vocals took a more prominent part. This was their last album before calling it quits, with Gomes and Consuelo both going solo afterwards... Maybe not as dazzling or as wild as their first few albums, but still definitely worth checking out!

Novos Baianos "Infinito Circular" (Polydor-Globo, 1997)

---
Best-Ofs
---
Novos Baianos "Serie Gold" (Universal)

Novos Baianos "Brasil Pandeiro: O Melhor De Novos Baianos" (Universal, 1997)


Novos Baianos "Enciclopedia Musical Brasileira" (WEA-Warner, 1999)


Novos Baianos "Millennium" (Mercury/Universal, 1999)


Generally, I haven't been thrilled with the releases in the Millennium series, but this one was a pleasant surprise. A late-career reunion concert from this famed rock-frevo combo, this album has a mix of AOR pop and soulful Bahian balladry that miraculously overcomes all the undertones of dubious production. Guitarists Moraes Moreira and Pepeu Gomes blend together beautifully, and the vocals, including those of Baby Consuelo, are cheerful and captivating. There are some occasionally clunky rock riffs, as well as hints of Metheny and Santana, but the band is quite skillful and restrained... worth checking out!
Novos Baianos "Serie Sem Limite" (Universal, 2002)


Novos Baianos "Novo Millennium" (Universal, 2005)


There is some overlap between this disc and the previous Millennium collection listed above... However, there are also significant differences. Some tracks are unique to each disc, and several songs included here were only in live versions on the earlier best-of. So, it may be worth your while to pick either (or both) of these albums up, if you're looking for a general introduction to the band, but not quite ready to plunge into getting all their albums.
Novos Baianos "Warner 30 Anos" (Warner, 2008)

---
Links
---
---



---