<! cd = 07/04/13 > <! MP3 00/00/00 > <! pix 00/00/00 > <! sources 00/00/00 > <! icons 00/00/00 > <! UPDATES: 07/04/13 - posted, minimal bio >

---
The wife of '50s pianist Bene Nunes, Dulce Nunes recorded a few albums and singles in the mid-1960s, at the tail end of the bossa nova craze, as it dovetailed into the more erudite MPB scene. Here's a quick look at her work...
---
Discography
---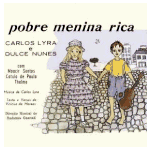 Dulce Nunes/Carlos Lyra/Moacir Santos "Pobre Menina Rica" (Sony Columbia, 1964)


Dulce Nunes gets top billing on this misty-eyed, politically themed collaboration between poet Vinicius de Moraes and guitarist Carlos Lyra. Also features input by arranger Radames Gnattali, and gal vocals by Thelma and Ms. Nunes. Some of this is rather "stagey," while there are also a brace of fine romantic tunes and latter-day bossa nova tunes.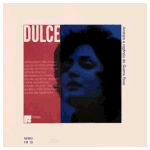 Dulce (Nunes) "Dulce" (Forma, 1966) (LP)


(Arranged and conducted by Guerra Peixe)
Bleah. A dour, leaden, overly lethargic set, with ponderous folkishness and art-song leanings... Slow, sombre orchestrations and nary a backbeat or samba rhythm to be found. Nunes sounds songbirdish and overly-artful. The repertoire draws heavily on Jobim, Baden Powell and Carlos Lyra, but there isn't a shred of their joyfulness to be found in these inert, motionless versions. Alas. Honestly? I thought this record was a chore to get through, and it really doesn't hold up well over the years. But if you're looking for a super-serious, joyless set of bossa nova oldies, well, here you go. Apparently, Baden Powell plays guitar on at least some of the songs.


<! 1965 or 1966? Dulce (vcl) Guerra Peixe, Chaim Lewak (p) Nicoline Copinha (fl) Baden Powell (arrangements, git) Guerra Peixa, Eduardo Patane (v) Marcos Nisenson (va) Brag Limonge Filho (ob) Ana Devos, Watson Clis, Marcia Malard, Noberto Pastore, Peter Dauelsberg (vc) > <! 01 - CČntico (Luiz de Camões - Baden Powell) 02 - Bom dia, amigo (Baden Powell - Vinicius de Moraes) 03 - Canćčo ą minha amada (Ruy Guerra - Baden Powell) 04 - Canćčo em modo menor (Vinicius de Moraes - Tom Jobim) 05 - Estrada branca (Vinicius de Moraes - Tom Jobim) 06 - Derradeira primavera (Vinicius de Moraes - Tom Jobim) 07 - Canćčo do amor ausente (Baden Powell - Vinicius de Moraes) 08 - Minha desventura (Carlos Lyra - Vinicius de Moraes) 09 - Canćčo de ninar meu bem (Baden Powell - Vinicius de Moraes) 10 - Eurídice (Vinicius de Moraes) 11 - Onde está vocź? (Luvercy Fiorini - Oscar Castro Neves) 12 - Soneto da separaćčo (Vinicius de Moraes - Tom Jobim) Arranged and conducted by Guerra Peixe Baden Powell - acoustic guitar (1,2,3,4,5,6,7,8,9,10,11,12) Guerra Peixe - piano (5), violin (1,6,9,11) Eduardo Patané - violin (1,6,9,11) Norberto Pastore - cello (1,6,9,11) Marcos Nisenson - viola (1,6,9,11) Chaim Lewak - piano (3,4,7,12) Braz Limonge Junior - oboe (3,4,7,12) Nicolino Cópia - flute (3,4,7,12) Peter Dauelsberg - cello (3,4,7,12) Marcio Malard - cello (3,4,7,12) Watson Clis - cello (3,4,7,12) Ana Devos - cello (3,4,7,12) >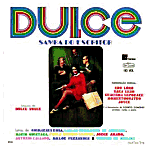 Dulce Nunes "Samba Do Escritor" (Forma, 1968)
In contrast to her previous album, this is a nice, swinging bossa set with a light touch, aided by an impressive cast of up-and-coming MPB talent. The group Momento Quatro sings in a bouncy '60s-pop chorus on several songs, sounding reminiscent of early Sergio Mendes, while several important young post-bossa MPBers work as arrangers: Oscar Castro-Neves, Luiz Eca, and Egberto Gismonti. There are inventive horn charts, solid, supple acoustic guitar, brisk yet rich piano work throughout, and performances by bright new talents such as Joyce, Edu Lobo, and the then-ascendant Nara Leao. At center stage is Nunes herself, who sometimes sounds a bit tentative, but overall pleasant and sweet, an echo of Nara, perhaps, but enjoyable nonetheless. This is an album you could enjoy on many an afternoon, as well as on many different levels. Not a classic, but certainly worth tracking down.


<! Samba do Escritor is Dulce Nunes most celebrated accomplishment, featuring all 12 songs composed by Dulce in partnership with renowned Brazilian poetries and writers from that period, such as: Jorge Amado, Mario Quintana, Guimaraes Rosa, among others. Additionally, Samba do Escritor has the participation of Momento Quatro, Edu Lobo, Nara Leao, Joyce and Gracinha Leporato and also landmarks the first Egberto Gismonti engagement as arranger; actually, this is the first Egberto Gismonti record. The Arrangers Guerra-Peixe, Luiz Eca, Oscar Castro Neves, Egberto Gismonti (arrangements) 01 - Canćčo do Dia de Sempre (Dulce Nunes / Mário Quintana) - with Momento Quatro 02 - Lamento de Glória (Dulce Nunes / Jorge Amado) 03 - Domingo (Dulce Nunes / Mário Quintana) – with Edu Lobo / Momento Quatro 04 - Adamúbies (Dulce Nunes / Guimarčes Rosa) 05 - Mal de Amor (Dulce Nunes / Vinicius de Moraes) - with Nara Lečo 06 - Amor de Tempo Nenhum (Dulce Nunes / Antônio Callado) 07 - Ou Ou (Dulce Nunes / Guimarčes Rosa) 08 - Deixa o Mundo Girar (Dulce Nunes / Millôr Fernandes) - with Momento Quatro / Joyce 09 - Eu Te Dou Meu Coraćčo (Dulce Nunes / Paulo Mendes Campos) - with Gracinha Leporace 10 - O Aloprado (Dulce Nunes / Guimarčes Rosa) - with Momento Quatro 11 - Legado (Dulce Nunes / Carlos Drummond de Andrade) 12 - Samba do Escritor (Dulce Nunes / Millôr Fernandes) >

---
Links
---
---



---