<! cd=01/20/07> <! MP3 09/12/08, 12/05/09, 08/28/12 > <! pix 12/05/09 > <! icons 01/23/11 > <! update 09/12/08, 12/20/09 08/28/12 - reviewed Caymmi, added new listings >

---
---
Singer-guitarist Rosa Passos is one of Brazil's secret gems -- a superlative interpreter of song, with a gentleness and precision that places her among the upper ranks of torch singers and jazz vocalists... She's not well-known outside of Brazil, but her records are a delight... Here's a quick look at her work...


<! Estudou piano e violčo na infČncia e adolescźncia, estreando profissionalmente em 1968, na TV Tupi de Salvador. Já como compositora, participou na década de 70 de festivais de música, ganhando o primeiro prźmio em 1972 com "Mutilados". Lanćou em 1978 o disco "Recriaćčo", com composićões próprias e em parceria com Fernando de Oliveira. Nos anos 80 investiu em sua carreira profissional, lanćando em 1988 um álbum ("Amorosa") somente no exterior. A partir de CD "Curare", de 1991, Rosa Passos se aproxima do repertório de bossa nova, gravando nesse trabalho "Dindi" (Tom Jobim/ Aloysio de Oliveira), "A Felicidade", "Só Danćo Samba" (ambas de Jobim e Vinicius de Moraes) e outras. No ano seguinte, participa do show "Chega de Saudade", produzido por Miele e Bôscoli e apresentado em várias cidades, dedicado ą bossa nova. Gravou outros discos onde mostrava seu trabalho de compositora de sambas, salsas e boleros. Apresentou-se recentemente no Japčo e lanćou discos só com músicas de Tom Jobim e depois de Dorival Caymmi.>

---
Select Discography
---

Rosa Passos "Recriacao" (Chantacler, 1979)
(Arrangements by Geraldo Vespar)
An album of original material, co-written with poet Fernando de Oliveira... If you've come to this album after first hearing Passos on her better-known later records of the 1990s and 2000s, this one might come as a big surprise. The rich, sonorous tenor of her older voice is entirely absent; although Passos was in her twenties when this was recorded, she sounds like she's about nine or ten years old, and although she's got great charisma and confidence, the brilliant, subtle phrasing of her later work also has not yet arrived. There's nothing "wrong" with this album, per se, but it is clearly a work of juvenilia, even without the gift of hindsight. The arrangements are bright, brisk, standard-issue late-'70s MPB, with backing by a usual-suspects cast of studio heavyweights -- Wilson das Neves, Ze Menezes, etc. -- and while Passos plays some fine acoustic guitar, she is frequently overshadowed by keyboardist Gilson Peranzzetta. It's an okay album, and definitely worth checking out if you are a fan of her work, but her later stuff is much richer and more rewarding.


<! Rosa Passos, Brazilian singer, with her first LP never release on CD, Recriacao (1979). Rosa Passos started playing piano at the age of 3, she had everything ready for a piano career when at the age of 11, she listened to Joao Gilberto and her life has changed. This is an amazing debut LP; all songs are Rosa Passos compositions in partnership with the poet Fernando de Oliveira. Joao Gilberto influence is very strong on Rosa's performance, she even mention Joao at the first song of this debut LP. Tracks include: Geraldo Vespar (arrangements) Giacarlo Pareschi (strings) Gilson Freitas (arrangements) Gilson Peranzzetta (keyboards) Hermes Contesini (rhythm) Jorginho (flute) José Menezes (12-string guitar) Luizčo (bass) Rosa Passos (acoustic guitar) Ubirajara (bandoneon) Wilson das Neves (drums) Zdenek Svab (trumpet) 01 - Recriaćčo (Fernando de Oliveira / Rosa Passos) 02 - Bolero de Esperar (Fernando de Oliveira / Rosa Passos) 03 - Procura-se Um Samba (Fernando de Oliveira / Rosa Passos) 04 - Estrela-cine-teatro (Fernando de Oliveira / Rosa Passos) 05 - Saudade da Bahia (Fernando de Oliveira / Rosa Passos) 06 - Fossamba (Fernando de Oliveira / Rosa Passos) 07 - Formicida Corda e Flor (Fernando de Oliveira / Rosa Passos) 08 - Caminho de Santana (Fernando de Oliveira / Rosa Passos) 09 - Noturno (Fernando de Oliveira / Rosa Passos) 10 - Ai o Fantástico (Fernando de Oliveira / Rosa Passos) >

Rosa Passos "Curare" (Deckdisc, 1991)


Rosa Passos "Festa" (Velas, 1993)

Rosa Passos "Pano Pra Manga" (Velas, 1996)


(Produced by Paulo Albuquerque)
Listeners (like myself) who come to this early album after having heard some of Passos' later, more spare sounding acoustic albums may be a little thrown off by the larger bossa-pop arrangements... But it won't take long for Passos to win you over... Her youthful voice and gentle guitar work draw you in, as does the strength of the repertoire, which includes a few classics from the likes of Ary Barroso, Chico Buarque and Tom Jobim, but is mostly made up of original songs written by Passos herself, demonstrating the depth of her commitment to the old-school bossa nova sound. It's conventional sounding and a little on the slick side, but quite nice and pleasantly understated. Recommended.
Rosa Passos & Lula Galvao "Letra E Musica: Ary Barroso" (Lumiar, 1997)


A tribute to samba-cancao composer Ary Barroso...
Rosa Passos "Rosa Canta Antonio Carlos Jobim" (Lumiar, 1998)


A tribute to bossa nova architect Antonio Carlos Jobim
Rosa Passos "Morada Do Samba" (Lumiar, 1999)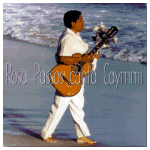 Rosa Passos "Rosa Canta Caymmi" (Lumiar, 2000)


(Produced by Almir Chediak; arrangements by Lula Galvao)
A tribute to samba-cancao composer Dorival Caymmi, with a delicate, dinner-jazzy accompaniment featuring pianist Fabio Torres and guitarist Lula Galvao. Passos' vocals are as pretty as ever, although the arrangements are pretty generic -- pleasant and unobtrusive, but also somewhat standard-issue. Nice and mellow, but not as magical as some of Passos' other albums.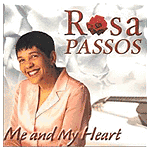 Rosa Passos "Me And My Heart" (Velas, 2002)


(Produced by Edwin Pitre-Vasquez)
Gloriously understated acoustic performances featuring Passos, her guitar, and sympathetic, subtle accompaniment by Paulo Paulelli on bass. Passos's voice is so youthful on here I had to check the liner notes to make sure this wasn't an old, reissued recording she'd made as a teenager... But sure enough, this was recorded in the Fall of 2001. Packed with bossa and MPB standards, this is quite nice and very lovely to listen to... Recommended! (Also released as Eu E Meu Coracao in Brazil...)
Rosa Passos "Azul" (Velas, 2002)

Rosa Passos & Ron Carter "Entre Amigos/Among Friends" (Chesky, 2003)



Rosa Passos "Amorosa" (Sony Classics, 2004)



(Produced by Jorge Calandrelli)
Another lovely album with Passos' voice even more serene and assured than ever. There's more of an overt jazz-pop tinge to this album, and less of a bossa nova purism, although the songs are still largely drawn from the classic bossa canon, with several Jobim tunes, one by Carlos Lyra, etc. Passos has an all-star cast backing her up, too, with Paquito D'Rivera on clarinet, the ubiquitous Paulo Braga on drums, Cyro Baptista on percussion, and some suave Brazilians -- Rodrigo Ursaia (sax), Helio Alves (piano) and Paulo Paulelli (bass) -- filling out the sound. Plus, dig the guest stars: cellist Yo-Yo Ma, on a fine version of "Chega De Saudade" and French hepcat Henri Salvador pitching in on an old Charles Trenet tune. All in all, a real class act -- folks looking for some classy Brazilian crooning will want to pick this one up.
Yo-Yo Ma/Rosa Passos/Various Artists "Obrigado: Brazil Live in Concert" (Sony Classical, 2004)



Passos performs on several songs, alongside cellist Yo-Yo Ma and a cast of Brazilian bossa-jazz luminaries...
Rosa Passos "Rosa" (Telarc, 2006)


Rosa Passos "Romance" (Telarc, 2008)


Rosa Passos "E So Luxo" (Biscoito Fino, 2011)


---
Best-Ofs
---
Rosa Passos "O Melhor De Rosa Passos" (Velas, 1997)


Rosa Passos "The Best Of Rosa Passos" (Velas, 2000)


It's easy to gush about this album... One of Brazil's greatest (but less well-known) vocalists, Passos hasn't had a record released domestically in the U.S. before this excellent collection. Her down-south praises have been well placed: Rosa Passos is certainly one of the most striking singers I have ever heard. Completely serene and at ease on all her recordings, she has a confident, understated persona that evokes Ella Fitzgerald as much as Joao Gilberto. Passos sings small, completely foregoing the muscular, gymnastic projections of MPB divas such as Maria Bethania and Gal Costa... There is some similarity to the much-beloved jazz legend Elis Regina, but really it's mostly in the choice of musical terrain: Passos is a much less strained singer, and much easier on the ears. As a stylist, her sense of timing is stunning. With seemingly effortless accuracy, her soft, pure tones invariably strike a perfect compliment to her gentle bossa-based arrangements. Even while brilliantly re-orchestrating Brazilian standards such as "Aquarela Do Brasil" or "Aguas De Marco", Passos seems unhurried and calm. I don't normally care for this style of soft-pop/jazz, but when it frames a talent as remarkable as this, I can go for it in a big way. Highly recommended!


<! 132 x 130 >

Rosa Passos "Rosa Por Rosa" (Velas, 2005)

---
Links
---
---



---