<! cd = 07/02/12 > <! MP3 00/00/00 > <! pix 00/00/00 > <! ALLBM 00/00/00 > <! icons 00/00/00 > <! UPDATES: 10/12/12 - posted >

---
Singer-accordionist Nazare Pereira may be familiar to many listeners from her inclusion on David Byrne's first BRAZIL CLASSICS A Brazilian expatriate, Pereira moved to France in the early 1970s, and has released a number of fine, highly sought-after albums... Here's a quick look at her work...
---
Discography
---
Nazare Pereira "Nazare" (RCA Victor, 1978) (LP)

Nazare Pereira "Amazonia" (RCA Victor, 1979) (LP)

Nazare Pereira "Natureza" (Cesame, 1980) (LP)





<! 1980 foi um ano marcante: lanća o terceiro LP, "Natureza" um disco de protesto contra a instalaćčo de uma central nuclear dos Estados Unidos na beira do Rio Jari. A canćčo "Amarelinha, la Marelle", cantada em portuguźs e em francźs, é um dos sucessos daquele verčo. >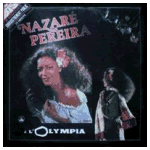 Nazare Pereira "A L'Olympia" (RCA-France/Cesame, 1981)
A concert album, recorded at France's prestigious Olympia theatre. This double LP is another sweet set of forro and samba, including several standards written by Dorival Caymmi, Luiz Gonzaga, a few Pereira originals, a Gilberto Gil tune, and some others that are more off the beaten track. There's also a long percussive batucada track at the end, which frames her shout-outs to the band. It's nice to hear her connection with the Parisian audience, and to get a sense of her strengths as a live performer.
Nazare Pereira "Boite A Soleil/Caixa Do Sol" (RCA-France/Cesame, 1981) (LP)


A nice early album by this Paris-based Brazilian expatriate... Smooth, sweet vocals and a nice melodic mix of samba and forro stylings, sort of a Luiz Gonzaga-meets-Clara Nunes vibe. This disc may be hard to track down, but it's worth looking for. (Released in France as Boite A Soleil and in Brazil as Caixa Do Sol.)

Nazare Pereira "Ritmos Da Amazonia" (Playasound, 1988)



(Produced by Kzam Gama) <! percussionist >
Highly recommended! This cheerful, brightly produced album is a fun mix of poppish samba and folkloric elements. Includes a cute, clever melange of French and Portuguese lyrics on "Bonjour Pra Voce", as well as the unusual inclusion of a banjo as rhythm instrument, in place of the usual Brazilian cavaquinho. I have a real soft spot for this album...
Nazare Pereira "Forro" (Playasound, 2002)


Nazare Pereira/Various Artists "Capoeira Brasil" (Playasound, 2003)


---
Links
---
---



---