<! cd = 04/09/12 > <! MP3 04/09/12 > <! pix 00/00/00 - several on file > <! ALLBM 04/09/12 > <! icons 04/09/12 > <! UPDATES: 04/09/12 - posted 10/25/12 - new reviews, pix >

---
Eliana Pittman started her career as a teenager performing with her stepfather, expatriate American jazzman Booker Pittman, a clarinetist and saxophonist who worked in several top orchestras during the big band era, and who moved to France for several decades, and then to South America when he joined Brazilian bandleader Romeu Silva's ensemble. Booker recruited Eliana as a vocalist and recorded with her for a few years until her own career took off. Springboarding off her music career, Eliana became a popular actor in television and film. Here's a quick look at her work...


<! Lena Horne-ish >

---
Discography - Best-Ofs
---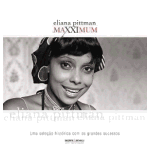 Eliana Pittman "Serie Maxximum" (Sony-BMG, 2005)



Very little of Eliana's music is in print right now... This is one of the only best-of sets on CD, and worth tracking down if you want a taste of her work...
---
Discography - Albums
---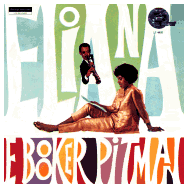 Eliana Pittman & Booker Pittman "Eliana E Booker Pittman" (Mocambo, 1962)
An uneven, but strangely charming album which alternates between American jazz standards and Brazilian bossa'n'samba... It's not uneven because of the mix of styles, but because of the divergent talent levels of veteran jazzman Booker Pittman and his daughter, Eliana. She sounds utterly lost on the opening track, uncomfortably singing in English amid a brash, riotous big-band version of "Yes, Sir, That's My Baby," in odd counterpoint to her suave, robust father, who does a fine imitation of Louis Armstrong. She recovers quickly, however, when given a chance to sing in Portuguese, and though she's still obviously a pretty green performer, she's much more at ease and has a youthful spirit similar to ie-ie teenyboppers such as Celly Campello, or even early Elis Regina. Listening to this wobbly debut, you might not have predicted Eliana's long, successful career in the decades to come, but in the end, a father's love seems to have paid off. The English-language stuff is most novelty material (and one cute moment of phonetic mistranslation comes with the track listing of "The Birds Of The Blues...") but some of the samba-cancao songs are quite nice. Worth a spin, but clearly, literally, a work of juvenalia for Ms. Pittman.


<! 01 - Yes sir that's is my baby (Donaldson - Kahn) 02 - Bal‹o apagado (Ciro de Souza - Waldir Teixeira) 03 - Look for star (M. Antony) 04 - Bate que bate (Ciro de Souza) 05 - Mama don't allow (Cow Cow Davenport) Samba de uma nota s— (Tom Jobim - Newton Mendon¨a) 06 - A luz dos olhos teus (Vinicius de Moraes) 07 - St Louis blues (W.C. Handy) 08 - Vou a pˇ atˇ l‡ (Pedro Bloch) 09 - The birds of the blues (R. Henderson - B.G. da Silva) 10 - Mulata assanhada (Ataulfo Alves) 11 - N‹o sei porque (M‡rio Albanese) >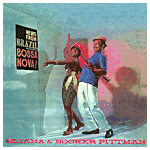 Eliana Pittman & Booker Pittman "News From Brasil: Bossa Nova" (1963)
An uneven set, but instructive... Eliana's voice is lovely and she is clearly more comfortable singing in Portuguese, but her dad keeps steering back towards North American-style jazz, which has a comparatively stiff feel. The album opens with a fine, fluid rendition of "Nos E O Mar," but it's followed by an awkward English-language duet on "It Don't Mean A Thing," where the Pittmans fail to connect in the Ella-Satchmo vibe they were aiming for. Halfway between the two are various tracks which split the difference, where awkwardness contends with sleekness. I'd be curious if anyone knows who the sidemen were on this set -- was it Brazilians having a hard time with jazz, or jazz cats having a hard time playing bossa? I'm guessing it was a mix of both, and if I track down more info, I'll let you know. Anyway, it's clear that Eliana had talent to spare, but about a third of the tracks on this album are negligible, just because of their clunky performances. Notable, though, for an up-to-the-moment repertoire packed with newly-minted bossa classics such as "O Barquinho," "O Passarinho" and "Vagamente." Worth checking out, for sure.
Eliana Pittman "Eliana Ao Vivo" (1965)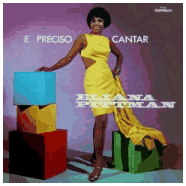 Eliana Pittman "E Preciso Cantar" (Copacabana, 1966)
Some nice stuff, in a variety of styles, backed by a variety of performers and bands. The music ranges from Vegas-y jazz/vocals (with backing by orchestra leaders such as Astor Silva and Renato de Oliveira and Ivan Paulo) to sleek, up-to-the-moment nightclub bossa-jazz (a couple of tunes with Trio 3D, "Favela" and "E Preciso Cantar") and a few brassier vocal tunes, reminscent of Leny Andrade and Elza Soares. For me, though, the highlight is the sweet, swaying acoustic samba of "Queria Ser Feliz," with subtle backing by Conjunto A Voz Do Morro: Jair Do Cavaquinho's gentle, sensuous accompaniment anticipates the roots-samba of the '70s pagode sound... keep in mind this was several years before Clara Nunes made her mark! MPB-ers may be more interested in a pair of early Marcos Valle covers... But whatever your tastes, there's plenty to appreciate on this album... This is a record that will grow on you.


<! 10/12: no producer listed >

Eliana Pittman "Positivamente" (1968)





Eliana Pittman "Estrela E Lua Nova" (RGE, 1969)





Eliana Pittman "Eliana Pittman Show" (1971)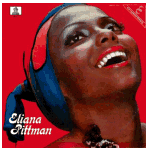 Eliana Pittman "Eliana Pittman" (EMI-Odeon, 1972)


Thus far the only Pittman album to get reissued in the digital era, this is a showcase for the Odeon label's ornate, sometimes dense, in-house production style... There are some uptempo numbers that verge on samba-rock or pagode, but mostly it's swanky, jazz-tinged MPB with a lot of the "blue" arrangements that Odeon fans adore. Definitely worth checking out, though there isn't a lot on here that I, personally, would put on just for recreational purposes.


<! 10/12: gif X > <! Eliana Pittman "Esse Mar E Meu" (EMI) SOLP-7322 Esse Mar e Meu 2:26 Todo Mundo e Que e 2:14 Qui Nem Jil? 3:00 Humberto Teixeira - Luiz Gonzaga Nada Toca em Voc? 2:34 GB UR - Gente 2:09 Segunda Feira Das Almas 3:01 Ruy Maurity - Jos? Jorge Aru?-L? 2:21 Ederaldo Gentil A Ilha 2:55 Por un Segundo 2:57 O Que Era Dele 2:45 Alerta Mocidade 3:04 Bzouro Manganga 2:42 > <! * >

Eliana Pittman "Te Chegando Ja Cheguei" (RCA, 1974)



<! 01 - T™ chegando, j‡ cheguei (Picolino da Portela - Caipira) 02 - Marˇ mansa (Martinho da Vila - Paulinho da Viola) 03 - Abandono (Ivor Lancellotti) 04 - Capital do samba (Noca da Portela) 05 - Deus de barro (Gisa Nogueira) 06 - Motiva¨‹o (Mauro Duarte - Noca da Portela) 07 - ''Mistura de Carimb—'' Sinh‡ Pureza (Pinduca) Carimb— do mato (Tradicional) 08 - Quem d‡ mais (Noel Rosa) 09 - Kalu (Humberto Teixeira) 10 - Tristeza chama tristeza (Carlos Lyra - Ronaldo B™scoli) 11 - Saudade vai saudade vem (Bruno Carvalho - Eliana Pittman) 12 - Se n‹o for amor (Benito di Paula) 13 - Baile do Municipal (Lourival Faissal) Arranged by: Severno Filho (2,5,7,8,9,13) Ely Arcoverde (3,10,11,12) Magro Waghabi "MPB-4" (1) Nelsinho (4,6) >

Eliana Pittman "Carimbo" (1974)





Eliana Pittman "Mistura De Carimbo" (1975)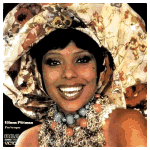 Eliana Pittman "Pra Sempre" (RCA, 1976)
(Produced by Carlos Guarany & Sergio Cabral)
A sweet, gentle set, anchored in the potentially gooey production style of the mid-1970s, but samba-y enough, and striaghtforward enough that the breezy orchestral pop touches never bog her down. A nice combination of sleek contemporary MPB and rootsy '70s-style roots pagode. A winner.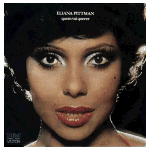 Eliana Pittman "Quem Vai Querer" (RCA, 1977)
More distinctly disco-y production touches take over here, with more of a classic '70s MPB feel, and less of the samba raiz vibe. Still, it's nice stuff -- there's still plenty of pagode in the mix, it's just in a more ornate setting. Plus, you get that bright sound that's so typical of RCA-Brazil productions of this vintage. Definitely worth a spin!




Eliana Pittman "Minha Melhor Melodia" (RCA, 1978)





Eliana Pittman "Eliana Pittman" (1979)





Eliana Pittman "Eliana Pittman" (1981)





Eliana Pittman "Sentimento De Brasil" (1992)





Eliana Pittman "Minhas Novas influencias" (Independente, 2009)



<! 103.0332 Eliana Pittman "Abandono" (xxxxx, xxxxx) ?? Abandono 2:49 Ivor Lancellotti Tristeza Chama Tristeza 2:09 Carlos Lyra - Ronaldo Bo^scoli Chora 3:22 Ade«lcio de Carvalho - Mauro Duarte Perfeito Amor 2:31 Elton Medeiros - Herminio Belo de Cavalho Um Amor Maior 2:46 Picolino da Portela Lenco Branco 3:38 Picolino da Portela - Eliana Pittman Se Nao For Amor 2:21 Benito di Paula A`s Vezes 2:55 Ivor Lancellotti Pra Sempre 3:17 Antonio Carlos - Jocafi Gracas a Deus 1:59 Carioca Triste Desilusao 3:11 Picolino da Portela - Dagmar do Esta«cio Era Preciso Mais um Fado 3:48 Fefy - Sarah Benchimol >

---
Links
---
---



---