<! cd = 07/13/12 > <! MP3 00/00/00 > <! pix 00/00/00 > <! ALLBM 00/00/00 > <! icons 00/00/00 > <! UPDATES: 07/13/12 - posted >

---
Mario Reis (1907-1981) was one of the great singers of the samba-cancao era of the 1930s, and a personal favorite of mine. Reis had the same sort of swinging cool and casual savoir faire as North American crooners like Bing Crosby and Fred Astaire, but definitely with a strong samba flair. He made a comeback in the '70s, and while mellower than his golden years, this later work was nice as well. Here's a quick look at his work...
---
Discography - Best-Ofs
---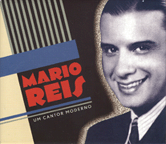 Mario Reis "Um Cantor Moderno: Gravacoes RCA-Victor" (BMG-RCA, 2004)


An excellent 3-CD set collecting the formative work of one of the great early samba-cancao stars, with forty-seven classic songs recorded between 1932-35, his complete output for the RCA label. Reis didn't have the same ebullient charm or expressive range of his famed contemporary, Carmen Miranda, but his work has to be counted as some of the best Brazilian pop music of the time. Sure, he's more of a perky cheerleader than serious vocalist, and the toot-tootling horn arrangements may seem monotonous when you listen to one of these discs from start to finish... But once you get drawn into the music's antique, nostalgic aura, it proves to be very rewarding listening. It's also interesting to hear Reis grow as a singer: the first volume is the most brittle-sounding; the fluidity and joyfulness really comes out in Discs 2 & 3. Great historical material with impressive sound quality. Recommended!
Mario Reis "Mestres Da MPB" (Warner-Brasil, 2000)

Mario Reis "Raizes Do Samba" (EMI, 2000)

---
Discography - Albums
---

Mario Reis "Ao Meu Rio" (Elenco, 1965)
(Produced by Lindolpho Gaya)
Delicious! Reis was well into his middle age when this session was recorded, and he sings with the assurance of experience, as well as with an enduring sense of fun and wit. His style is understated, so are the arrangements, and while this doesn't have the pep and perkiness of his classic recordings, it's still very true to the spirit of old-school samba-cancao. Classy and calm; nostalgic oldies that are easy on the ears -- perhaps a little more sedate than it needed to be, but still a delight if you're a Mario Reis fan.
Mario Reis "...Canta Suas Criacoes Em Hi-Fi" (Imperial, 1968)



Mario Reis "Mario Reis" (EMI-Odeon, 1971)
(Produced by Lindolpho Gaya)
Nearly four decades after his heyday, the ebullient entertainer Mario Reis resurfaces for this lively retro set of classic samba-cancao, with bright arrangements by the grand arranger of the day, Maestro Gaya, who delivers a surprisingly restrained sound, much in keeping with Reis' original style. For his part, Mario is obviously a much older man, but the youthfulness and bright, smiling tones of his youth are still there. Indeed, although his voice has deepened, it isn't by much -- by the end of the first song, his original spark still burns brightly, and he'll still charm listeners as he did in the '30s. It's not the same as the old stuff, but it's still pretty nice.
---
Links
---
---



---