<! cd = 04/21/12 > <! MP3 00/00/00 > <! pix 00/00/00 > <! ALLBM 00/00/00 > <! icons 00/00/00 > <! UPDATES: 06/20/12 - posted >

---
Roberto Ribeiro (1940-1996) was one of the most charismatic figures of the 1970s pagode samba scene, a smooth, confident performer who recorded one solid album after another. Here's a quick look at his work...


<! Dermeval Miranda Maciel, mais conhecido como Roberto Ribeiro (Campos dos Goytacazes, 20 de julho de 1940 — Rio de Janeiro, 8 de janeiro de 1996) foi um cantor e puxador de samba-enredo brasileiro. Sambista do Império Serrano, Roberto Ribeiro construiu uma respeitável carreira de intérprete e compositor desde a segunda metade da década de 1960. De voz bem timbrada e enxuto fraseado, seu repertório incluíam sambas de todos os tipos, como afoxés, ijexás, maracatus e outros ritmos africanos. Tem mais de 20 discos gravados, com sucessos populares como as canćões "Acreditar", "Estrela de Madureira", "Todo Menino É um Rei", "Vazio", "Malandros Maneiros", "Fala Brasil" e "Amor de Verdade".[1] Filho de Antônio Ribeiro de Miranda (um jardineiro) e Júlia Maciel Miranda, Roberto era um carioca típico, apaixonado por futebol e samba. Aos nove anos de idade, trabalhava como entregador de leite. Naquele tempo, já frequentava a Escola de Samba Amigos da Farra, da cidade de Campos dos Goytacazes, e participava das festas do tradićčo "Boi Pintadinho". Ele foi jogador de futebol profissional em sua cidade natal. Depois de passagens por equipes amadoras (Cruzeiro e Rio Branco), ele se tornou goleiro do Goytacaz Futebol Clube. Era conhecido pelo apelido de "Pneu". Em 1965, Roberto mudou-se para a cidade do Rio de Janeiro em busca de um lugar em um clube grande carioca. Chegou a treinar no Fluminense, mas acabou desistindo da carreira e comećou a trabalhar com música, a se apresentar no programa "A Hora do Trabalhador", da Rádio Mauá, do Rio de Janeiro. Sua performance chamou a atenćčo da compositora Liette de Souza (que viria a ser sua esposa), irmč do compositor Jorge Lucas. Ela resolveu apresentá-lo aos sambistas da Império Serrano e Roberto passou a frequentar as rodas de samba da tradicional escola de Madureira. A diretoria da Império convidou-o para ser o puxador de samba-enredo da escola no Carnaval de 1971. Ele aceitou, mas se afastou nos dois carnavais seguintes para gravar seus primeiros discos como cantor. A partir de 1974, Roberto Ribeiro firmou-se como puxador oficial da Império, defendendo a agremiaćčo até o Carnaval de 1981. Dentre os grandes destaques nos desfiles cariocas, estčo os sambas-enredo "Brasil, Berćo dos Imigrantes", de 1977 (feito em parceria com o cunhado Jorge Lucas), e em "Municipal Maravilhoso, 70 Anos de Glórias", de 1979 (parceria com Jorge Lucas e Edson Passos). Sua carreira como cantor ganhou impulso a partir de 1972 com gravaćões de trźs compactos em parceria com Elza Soares pela Odeon. Satisfeita com o sucesso dos compactos, o selo lanćou o LP "Elza Soares e Roberto Ribeiro". No ano seguinte, Roberto gravou um LP, "Simone et Roberto Ribeiro - Brasil Export 73 Agô Kelofé", junto com a Simone, lanćado pela Odeon exclusivamente para o mercado externo. Em 1975, a mesma gravadora lanćou o compacto duplo "Sucessos 4 sambas", no qual Roberto Ribeiro interpretou "Leonel/Leonor" (de Wilson Moreira e Neizinho). Ainda neste ano, foi lanćado o disco "Molejo", que despontou com os sucessos "Estrela de Madureira" (de Acyr Pimentel e Cardoso) e "Proposta amorosa" (de Monarco) e chamou a atenćčo da crítica. No ano seguinte, foi lanćado "Arrasta Povo", LP que destacou mais dois grandes sucessos nas rádios de todo o Brasil: "Tempo É" (de Zé Luiz e Nelson Rufino) e "Acreditar" (de Dona Ivone Lara e Délcio Carvalho). Gravou em 1977 o LP "Poeira Pura", onde se destacou "Liberdade" (de Dona Ivone Lara e Délcio Carvalho). Um ano depois, foi lanćado o álbum "Todo Menino É Um Rei", que o colocou outra vez nas lista dos discos mais vendidos, puxado pelos sucessos da faixa-título (de Nelson Rufino e Zé Luiz), de "Amei demais" (de Flávio Moreira e Liette de Souza), de "Isso nčo sčo horas" (de Catoni, Chiquinho e Xangô da Mangueira) e de "Meu drama" (de Silas de Oliveira e J. Ilarindo) - esta incluída também na trilha sonora da novela "Pai Herói", da Rede Globo. Em 1979, foi a vez do lanćamento do LP "Coisas da Vida", que teve entre as mais tocadas "Vazio" (de Nelson Rufino), também conhecida na época como "Está faltando uma coisa em mim", e "Partilha" (de Romildo e Sérgio Fonseca). No início da década de 1980, Roberto gravou "Fala meu povo". Neste LP, de 1980, constavam algumas composićões de sua autoria como "Vem" (parceria com Toninho Nascimento) e sucessos como "Só chora quem ama" (de Wilson Moreira e Nei Lopes) e "Quem lucrou fui eu" (Monarco). Em 1981, foi lanćado "Massa, raća e emoćčo", com o sucesso "Santa Clara Clareou" (de Zé Baiano do Salgueiro). Em 1983, foi lanćado o disco "Roberto Ribeiro", com o sucesso "Algemas" (parceria com Toninho Nascimento). Em 1984, no seu LP "De Palmares ao tamborim", obteve źxito com "Lágrima Morena" (outra parceria sua com Toninho Nascimento). Naquele ano participou do disco "Partido alto nota 10", de Aniceto do Império, no qual interpretaram em dueto a faixa "Chega Devagar", de autoria de Aniceto do Império. Em 1985, foi lanćado o LP "Corrente de Aćo", que contou com a participaćčo de Chico Buarque de Hollanda na música "Quem te viu, quem te vź" (do próprio Chico) e de Nei Lopes, em "Malandros maneiros" (Nei Lopes e Zé Luiz). Em 1987, Roberto Ribeiro gravou o disco "Sorri pra Vida", obtendo sucesso com a faixa "Ingrata Paixčo" (de Mauro Diniz, Adílson Victor e Ratinho) e, um ano depois, "Roberto Ribeiro", que contou com a participaćčo especial de Alcione na faixa "Mel pra minha dor" (de Nelson Rufino e Avelino Borges) e do Grupo Raća, em "Malandro mais um" (de Ronaldinho e Carlos Moraes). Passou a sofrer de um seriíssimo problema de vista e, em Janeiro de 1996, faleceu em virtude um atropelamento no bairro de Jacarepaguá, Rio de Janeiro. Perdeu um olho em razčo de uma contaminaćčo por fungo agravada pelo diabetes).[2] Um ano antes, em 1995, a EMI-Odeon lanćou a coletČnea "O Talento de Roberto Ribeiro", na qual compilou 22 sucessos de seus vários discos. Roberto participara ainda naquele ano do disco-homenagem "Clara Nunes com Vida", produzido por Paulo César Pinheiro, no qual interpretou (com sua voz acrescida posteriormente) um dueto com Clara Nunes, "Coisa da Antiga" (de Wilson Moreira e Nei Lopes). >

---
Discography - Best-Ofs
---

Roberto Ribeiro "Meus Momentos" (EMI, 1999)


Sweet samba from the '70s and early '80s... the same sort of flowery arrangements and big, bright choruses as contemporary records by Beth Carvalho and Clara Nunes. Although Ribeiro may have lacked the visceral ooomph the gals had, he's still pretty sweet. Like the other recent Meus Momentos releases, this 2-CD set collects a couple of earlier best-of discs, and the first CD is punchier than the second. But it's a fab budget-line release -- totally worth checking out!
Roberto Ribeiro "Eu Sou O Samba" (EMI, 2004)


Roberto Ribeiro "Arrasta Pova/Roberto Ribeiro" (EMI, 2010)


A much-welcome reissue of two long out-of-print albums from 1970s samba star Roberto Ribeiro... This combines Arrasta Pova, from 1976, and Roberto Ribeiro, from 1979 -- both completely killer sets, with some of the richest, purest 'Seventies samba you'll ever hear. Highly recommended!
---
Discography - Albums
---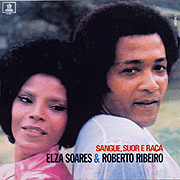 Roberto Ribeiro & Elza Soares "Sangue, Suor E Raca" (Odeon, 1972)
(Produced by Milton Miranda & Lyrio Panicalli)
A fine, funky samba album, with samba-soul singer Elza Soares exploring new textures and modern rhythms. Newcomer Roberto Ribeiro, from the Imperio Serrano samba school, makes his recording debut as an able duet partner, helping ground Elza's normally dramatic vocals in a calmer, cooler, sexier mode. There are several longer "potpourri" medleys on here, a format I generally dislike, although here the melodies are all given a full, lush reading, and the musical end is quite lovely. All in all, a warm, inviting album, with pianist Dom Salvador back on board as arranger and bandleader. Lovely stuff... a few songs a bit on the staid side, but for the most part, a career highlight... Worth checking out!
Roberto Ribeiro/Simone/Joao De Aquino "A Bruxelles: Brasil Export '73" (EMI-Odeon, 1973)

Roberto Ribeiro "Molejo" (EMI-Odeon, 1975)

Roberto Ribeiro "Arrasta Povo" (EMI-Odeon, 1976)


Deep roots samba. A lovely, simple acoustic album -- elegant, effortless, mellow and melodic, the epitome of classy '70s-style pagode. This is a sparsely arranged, unhurried album, framing Ribeiro's equally relaxed vocals. Nice stuff!
Roberto Ribeiro "Poeira Puro" (EMI-Odeon, 1977)

Roberto Ribeiro "Coisas Da Vida" (EMI-Odeon, 1979)

Roberto Ribeiro "Fala Me Povo" (EMI-Odeon, 1980)

Roberto Ribeiro "Massa, Raca E Emocao" (EMI-Odeon, 1981)

Roberto Ribeiro "Fantasias" (EMI-Odeon, 1982)

Roberto Ribeiro "Roberto Ribeiro" (EMI-Odeon, 1983)

Roberto Ribeiro "De Palmares A Tamborim" (EMI-Odeon, 1985)

Roberto Ribeiro "Corrente De Aco" (EMI-Odeon, 1985)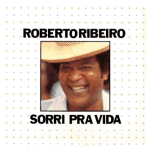 Roberto Ribeiro "Sorri Pra Vida" (EMI-Odeon, 1987)
(Produced by Liebert Ferreira Pinto & Jorge Davidson) (LP)


(Arrangements by Geraldo Vespar)
The album starts off as standard-issue, '70s-ish pagode, with several uptempo songs packed with vibrant rhythm, plucky cavaquinho and a cheery vocal chorus... One begins to think, "same old, same old," and then one is mildly intrigued by the unusual, forro-flecked arrangement on "Ingrata Paixao," and jarred by the synthy soft-pop MPB of the track that follows, "Ginga Angola," compounded by the Chico Buarquian "Dom De Fingir," and one realizes that Ribeiro has indeed stirred the pot a bit. Whether you prefer the old-fashioned sambas or the lusher, jazzier MPB, this album offers fine examples of both. Certainly worth a spin!


<! 01 - Sorri pra vida (Liette de Souza - Roberto Ribeiro) 02 - Desbandeirar (Toninho Nascimento - Roberto Ribeiro) 03 - Onde nčo existe flor (Guará - Serginho Meriti) 04 - Festa de reis (Roque Ferreira) 05 - Ingrata paixčo (Mauro Diniz - Ratinho - Adilson Victor) 06 - Ginga Angola (Nei Lopes) 07 - Dom de fingir (Nivaldo Duarte - Eros - Liebert) 08 - Serra, Serrinha, Serrado (Toninho Nascimento - Roberto Ribeiro) 09 - Olodum (Edil Pacheco - Paulo César Pinheiro) 10 - Cada problema... uma solućčo [Saber viver] (Arlindo Cruz - Ubirany) 11 - Fique (Nelson Rufino) 12 - Do mesmo chčo (Luiz Carlos da Vila) Arranged and conducted by Geraldo Vespar >

Roberto Ribeiro "Roberto Ribeiro" (BMG-Ariola, 1988)





---
Links
---
---



---