<! cd = 01/30/10 > <! MP3 01/30/10 > <! pix 00/00/00 > <! ALLBM 00/00/00 > <! icons 01/20/11 > <! UPDATES: 11/14/12 - posted >

---
Sergio Ricardo was a piano prodigy, becoming a fixture on the Rio nightclub scene in the 1950s, while still in his teens. He also went into acting, in film and on television, taking part in the early '60s in the explosive "Cinema Novo" Brazilian arthouse movement. Like many, he was also swept up in the bossa nova craze, cutting his own bossa album in 1960, hot on the heels of Joao Gilberto's groundbreaking debut. Ricardo's acting career competed with his music, but it was politics that determined his trajectory: following the 1964 coup, Ricardo was prominently in opposition to the new junta and frequently found his work challenged or censored. Here's a quick look at his music...
---
Discography
---

Sergio Ricardo "Dancante #1" (Todamerica, 1959)
Wait a minute... Is this seriously an early album by singer-composer Sergio Ricardo... the second-tier bossa nova star whose albums (listed below) have a certain undefinable charm? I mean, this mellow, lounge-y set features Ricardo plunking the piano keys in a brisk set of unadventurous exotica instrumentals, easily what you'd imagine would be played at a 1950s cocktail lounge in Sao Paulo... or Miami... or Dubuque... or Oslo... Supposedly there's an all-star cast of Brazilian jazz players behind him... It's hard to imagine they'd have done something this dull, but, well... I guess work is work, and they must have gotten paid something for these sessions. They do cut a little loose on a tune or two, such as Ricardo's own "Puladinho," but mostly this is a forgettable relic, only of interest to diehard Sergio Ricardo fanatics.


<! Sergio Ricardo (piano) Ramon Perez (tumbadora) Hélcio Milito (drums) Helinho (guitar) J.T. Meirelles (clarinet, clarone) Silvio (vibrafone) Luisinho and Guará (bass) Chuca-Chuca (vibrafone) 01 - Favela (Hekel Tavares / Juraci Camargo) 02 - 3-D (Sergio Ricardo) 03 - Máxima Culpa (Sergio Ricardo) 04 - Puladinho (Sergio Ricardo) 05 - A Certain Smile (Paul Francis Webster / S. Fain) 06 - Gauchinha Bem Querer (Tito Madi) 07 - Temptation (N. H. Brown / A. Freed) 08 - Destino Ruim (Jorge Gama / Darci Moreira) 09 - Till (Sigman / Danvers) 10 - Esquecimento (Nazareno de Brito / Fernando César) 11 - Uma Canćčo a Mais (Sergio Ricardo) 12 - Tarde Triste (Maysa) >

Sergio Ricardo "Nao Gosto Mais De Mim -- A Bossa Romantica De Sergio Ricardo" (Odeon, 1960)

Sergio Ricardo "Depois De Amor" (Odeon, 1961)


Sergio Ricardo "Deus E O Diablo Na Terra Do Sol" (Soundtrack) (Forma, 1963)
A frightfully earnest folk-opera, in keeping with political plays such as Opinao and the like. Originally recorded as the soundtrack to an early '60s film, this features Ricardo singing with the nasal accent of the rural northern sertao; some of his acoustic strumming is upbeat and emphatic, most of the songs are sombre and based around the same mournful riff. Some tracks also include dialogue from the film; the kitschiest is the album's closer, which combines Ricardo's music with voiceovers and sound effects of gunfire and women screaming. This isn't dazzling, but it's a nice glimpse at the early work of a likable second-tier bossa nova artist.

Sergio Ricardo "Um Senhor Talento" (Elenco, 1963)



(Produced by Aloysio De Oliveira)
Late-period bossa nova, with an admixture of the folk-samba style of Dorival Caymmi and the experimental pop of Edu Lobo and Ivan Lins. Apparently these many of these songs were used in a politically-oriented "Cinema Novo" film that Ricardo directed. Nice stuff -- also features some complicated vocal arrangements which would put the Quarteto Em Cy to shame.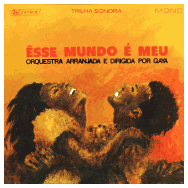 Sergio Ricardo & Lindolfo Gaya "Esse Mundo E Eu" (Soundtrack) (Forma, 1964)
(Produced by Roberto Quartin & Sergio Ricardo)
(Arranged by Lindolfo Gaya)
Ricardo collaborated with fabled arranger Maestro Gaya on this somber, super-serious, almost sepulchral, soundtrack album for the "Cinema Novo" film Esse Mundo E Eu ("That World And Mine"), which was also Ricardo's debut as a film director. It's not a very fun record, although Ricardo injects a little bit of life on a few tunes; he also sings both unaccompanied and with a chorus. Lots of heavyweight talent on here as well -- Wilson Das Neves on drums, Ed Maciel and Paulo Moura in the brass section, Irany Pinto doing the string arrangements, and actress Stellina Egg in the chorus. Mostly it's kind of stuffy and overwrought, with very little of the spark and bounce of contemporary bossa nova to be heard... I suppose a tune or two might be of interest to devoted fans, but I found it kind of dreary.


<! Sérgio Ricardo acoustic guitar (3,4,8) voice (4,6,8) harmônica (2,5,9,10) Wilson das Neves drums Irany Pinto chords Meirelles flute Edson Maciel trombone Waldemar Moura trombone Maurilio pistčo Pinduca piano Malagutti bass Nicolino Cópia flautim 01 – Cabocla Jandira (Lindolfo Gaya) 02 – Sonho (Sergio Ricardo / Lindolfo Gaya) 03 – Chorinho da Barbearia (Sergio Ricardo) 04 – Nem Fome (Sergio Ricardo) 05 – Tempestade (Lindolfo Gaya) 06 – Pregčo (Sergio Ricardo) 07 – Oxalá Meu Pai (Lindolfo Gaya) 08 – Esse Mundo É Meu (Sergio Ricardo) 09 – Tempestade (II) (Lindolfo Gaya) 10 – Cabocla Jandira (Lindolfo Gaya) >

Sergio Ricardo "A Grande Musica De Sergio Ricardo" (Philips, 1967) (LP)

Sergio Ricardo "Arrebentacao" (Equipe, 1971)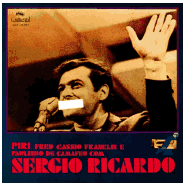 Sergio Ricardo "Piri, Fred, Cassio, Franklin & Paulinho De Camafeu Come Sergio Ricardo" (Continental, 1973)


(Produced by Sergio Ricardo)
Geez, Louise. What a goofy, over-the-top, overly experimental folkie smorgasbord... One could perhaps being excused for suggestion that Ricardo was trying just a little too hard here... Is it a "psychedelic" album? Well, maybe... It sure is a manic record, with outlandish accompaniment -- cavaquinho, flute, electric bass -- no matter what the musicians are playing, they just go nuts and keep going nuts on every song, improvising their little hearts out and being as intrusive -- I mean, as experimental -- as possible. For his part, Ricardo is equally emphatic and forceful... On some songs he croons over the cacophony, while on others he plunges in and is just as uninhibited and intense. I'm reminded in some ways of Phil Ochs' later, somewhat desperate, flirtations with chamber-folk orchestrations, although this is more of a Brazilian-regional-on-crack sound. The "Piri, Fred, Cassio..." of the title are the musicians backing him, and they certainly throw themselves into it. I'm sure this is considered a freak-out classic of sorts, but honestly? Kind of hard to listen to -- on purpose -- and even if you make it through the first time, are you really going to want to listen to it again and again? Probably not. Of historical interest, but ultimately just an irritating relic of times gone by.
Sergio Ricardo "A Noite Do Espantalho" (Soundtrack) (Continental, 1974)

Sergio Ricardo "Sergio Ricardo" (RCA Victor, 1975)

Sergio Ricardo "Do Lago A Cachoeira" (Continental, 1979)







Sergio Ricardo "Flicts" (Polygram, 1980)



<! w/ QUARTETO EM CY e MPB-4 ? >

Sergio Ricardo & Carlos Drummond De Andrade "Estoria De Joao E Joana" (Trinca Producoes, 1985)







Sergio Ricardo "Estoria De Joao E Joana" (Radio MEC, 2000)



<! O cordel musicado de Sérgio Ricardo e Carlos Drummond de Andrade foi gravado originalmente há 15 anos sem maior repercussčo. Este ano, após uma bem-sucedida apresentaćčo no Theatro Municipal (RJ), o compositor conseguiu trazź-lo ą era digital, regravando-o ao lado de grandes nomes da MPB, e dessa vez assinando também os (ricos) arranjos. O CD abre com um Aboio de Chamamento instrumental com discretos vocais de Alceu Valenća. Segue Caso de Muito Ensino (a apresentaćčo do pobre Jočo, um dos personagens centrais do cordel), com Sérgio, Elba e Geraldinho Azevedo. A seguir, vem Gente do Miserź e Sem Mentira, ainda com Geraldinho, versando sobre a saga de Jočo que ficou órfčo e trabalhou duro para se manter. Alceu Valenća aparece para entoar o repente Parada com Sertanejo, que narra a valentia do personagem. Jočo Bosco, Elba e Telma Tavares se revezam em Fogo no Agreste, mostrando o sofrimento do protagonista ao ver a seca terrível a seu redor. Elba segue em Por Forća da Natureza, alertando sobre o lado sensível de Jočo em meio a tanta dificuldade de viver naquele ambiente. Sérgio Ricardo entoa Condićčo Feminina, que mostra suas reflexões ao casar-se com Joana e ter um filho. Chico Buarque canta muito bem, de forma dolente, Duas Vezes Escrava, parte do cordel que destaca a dureza de ser mulher no hostil ambiente agreste. Elba completa a letra. É a senha para que Alceu Valenća resuma a triste sina dos que nascem naquela conjuntura em A Lei do Seu Mandamento. Diz a letra: "De ser homem: de escolher o seu próprio sofrimento/ E de escrever com peixeira a lei do seu mandamento/ Quando ą falta de outra lei ou eu fujo ou arrebento". Telma segue com as reflexões de Joana em Apenas do Saco, a Embira. Chico e todo o elenco em coro dčo o alerta, na canćčo Em Favor e Graća, para todos os brasileiros que tźm tal destino. O próprio Sérgio encerra a história, da forma tradicional de cordel, despedindo-se e agradecendo a todos que o ouviram, De Minas ao Piauí. É um disco bem feito, bem arranjado, com źnfase nos ritmos brasileiros, e os intérpretes estčo corretos. Como sčo 47 minutos sem interrupćčo, seria melhor que a parte instrumental dos trechos iniciais fossem mais enxutas, até para que o ouvinte possa se inteirar melhor da saga do cordel e nčo se dispersar da Estória. Em alguns momentos, o ritmo de certas canćões poderia ser mais dramático. Mas isso nčo chega a prejudicar o conjunto, que parte de uma idéia interessante e tem o mérito de trazer de volta ao disco o sumido Sérgio Ricardo. (Rodrigo Faour) >

Sergio Ricardo "Ao Vivo" (Atracao, 2003)

Sergio Ricardo "Ponto De Partida" (Biscoito Fino, 2008)

Sergio Ricardo "Mestres Da MPB" (2007)

---
Links
---
---



---