<! cd= 01/14/07> <! MP3 09/12/08, 12/05/09 > <! update 09/12/08 > <! pix 12/05/09 > <! icons 01/23/11 >

---
As one of the primary architects of bossa nova's sleek, tony sound, composer Roberto Menescal is justifiably a legendary figure, having co-written or arranged several of the genre's greatest early standards. Over the years, though, his own albums have tended towards syrupy easy-listening, particularly his many all-instrumental albums. Like many things in the world of Brazilian pop, his work may be an acquired taste... I find much of it to be too sugary, though there are moments of elegance and magic as well...


<! Member of the first generation of bossa nova, Menescal was forced by his family to study piano during his childhood in Vitória (Espírito Santo, SE). Menescal also studied the accordion, harmonica and guitar, specializing in the latter. Menescal had harmony, arrangement and composition lessons with conductors Guerra-Peixe and Moacir Santos. Menescal settled in Rio de Janeiro, where he and Carlos Lyra founded a guitar academy. There, Menescal gave lessons, including to the bossa nova muse Nara Lečo. In 1958 and 1959, he wrote his first songs and recorded tracks on the album "Os Garotos da Bossa Nova". Menescal made friends with Ronaldo Bôscoli, with whom he wrote one of his greatest hits, bossa nova anthem "O Barquinho", in 1961. In 1962, Menescal performed the song at the Bossa Nova Festival at Carnegie Hall, New York. Menescal and Bôscoli also composed "Vocź", "Vagamente", "Ah, Se Eu Pudesse", "Errinho ą-toa" and "Nós e o Mar", among others. In the following years, Menescal founded his own group - Conjunto Roberto Menescal -, and accompanied musicians like Dorival Caymmi, Aracy de Almeida, Maysa and Silvinha Telles in their shows. Menescal has recorded with several artists and has toured all over the world playing bossa nova standards. In the 80's and 90's he worked mainly as a musical director and producer, promoting new talents.>

---
Discography
---



Conjunto Bossa Nova "Bossa E Bossa" (EMI-Odeon, 1959)
This 4-song EP was, apparently, Menescal's first recording. Also on board were some heavyweights of the Brazilian jazz world backing him up, including drummer Helcio Milito, saxophonist Bebeto Castilho (later of the Tamba Trio) and pianist Luiz Carlos Vinhas. Not sure if it's been reissued as bonus tracks on any Menescal releases... but it certainly should be!


<! 01 - Meditaćčo (Tom Jobim / Newton Mendonća) 02 - Nčo Faz Assim (Oscar Castro Neves / Ronaldo Bôscoli) 03 - Minha Saudade (Jočo Donato / Jočo Gilberto) 04 - Céu E Mar (Johnny Alf) Odeon, in the 7-inch format, the first Roberto Menescal record featuring from the left to right in the picture, Luiz Paulo Nogueira. Helcio Milito, Bebeto, Luiz Carlos Vinhas (bass), Bill Horn (trumpet) and Roberto Menescal. >

Sylvia Telles/Lucio Alves/Roberto Menescal "Bossa Session" (Elenco, 1964)


Well into the bossa years, old-school "radio singer" Sylvia Telles became a much looser, much lusher singer, and these relaxed, swinging recordings made for Aloysio De Oliveira are among some of the best material in the Elenco catalog. Telles is joined by another old-timer, Lucio Alves, who also sounds in a pretty good mood. I'm not sure, but I believe guitarist-composer Roberto Menescal provides backup on all these tracks; his group also performs several instrumental numbers. The pacing of this album is quite nice, too... well worth tracking down!

Roberto Menescal "A Bossa Nova De Roberto Menescal E Seu Conjunto" (Elenco, 1963)


(Produced by Aloysio De Oliveira)
As a founding member of the first wave of bossa nova musicians, and as an influential producer during the 1970s MPB boom, guitarist/arranger Roberto Menescal music be given his due. That being said, this early all-instrumental album is still pretty cheesy. The arrangements are playful and complex, and doubtless technically challenging, but compared to the best bossa albums of the time, they lack depth and resonance. It's easy listening -- not bad for the territory, but still pretty lightweight, and not really that substantive. The songs are mainly standards by Jobim, et al., with several Menescal originals. The brightness of his melodic approach is noteworthy: you'll recognize the tone in his best later work (such as his sublime late '70s albums with Maria Bethania and Nara Leao), where it was put to much better use within a more mature context.

Roberto Menescal "Surf Board" (Elenco, 1966)


(Produced by Aloysio De Oliveira)
Same with this disc. If anything, this is even fluffier than the earlier A Bossa Nova Elenco album, an unapologetic entry into the easy listening market. Pianist and fellow bossa pioneer Oscar Castro-Neves is part of the five-piece band that Menescal leads. It's cute, but it doesn't really stick to your ribs.
Roberto Menescal "Bossa Nova" (Imperial, 1966)

Roberto Menescal "A Nova Bossa De Roberto Menescal" (Elenco, 1968)

Roberto Menescal "O Conjunto De Roberto Menescal" (Forma, 1969)


(Produced by Nonato Buzar & Roberto Menescal)
Jazz pianist Antonio Adolfo was part of this short-lived group backing bossa pioneer Roberto Menescal; also included in the band was drummer Wilson Das Neves... It's a lot of top talent backing Menescal on yet another kitschy easy-listening outing. Yet the talent does make a difference: Adolfo in particular stands out for his nuanced performances, adding mood and texture to otherwise nondescript instrumental material, giving many songs an almost spy-jazzy feel. Fans of breezy easy-listening albums will find a lot to like here; amazingly enough, listeners with grittier or jazzier tastes might enjoy the performances, too. Still, it's pretty fluffy, overall.


<! This is a 1969 record from Roberto Menescal - O Conjunto de Roberto Menescal, with the participation of Elis Regina on track 02, Depois da Queda. This album was recorded after a tour in Europe with Elis Regina, who was backed up by Roberto Menescal on a band called Elis 5. The cover shows Menescal on his best time, taking sun and fishing at Praia do Arpoador, Ipanema, Rio de Janeiro. O Conjunto de Roberto Menescal left renowned musicians that were successful later on by themselves, such as: Antonio Adolfo and Wilson das Neves. BOTH ON THIS RECORD >

Roberto Menescal & Nara Leao "Um Cantinho, Um Violao" (Philips, 1985)
A mellow album, with stripped-down yet rather glossy arrangements. Bossa chanteuse Nara Leao croons sweetly, as her old friend strums guitar in a variety of styles, ranging from gorgeous acoustic work to more questionable fusion-tinged pop production washes. Overall, this isn't the best of her albums -- Nara's vocals falter a little in places, and Menescal's Metheny-ish moments may trouble a few. But on the whole, it's a pleasantly restrained, relaxed album, and, as all of Leao's work, well worth checking out.

Roberto Menescal & Nara Leao "Garota De Ipanema" (Philips, 1989)


A back-to-basics acoustic bossa nova album, full of all the standards -- "Agua de Beber," "Chega De Saudade," "Desafinado," etc... and of course, the title track. Menescal plays a nylon-string classical guitar, and light bass and perscussion grace a few tracks. The few sour notes are Menescal's... but even though he often leads the project into dubious, muzak-y territory, Leao is enchanting and the album is quite sweet. Recommended.
Roberto Menescal "Ditos E Feitos/Said And Done" (WEA Latina, 1992)


Roberto Menescal & Wanda Sa "Eu E A Musica" (CID Luxo, 1995)


A schmaltzy, syrupy acoustic album by these two old-timers. Features plenty of classic Jobim songs, and other bossa nova standards. Ages ago, Sa was the featured guitarist and vocalist in Sergio Mendes' Brazil '65 group; Menescal was a bossa nova composer who went on to be one of Brazil's most active album arrangers. This, however, is a rather cloying version of a similar album he made in 1985 with Nara Leao (reviewed above). Personally, I think you'd be better off looking for that disc, though this is nice as well.

Roberto Menescal/Wanda De Sa/Miele "Uma Mistura Fina: Gravado Ao Vivo" (Paradoxx/Albatroz, 1996)


A good live set from some bossa nova/soft jazz warhorses... The material is almost exclusively drawn from Menescal's compositions, including a healthy dose of material cowritten with Ronaldo Boscoli. Both Menescal and Sa sound competent and smooth, though the winsome, loquatious Miele steals the limelight as the show's emcee, cracking jokes and settling into long, fulsome asides, connecting with the receptive, good-humored audience. Clearly everyone was on the same wavelength that night, and if you're looking to eavesdrop on a nostalgia-heavy bossa lovefest, this disc radiates warmth and good cheer. However, the music is constantly sidelined by the gabbing, and the insider-y feel of the event may leave more casual listeners feeling out of the loop. All in all, it ain't bad, but you might find yourself wishing they'd play a little more music sometimes.
Roberto Menescal & Wanda Sa "Estrada Tokyo-Rio" (Albatroz, 1998)

Roberto Menescal/Wanda Sa/Marcos Valle "Bossa Entre Amigos" (Albatroz, 2001)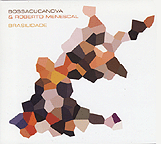 Roberto Menescal & Bossacucanova "Brasilidade" (Six Degrees/Ziriguiboom, 2001)



A sweet mix of bossa and electronica... Menescal's penchant for the lightweight finds a surprisingly effective match in the retro EZ-fusion impulses of the Bossacucanova collective (which, by the way, includes his son Marcio as a member of the band). In particular, BCN's sub-jungle skittering and flat-out house-trance disco-isms lend themselves perfectly to Menescal's melodic minimalism. It's as if all those old albums of his were just waiting for someone to insert a few extra breakbeats and noodly toodlings to fill the empty spaces. Improbably, this is a pretty good record, and only mildly embarrassing to listen to. Worth checking out.
Roberto Menescal "Musica E Romance" (2004)

Roberto Menescal "Bossa Evergreen" (Albatroz, 2004)


Roberto Menescal "Balansamba 2005" (Albatroz, 2005)


Roberto Menescal & Wanda Sa "Swingueira" (Albatroz, 2005)


Roberto Menescal & Eddy Palermo "Bossa Jam Session" (Albatroz, 2007)


---
Best-Ofs & Related Records
---

<! B0014M3IC0 > <! B0013SCGAA various artists >

Roberto Menescal "Pure Bossa Nova: A View On The Music Of Roberto Menescal" (Universal, 2006)


---
Links
---
---



---