<! cd = 07/31/12 > <! MP3 00/00/00 > <! pix 00/00/00 > <! SOURCES 00/00/00 > <! icons 00/00/00 > <! UPDATES: 11/14/12 - posted >

---
Arnaud Rodrigues (1942-2010) was a singer and television star who performed comedic material (and recorded several albums) with Chico Anisio, as well as pursuing his own career as a serious pop musician. Rodrigues is credited as being one of the earliest (if not the first) artist to record reggae music in Brazil, and has worked in a variety of styles, including an early stab at American-style rap. Here's a quick look at his work...
---
Discography
---
Arnaud Rodrigues "Sound & Pyla" (1970)

Arnaud Rodrigues "Tilim: Trilha Sonora Da Telenovela" (Continental, 1970) (LP) <! label? RCA?? >


Arnaud Rodrigues "Murituri" (Continental, 1974)
A cool psychedelic rock-samba gem, with touches of the Northeastern regional rock of Ze Ramalho and Alceu Valenca... Some songs have a samba-funk feel similar to Jorge Ben and Gilberto Gil's work of the same era; other tracks are electric guitar extravaganzas, mixing fuzztones with note-heavy, bluesy solos, while still others have the jazz/orchestral feel of more mainstream MPB. Cult fave Arthur Verocai had a hand in this one, both as a songwriter and a producer/arranger, and fans of his work will want to check this out as well. All in all, an exemplary album of its time. Rodrigues wasn't a great singer, but this is a pretty groovy record.


<! Há alguns anos, ao mesmo tempo que Chico Anísio gravava na Philips o lp "Chico Anísio inaugura o humor danćante", produzido por Nonato Buzar, Arnaud Rodrigues, redator dos programas humoristicos de Chico também fazia um movimentado lp na Copacabana, se nčo nos enganamos. Agora, quando aparece um novo lp de Chico Anísio pela Continental, em que o inteligente artista conta algumas deliciosas historietas Arnaud ataca novamente como cantor, em lp da mesma gravadora "murituri" (Continental), SLP_10.130 dezembro-73). E nčo há dúvidas de que Chico Anísio tem razčo de manter Arnaud em sua equipe de produćčo: afinal, a versatilidade do moćo é impressionante e ele compôs as músicas para este álbum - com diferentes parceiros (Antônio de Jesus/Sebastičo Valentim, entre os desconhecidos; o próprio Chico e Arthur Verocai, entre os famosos) - como se estivesse escrevendo um screen-play para "Chico City". Assim é que vai desde um gostoso sambčo ("Nega") a uma música espiritualista, na mais comercial linha "Superstar" em "Murituri", com versos surradíssimos ("A verdade brotara/A semente explode a terra/Mas se nčo acontecer/Faz de conta") passando até pelo rítmo nosdestinos em "Antônio Nepomuceno" (onde nčo teve parceiros). O que prova este LP é a criatividade de Arnaud um moćo que sabendo dominar as palavras, razoável voz e convocando bons maestros para os arranjos - Otávio e Verocai - realizou um LP agradável, que utilizando os próprios títulos de suas músicas poderia-se dizer: "Esse e Eu" que "Tá" aí a "Sociedade de Consumo". Consumam(se)! >

Baiano & Os Novos Caetanos "Baiano & Os Novos Caetanos, v.1" (CID, 1974)


This "band" was a front for Rodrigues to perform satirical send-ups of the psychedelic strivings of the Brazilian "tropicalia" scene, specifically of artists such as Os Mutantes, Os Novos Baianos and Caetano Veloso. In some ways it's funny, but it's hardly very subtle. It might be hard to get the joke, decades later and outside of hippie-era Brazil, but it still holds some historical and kitsch value. Personally, I prefer Rodrigues' more serious pop efforts recorded under his own name.


<! CD link has pic "Inclui O Sucesso 'Vo Bate Pa Tu' " >

Baiano & Os Novos Caetanos "Baiano & Os Novos Caetanos, v.2" (1975)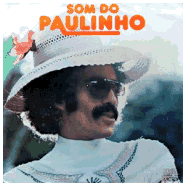 Arnaud Rodrigues "Som Do Paulinho" (RCA Victor, 1976) (LP)


A very cool, very contemporary '70s MPB album, spanning swank pop, cosmic folk, light soul and funky samba-rock, with relaxed vocals by Rodrigues and cool, solid accompaniment by a crew of studio pros. Although I find some of the Baiano & Os Novos Caetanos material to be too jokey, this is a solid set of sincere, effective and evocative pop music, with some psychedelic trappings, but nothing that's obtrusive or distracts from the songs themselves. Kind of reminds me of Paulo Diniz's albums of similar vintage... Recommended!
Arnaud Rodrigues "Cuca Fresca" (1977)

Arnaud Rodrigues "Redescobrimento" (1978)

Baiano & Os Novos Caetanos "A Volta" (1982)


Arnaud Rodrigues "Sudamerica" (Barclay, 1985) (LP)

Arnaud Rodrigues "Arnaud Rodrigues" (1987)

Arnaud Rodrigues "Coronel Totonho, v.2" (1998)

---
Links
---
---



---