<! MP3 09/12/08, 11/03/09 > <! update 09/12/08, 01/04/10 - review last two pre-USA albums > <! pix: 11/01/09, 01/04/10 need some Fantasy pix > <! icons 01/22/11 >

---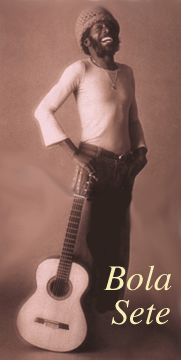 Guitarist Djalma De Andrade, better known as Bola Sete (1923-1987) (or "Seven Ball," a reference to Brazilian billiards) was both an early exponent of Brazilian music in the United States, and a pioneer of solo acoustic guitar work. Well before the bossa nova boom hit stateside, Sete was living in California, introducing dynamic Latin styles into the various small jazz combos he sat in with. Later his style became more introspective and expressive, mirroring the shift in the acoustic guitar repertoire brought about by players such as John Fahey and William Ackerman. Here's a quick look at his recording career...
---
Discography
---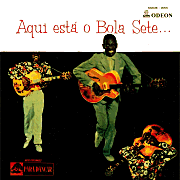 Bola Sete "Aqui Esta O Bola Sete" (Odeon, 1957)
A fun album in which Bola Sete plugs in and plays electric... He also plays faster and more recklessly than in his later acoustic work, taking standards by Ary Barroso, Joao De Barro and others, and giving them a few devilish twists. He also takes advantage of the amplification to create a few surprising flourishes, making good use of distortion and growl in some very subtle and sparing ways, adding an almost rock'n'rollish zing! on a tune or two. An entirely enjoyable record!


<! This is Bola Sete e Seu Conjunto – Aqui Esta o Bola Sete (1957), for Odeon, which is Bola Sete debut LP in the Para Dancar style. With the help of Jorge Mello, we are gradually completing Bola Sete discography in his early yearly years. And there is more to come since all these albums never had a chance to be reissued in CD. Bola Sete plays electric guitar renditions of Brazilian standards, Bolero and two compositions by his own. Odeon did not credit musicians in this session. Tracks include: 01 - Aquarela do Brasil (Ary Barroso) 02 - Rico Vacilon (Rosendo Ruiz) 03 - Copacabana (Jočo de Barro / Alberto Ribeiro) 04 - Na Baixa do Sapateiro (Ary Barroso) 05 - Solamente Una Vez (Agustin Lara) 06 - Morena Boca de Ouro (Ary Barroso) 07 - Baccará (Bola Sete) 08 - Molambo (Jaime Florence "Meira" / Augusto Mesquita) 09 - No Rancho Fundo (Ary Barroso / Lamartine Babo) 10 - Remexendo (Radamés Gnattali) 11 - Czardas (V. Monti) 12 - Por Um Amor (Bola Sete) >

Bola Sete & Therezinha Bittencourt "Carnival In Rio" (Puchito, 1958) (LP)


(Produced by Fernando J. Montilla)
A fascinating set, apparently recorded in Spain, while Bola Sete was touring Europe. His electric guitar lopes and loops along with a lively accordion jauntily chugging away over a muscular rhythmic ensemble. There are also vocals from vocalist Therezinha Bittencourt, a fairly rough singer, but entertaining nonetheless. The instrumental numbers may have more juice here: their riotous version of "Caravan" has an underlying rock'n'roll vibe, indeed, multiple styles mix and interweave on most songs -- a jazz-rock influence from the plugged-in Sete, baiao/forro from the accordion, and samba (of course) is woven throughout... It's pretty groovy, though much folkier and rootsy than his other albums. There's also a nice version of the Pixinguinha oldie, "1 X 0," with Sete's chunky-toned guitar tearing through the tricky choro riffs. Recommended!


<! This is Bola Sete, su Conjunto Tipico Brasilero y su Cantante Therezinha Bittencourt – Carnival in Rio (1958), for Puchito, which is a Spanish record company. The back cover brings a short description of Bola Sete early years with his Conjunto and says that Carnival in Rio was recorded in Spain, during Bola Sete European tour. The back cover also brings a "footnote" confirming Carnival in Rio was recorded in Spain, which is something that you can check at the slider below, followed by my translation to English from back cover liner notes. I would like to thanks Jorge Mello for another amazing album. Tracks include: 01 - Sonador 02 - Chiquito 03 - Caravana 04 - Coco Baturite 05 - Nina Brazanan 06 - Baile O Coco 07 - Uno a Cero 08 - Canta Maria 09 - Mulher Rendeira 10 - Imperio de Samba 11 - Samba no Perroquet 12 - Nino Grande >

Bola Sete "Travessuras Do Bola 7" (EMI-Odeon, 1958) (LP)
A somewhat more manic record, with skillful playing by Sete, but fewer subtle passages... Mostly this is a breakneck performance, which is cool if you go for that kind of thing, but it has a different feel from many of his other albums. Mostly Brazilian oldies from Ataulfo Alves, Ary Barroso and others, with a trio of original tunes by Bola Sete tucked away in there, for good measure.


<! This is Bola Sete e Seu Conjunto - Travessuras do Bola 7 (1958), for Odeon, featuring Bola Sete playing electric guitar backed by Conjunto and perfoming a repertorie blending Brazilian standards and a few Bola Sete compositions. As Travessuras do Bola 7 was released in the same year of Bola 7 e 4 Trombones, following the same concept with amazing guitar solos and very dancing cuts. Odeon did not credit musicians in this session. Tracks include: 01 - Rio de Janeiro (Ary Barroso) 02 - Adeus América (Haroldo Barbosa / Geraldo Jacques) 03 - Siga (Fernando Lobo / Hélio Guimarčes) 04 - Brasil Moreno (Ary Barroso / Luis Peixoto) 05 - Calypso das Rosas (Bola Sete) 06 - Exaltaćčo ą Bahia (Vicente Paiva / Chianca de Garcia) 07 - Canta Brasil (David Nasser / Alcyr Pires Vermelho) 08 - Gingadinho (Bola Sete) 09 - Ninguém Me Ama (Fernando Lobo / Antônio Maria) 10 - Nega (Waldemar Gomes / Afonso Teixeira) 11 - Veraneio (Bola Sete) 12 - Ai Que Saudades da Amélia (Ataulfo Alves / Mário Lago) >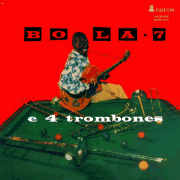 Bola Sete "Bola 7 & 4 Trombones" (EMI-Odeon, 1958)
A totally swinging album, with Bola Sete once again plugged in and playing electric, this time accompanied by a groovy brass quartet. The trombone arrangements are both tight and creative, combining professionalism with swinging cool. Better still, the 'bones and the guitar are perfectly balanced and compliment each other quite well, much better than you might imagine. This is a fun, danceable, jazzy record, and Sete goes off on some great solos. Highly recommended!


<! This is Bola Sete - Bola 7 e 4 Trombones (1958), for Odeon, the first Bola Sete album from the 50's at Loronix, recorded before he made his move to the United States. Bola Sete delivers guitar playing with four trombones, drums and percussion on a truly amazing session. There are lots of funs inside this album, you can check at Loronix Preview Center what I'm saying, with Bola Sete playing a fantastic rendition of Eu Quero um Samba (Guio de Moraes), I'm confident that 10 seconds of listening should be enough to make your decision. It is really amazing to hear an early work of Bola Sete for the first time. Unfortunately, Odeon did not credit the four trombonists, as all others. Tracks include: 01 - Nčo Vou Pra Brasília (Billy Blanco) 02 - Mambeando (Bola Sete) 03 - Mister Jimmy (Bola Sete) 04 - The Man I Love (Ira Gershwin / George Gershwin) 05 - Intrigas no Boteco do Padilha (Luis Americano) 06 - Foi Vocź (Oscar Bellandi / Paulo Gesta) 07 - Eu Quero Um Samba (Guio de Morais) 08 - Calypsilone (Bola Sete) 09 - Pitéuzinho (Bola Sete) 10 - Jersey Bounce (Pister / Bradshaw / Johnson / Wright) 11 - Mančna (D. Barbour / P. Lee) 12 - Ouća (Maysa) Do-ré-mi (Fernando César / Nazareno de Brito) Maria (Ary Barroso / Luis Peixoto) >

Bola Sete "E A Bola Da Vez" (Odeon, 1959)


Swingin' electric guitar jazz instrumentals, with Bola Sete in a mode that is completely unlike his later work. It's also different -- and in many ways superior to -- most of the jazz that came out of Brazil in the bossa nova era. This isn't clattersome or clumsy the way many of the bossa trios sounded, and while the frenetic pace and sharp production tone might not be for everyone, you can't deny that Sete was a skillful and enthusiastic performer, and that his leads are pretty clean and pretty captivating. The other thing to note is that, even though he covers a few of the current early bossa hits ("Maria Ninguem," etc.) it doesn't sound particularly "Brazilian." This is a real jazz record, and his subsequent decision to head north up to the States makes a lot of sense after you hear what he was doing back home when bossa had just hit. (The other thing I find fascinating about this record is how similar the guitar tone sounds to the West African guitar bands of the '50s and '60s... I guess it really had a lot to do with the equipment itself....) Certainly worth checking out.

Bola Sete "O Extraordinario Bola Sete" (Odeon, 1962)
Sete's guitar struggles to find space amid a robust, full accompaniment -- an energetic, galloping ensemble that recalls some of the clattersome fervor of the bossa-jazz trios of the time. Indeed, Luiz Eca of the Tamba Trio apparently plays organ(!) on over half the tracks here; although the liner notes don't say so, I wouldn't be surprised to find that other members of the Trio were also involved, or other well-known bossa-jazz players. Although this disc is a little more cluttered and rushed than most of Sete's albums, there are some great tracks. He cuts loose on a jazz-a-billy showcase, "Eu Vou De Samba Rock," and his slowly-developed lead on "Meu Mundo Diferente" has an almost West African guitar pop feel to it. I wouldn't put this record at the top of my Bola Sete list, but it certainly has some intriguing moments on it.


<! This is Bola Sete – O Extraordinario Bola Sete (1962), for Odeon, featuring Luiz Eca at organ in seven tracks. I think you should take this one for a hearing. These early Bola Sete LPs released by Odeon never had a chance to reach the CD age and it is not every day you have the chance to hear Luiz Eca playing organ. Bola Sete is not alone at the remaining five tracks, he has the accompaniment of another unusual formation, three piston players. Unfortunately, remaining musicians in this session were not credited by Odeon. Tracks include: 01 - Menino Desce Daí (Paulinho Nogueira) 02 - Deixa Andar (Jujuba) 03 - Vocź e Eu (Carlos Lyra / Vinicius de Moraes) 04 - Eu Vou de Samba Rock (Bola Sete) 05 - Fico Triste Sem Twist (Bola Sete) 06 - Meu Mundo Diferente (Eva de R. Konrad / Bola Sete) 07 - On The Street Where You Live (Loewe / Lerner) 08 - Un Recuerdo (Gill) Gilberto??? 09 - Noite Chuvosa (Fernando César / Jočo Leal Brito ''Britinho'') 10 - Meu Nome É Ninguém (Haroldo Barbosa / Luis Reis) 11 - Piel Canela (Bobby Capó) 12 - Brigitte Bardot (Miguel Gustavo) >

Bola Sete "Bossa Nova" (Fantasy, 1962)


Bola Sete "Tour De Force" (Fantasy, 1963)


Recently repackaged on a single CD, these two early albums are nothing short of dazzling. While he clearly shared a rhythmic and melodic affinity with his Brazilian contemporaries, Sete was somewhat miscast as a member of the bossa crowd -- already living and working in California at the time of the Getz-Gilberto breakthrough, Bola Sete had already developed his own style, much bouncier and more overtly aligned with the West Coast jazz scene. In his quieter moments, he could easily touch on the cool reserve of the bossa scene, but he also swung with abandon, and reveled in a good, strong backbeat. Both of these albums are recorded in a trio setting, with compact accompaniment -- bass, drums and percussion -- allowing the sprightly and impressive guitar work to come through loud and clear. Highly recommended -- look for the Tour de Force CD for your best buy.

Bola Sete & Vince Guaraldi "Vince & Bola" (Fantasy, 2000)



Another generous twofer, reissuing the albums Vince Guaraldi, Bola Sete & Friends and Live At El Matador (both from 1966)... Pairing Sete up with the playful pop-piano hipster Vince Guaraldi was fairly inspired. Guaraldi is perhaps best known for the sugary instrumental, "Cast Your Fate To The Wind," and for the ever-delightlful tune, "Linus And Lucy," taken from the first "Charlie Brown Christmas" Peanuts TV special. Guaraldi's love of buoyant melody matches Sete's deft bounciness... The first few tracks (from their first album) are fairly breezy fare, as apparently Vince & Bola were still getting their footing as a duo, but by the time of the live tracks on their third album, the sound was moodier and more fully formed... Nice stuff!
Bola Sete/Vince Guaraldi/Paul Winter "Jazz Casual: Jazz On The West" (Koch, 2001)


Live performances from the mellow West Coast Jazz scene in its early '60s heyday... The Paul Winter performances are separate from the Sete/Guaraldi set.
Bola Sete & Vince Guaraldi "From All Sides" (Fantasy, 1964)


Bola Sete "The Solo Guitar Of Bola Sete" (Fantasy, 1965) (LP)

Bola Sete "The Incomparable Bola Sete" (Fantasy, 1965)


Fun, playfully breezy instrumentals from a small combo led by Sete's sprightly guitar, buoyed by percussionist Johnny Rae and Paul Horn on flute. It's fun stuff, on the livelier end of the '60s easy listening/pop-jazz spectrum. Recommended! [Note: this album was reissued along with 1966 record, Autentico, on a single CD called Voodoo Village.]
Bola Sete Trio "Autentico!" (Fantasy, 1966)


A markedly soft set, with Bola Sete leading a reserved Brazilian trio through some of his quietest recordings ever, all original tunes which apparently sought to match the subtle elegance of Joao Gilberto's velvety style... Some tracks are so sparing that when I listened to this disc, I kept thinking the album had ended...! [Note: this album was reissued along with 1965 record, The Incomparable Bola Sete, on a single CD called Voodoo Village.]

Bola Sete "At The Monterey Jazz Festival" (Verve, 1966)



A breakthough album for this classically-rooted braz-jazz guitarist who is also known for his work with cool jazz pianist, Vince Guaraldi. This is a pretty bare-bones live performance, with Bola Sete backed only by two percussionists, Sebastiao Neto and Paulinho Da Costa. But for only three guys they sure make a big sound! This is considered a classic album, and judging by the crowd noise in the original recording, the 'Sixties audience definitely dug what these cats were laying down. I actually find it a little too rushed and flashy, with early bossa classics such as Luiz Bonfa's "Manha De Carnaval" thundered through at a breakneck pace... often at the expense (I think) of the melody. Don't let me scare you off, though, particularly if you're into fancy guitar playing.
Bola Sete "Shebaba" (Fantasy, 1969)
A super-funky electric album, with loose, fluid arrangements, and a nice mix of originals and cover songs, including several Beatles songs. Some moments are a bit muzak-y (his version of "My Sweet Lord" sounds like a George Benson outtake...) while others are quite soulful and groovalicious. Definitely worth checking out. (By the way, does anyone have any info on the release date? It's frequently listed at 1969, but that seems unlikely since George Harrison's "My Sweet Lord" wasn't released until 1970. Any thoughts, out there?)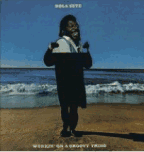 Bola Sete "Workin' On A Groovy Thing" (Paramount, 1971)


A pleasant early-'70s album with Bola Sete bopping through bossified instrumental versions of hits by Harry Nilsson, Joni Mitchell, the Beatles, and others. It's a little cheesy, but really mostly pretty good. His guitar work is flawless throughout, and Sete brings a lot more vitality to this EZ album than you might expect. I'm pretty sure this is currently out of print.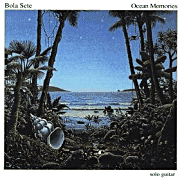 Bola Sete "Ocean Memories" (Samba Moon, 1975/1999)



This lavish, independent re-release of Bola Sete's 1975 album, Ocean includes a complete CD's worth of extra, previously unissued material. Solo acoustic guitar seldom sounded so great, as he revisits and refashions classic Brazilian themes and energetically plunges through several flamenco-based tunes. Originally recorded for the Takoma label, these tunes bear the distict stamp of John Fahey's production style: the muscular nature of the Spanish classical style is quietly subverted by gentle cascades of echo and velvet-toned reverb, while in the softer passages, layer upon layer of melody and rhythm are allowed to build up and well over. At times, the contrast between the ethereal bossa nova tunes and the more aggressive flamenco tracks may be a little disconcerting; it's not as relaxing as you might have thought going into it. But it is dazzling and hyponotic -- once you get into the flow of this album, it rewards you handsomely. The "new" material on Disc Two is particularly nice. Recommended!


<! B00178VLKM Jungle Suite LP Dancing Cat '82??? >

Bola Sete "Shambhala Moon" (Dancing Cat, 1985/Samba Moon, 2002)



Literally a meditative album, this was recorded as Sete was deeply into yoga and TM... It's similar in style to the Ocean Moon album, though without the more strident, forceful moments. Explorative solo acoustic guitar work, with curlicued variations on flamenco and classical styles -- this was one of the earlier Dancing Cat releases, and is less mellow than than its contemporary albums... Consistently probing and active, Sete's guitar work compels the listener's attention without seeming jarring or overwrought. The Shambhala Moon reissue adds one extra track to the original 1985 release, Jungle Suite. Worth checking out.
Bola Sete "Live At Grace Cathedral" (Samba Moon, 2008)


---
Best-Ofs & Collections
---
Bola Sete Trio "Voodoo Village" (Fantasy, 2004)


A reissue CD that combines two old Fantasy albums: 1965's The Incomparable Bola Sete, and Autentico, from 1966.
---
Links
---
---



---


Top photo courtesy of Anne Sete and Samba Moon Records.