<! cd = 11/03/12 > <! MP3 11/03/12 > <! pix 11/03/12 > <! SOURCES 11/03/12 - WP, AM, eB > <! icons 11/03/12 > <! UPDATES: 11/03/12 - posted >

---
Songwriter Humberto Teixeira (1915-1979) was a lawyer by trade but is best remembered as the co-creator of the baiao, a style he crafted with forro pioneer Luiz Gonzaga in the late 1940s. Gonzaga was the star performer: Teixeira himslef performed and recorded infrequently, and later devoted himself to his political career. The music he created, including the immortal classic, "Asa Branca," has been a gift for generations of Brazilian musicians and fans. Here's a quick look at his work...


<! born in Iguatu, Ceará >

---
Discography - Albums
---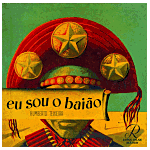 Humberto Teixeira/Various Artists "Eu Sou O Baiao" (Discos Radio, 1953) <! label? >
A jovial, jaunty set in which songwriter (and future politician) Humberto Teixeira proclaims the birth of the baiao, a joyful mix of samba and forro. The female chorus asks, Is it a samba? a frevo? chorozinho? balancao? Nao, nao, nao! It's baiao, the grooviest new thing ever! And you'll believe it as you tap your toes to the cheerful, bouncy beat. A mellow mix of percussion, accordion and flute, with avuncular male vocals trading off with the chirpy gals. I'm not sure if Teixeira performs on here himself, or if this is a just other artists perfoming his work: the artists listed include Guio de Morais, Trio de Bronze, and a couple of gals named Maristela and Dea Camargo. Fun stuff -- includes a nice version of "Adeus Maria Fulo," which was revived in the tropicalia/MPB era of the '60s and '70s...


<! Baiao, created in Brazil Northeast and made popular in the mid 40's by Luiz Gonzaga and Humberto Teixeira. Baiao dominated Brazilian popular music from decades, recorded by well-known artists to Loronixers such as Dolores Duran, Dick Farney, Luiz Bonfa, among many others. Let's see. This is Selecoes de Humberto Teixeira - Eu Sou o Baiao (1953), for Radio, featuring a selected repertoire by Humberto Teixeira arranged by Guio de Morais and performed by Trio de Bronze, Maristela, Dea Camargo and Guio de Morais. This is a real find, I got amazed hearing this album with eight Humberto Teixeira compositions performed by such different and unknown artists. The Performers Guio de Morais Trio de Bronze Maristela Dea Camargo 01 - Eu sou o Baiao with GUIO DE MORAIS 02 - Pombinha Estrangera with TRIO DE BRONZE 03 - Bate o Bombo with Orquestra 04 - Veio Amo with MARISTELA 05 - Baiao em Paris with Orquestra 06 - Adeus Maria Fulo with DEA CAMARGO 07 - Carrapicho with TRIO DE BRONZE 08 - Baiao de Sao Sebastiao with GUIO DE MORAIS >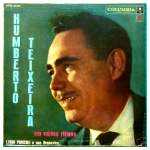 Humberto Teixeira & Lyrio Panicali "Em Varios Ritmos" (Columbia)
This is an album featuring the music of Humberto Teixeira, with Lyrio Panicali and his orchestra credited as the backing band. Apparently is was released separately under each of their names, in one version as Lyrio Panicali's "The Sound Of Brazil" well as "Em Varios Ritmos," under Teixeira's name. Anyone know what year this came out? I'm guessing 1956? '58?


<! LPCB 37011 - same as Teixeira album above >

---
Discography - Songbooks & Tributes
---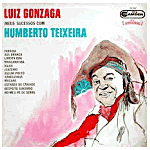 Luiz Gonzaga "Meus Sucesos Com Humberto Teixeira" (RCA/Camden, 1968)
A wonderful collection of songs written in collaboration with forro star Luiz Gonzaga. Plenty of vocals and super-catchy accordion melodies. Great stuff... the original baiao motherlode!
Nonato Luiz & Baiao Erudito "A Musica De Humberto Teixeira E Luis Gonzaga" (2004)
(Produced by Henilton Menezes, arranged by Luiz Nonato)
A tribute by guitarist Nonato Luiz...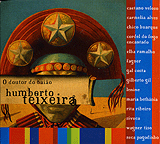 Various Artists "O DOUTOR DO BAIAO: HUMBERTO TEXEIRA" (Biscoito Fino, 2003)


A splendid live tribute to composer Humberto Texeira, one of the great founders of modern Northeastern pop... Texeira's legacy tends to be overshadowed by his connection to forro star Luiz Gonzaga, but this fine concert album brings his work to the foreground, with rich, heartfelt renditions of his old baiao compositions from the middle the 20th Century. It's an all-star cast, packed with MPB royalty: Maria Bethania, Chico Buarque, Gal Costa and Gilberto Gil on call for the '70s old guard, Lenine and Rita Ribeiro representing the younger generation, Elba Ramalho and Fagner as Texeira's nordestinho stylistic stepchildren. High marks go to Caetano Veloso for his soft, piercing rendition of "Baiao De Dois," although one of the most surprising artists on here is alt-rocker Lenine, who gives a similarly gentle, exploratory performance. This entire album is quite nice, actually, highlighting the fun, playful, bouncy aspects of Texeira's work, while liberating it from the manic, hyperactive feel of the original, old-school baiao recordings of the 1940s and '50s. This disc does for Texeira's legacy what the BAIAO DE VIRAMUNDO collection did for Gonzaga in 2000: it shows the elasticity and enduring appeal of these gloriously catchy old pop tunes. Recommended!


<! BOOK: "Humberto Teixeira: Voz e Pensamento" by Miguel Śngelo de Azevedo (2006) em Portuguese >

---
Links
---
---



---