<! cd = 04/20/12 > <! MP3 00/00/00 > <! pix 00/00/00 > <! ALLBM 00/00/00 > <! icons 00/00/00 > <! UPDATES: 04/20/12 - posted >

---
Trio Mocoto -- Fritz Escovao, Joao Parahyba and Nereu Gargalo -- became famous for backing samba-funk god Jorge Ben in the late 1960s and early '70s, helping shape the "samba rock" groove that made Jorge Ben the coolest of the cool. They also recorded a few albums on their own, back in the day as well as when they reunited decades later; in 2003 the musician known as Skowa joined the band, replacing Fritz as a permanent member. Here's a quick look at their work...


<! These fellows backed up Jorge Ben in the early 1970s, as he shifted gears and became as a flat-out funk musician... >

---
Discography
---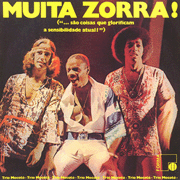 Trio Mocoto "Muita Zorra" (Philips, 1971)





<! Trio instrumental formado no estado de Sčo Paulo por Nereu Gargalo (Nereu de Sčo José, RJ, 1945), Fritz Escovčo (Luís Carlos de Sousa, RJ, 1943) e Jočozinho Parayba (Jočo Carlos Fagundes Gomes, SP, 1951). O trio se organizou quando os sambistas se conheceram na boate Jogral, onde acompanhavam artistas diversos. Fritz na cuíca, Nereu no pandeiro e Jočozinho na bateria. A carreira deslanchou quando o trio acompanhou Jorge Ben, com o grande sucesso da apresentaćčo de "Charles Anjo 45", no IV Festival Internacional da Canćčo, da TV Globo (RJ), em 1969. Foi quando tiveram a chance de gravar um compacto com "Coqueiro Verde" (Roberto & Erasmo Carlos), de participar do LP de Jorge Ben e de ir a Cannes, Franća, acompanhando o mesmo cantor no Midem. Em 1971, lanćaram o primeiro LP, "Muita Zorra!" (Forma), com canćões de Jorge Ben, Roberto & Erasmo, Ivan Lins & Ronaldo Monteiro, entre outros. Em 1972, apresentaram-se com sucesso na Itália e no Japčo. No Brasil, acompanharam Toquinho, Vinicius de Moraes e Marília Medalha em shows no circuito universitário, seguindo depois para o México. Um ano depois, o trio gravou um LP pela RGE e em 75 lanćaram mais um no selo Forma, ambos basicamente de composićões próprias. O som do trio é uma mistura de estilos que mais tarde ficou conhecido como samba-rock. Essa fusčo lhe garantiu sucesso internacional, sendo revivido nos anos 90, quando seus velhos vinis passaram a ser disputados no circuito cult europeu. Ficaram 24 anos sem se apresentar, até que em 2000, graćas ao grande interesse de artistas novos pelo som do grupo, voltaram a atuar. >

Jorge Ben & Trio Mocoto "Live In Japan" (Philips, 1971)



<! a real release? >

Trio Mocoto "Trio Mocoto" (RGE, 1972)



These recordings were made after their work backing Jorge Ben on the Forca Bruta album; they're simultaneously soulful and slightly goofy, with an easygoing mix of groove and easy listening -- jazzy guitars, samba percussion and a light string section, very typical of late '60s/early '70s Brazilian pop... This doesn't have the same grit and drive as their work with Ben, but it stops well short of being outright Muzak, and has a fair share of sly, soulful moments. It's not earthshaking , but definitely worth checking out.


<! 1 Desapareća Ouvir (Fritz Escovčo) 2 Nó na garganta Ouvir (Carlinhos Vergueiro) 3 Vem cá Ouvir (Mutinho) 4 Recordar Ouvir (Aluisio Marins, Aldacir Louro, Adolfo José Macedo) 5 Nčo vá embora Ouvir (Fritz Escovčo) 6 Desculpe Ouvir (Fritz Escovčo) 7 Maior é Deus Ouvir (Fernando Martins, Felisberto Martins) 8 Samba da preguića Ouvir (Erasmo Carlos, Roberto Carlos) 9 Palomares Ouvir (Jorge Ben) 10 Swinga sambaby Ouvir (Nereu) 11 Tô por fora da jogada Ouvir (Mutinho, Itiberź) 12 Gotas de chuva na minha cuíca (Raindrops keep falling on my head) Ouvir (David, Burt Bacharach) >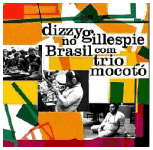 Dizzy Gillespie "En Brasil Con Trio Mocoto" (Biscoito Fino/Random Records, 2011)


These 1974 sessions, recorded in Sao Paulo with Gillespie and three of his '70s stalwarts -- drummer Mickey Roker, bassist Earl May and guitarist Al Gafa --- were a dry run for Gillespie's album, 1976 Bahiana, which wound up being recorded in LA with Paulinho da Costa pitching in on percussion, but not the Trio Mocoto dudes. Just as well: they don't quite mesh with Gillespie and his crew, who were in a kind of a blues jam-meets-cool jazz mode, but also eager to absorb some local-flavor Brazilian-ocity... The Mocoto band provides fairly demure percussive backing, but the never really cut loose or hit a real groove with the jazz cats; it's all very polite and Latin-jazzy, but I guess Dizzy just wasn't quite able to wrap himself around the samba rhythm. Even on a track like "Rocking With Mocoto," where the Trio burst into a sizzling, fast-paced batucada arrangement, Gillespie and Gafa quickly fall back into Afro-Cuban mode, and Dizzy decides to cut loose with some old-fashioned bebop solos... It's not that anyone is playing anything "wrong," it's just that the super-groovy '70s Brazilian vibe seems to elude them, sort of like knowing how to speak Spanish and being flummoxed by Portuguese, I guess. Anyway, this is historically interesting, but it didn't totally wow me. Too much jazz, and not enough Brazil.


<! Blue Note(??) El jazz moderno no sería nada sin la trompeta de Dizzy Gillespie y el saxo de Charly Parker. Afortunadamente, estos dos talentos no eran propensos a guardarse nada y salían por el mundo a experimentar y compartir su obra y su visión del jazz. Es así que el gran Dizzy, en una de sus idas y vueltas por Brasil, se juntó en San Pablo con el baterista Jočo Parahyba, el percusionista Nereu Gargalo y el guitarrista conocido como Skowa, quienes juntos formaban el famoso Trío Mocotó, una banda que con el tiempo sería fundacional para la samba soul y más adelante la samba rock. En 1974 se da el famoso encuentro y graban un disco sublime que será conocido por el gran público luego de que durante 35 aĖos dieran por perdida la grabación. El disco sería llamado Dizzy Gillespie no Brasil com Trio Mocotó. Un lujo, una verdadera maravilla, y afortunados nosotros los amantes de la buena música, que finalmente podremos disfrutar de una edición especial producida por el sello Blue Note. >

Trio Mocoto "Trio Mocoto" (Brasis/Movieplay, 1975)


(Produced by Waldemar Marchetti; Arrangements by Daniele Patucci)
Another self-titled set, but a much different album. These later recordings are simultaneously soulful and slightly goofy, with an easygoing mix of groove and easy listening -- jazzy guitars, samba percussion and a light string section, very typical of late '60s/early '70s Brazilian pop... Seems like it's a late-edition album, partly recorded in Italy, partly in Brazil, with additional string arrangements recorded in England and added later. Although they eventually do get a little funky and samba-ly, for the most part this disc is pretty darn cheesy... It certainly doesn't have the same grit and drive as their work with Ben, although it stops well short of being outright Muzak. I guess it's worth checking out... But, geez... what happened?


<! 1 Nčo adianta Ouvir (Aloisio, Fritz Escovčo) 2 O meu violčo Ouvir (Nereu, Fritz Escovčo) 3 A rosa Ouvir (Nereu, Fritz Escovčo) 4 Xuxu melčo Ouvir (Nereu, Fritz Escovčo) 5 Doca Ouvir (Arnaud Rodrigues) 6 Toda tarde Ouvir (Nereu, Fritz Escovčo) 7 Sossega malandro Ouvir (Nereu, Fritz Escovčo) 8 Dilź Ouvir (Jorge Ben) 9 Onde anda vocź Ouvir (Olmir Stocker "Alemčo", Elzo Augusto) 10 Que nega é essa Ouvir (Jorge Ben) > <! 130 x 130 > <! Anyone know the story on this one? >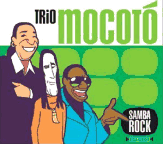 Trio Mocoto "Samba Rock" (Six Degrees, 2002)



These old guys have still got it... in fact, I'd even say this disc is stronger overall than their "classic" early work, reviewed above. Nice, chopsy funk and soul, with predictable, but delicious dips into rap and electronica. What's great about this album is the old-timer confidence that these guys exude throughout. Definitely worth checking out.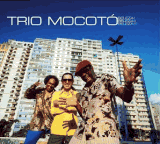 Trio Mocoto "Beleza! Beleza! Beleza!" (Crammed Disc, 2004)


Trio Mocoto "Que Nega E Essa? (E Outros Sucessos)" (Globo, 2003/Atracao, 2010)


As far as I can tell, this is a straight reissue of the 1975 Trio Mocoto album...
---
Links
---
---



---