<! cd = 04/15/12 > <! MP3 00/00/00 > <! pix 00/00/00 > <! ALLBM 00/00/00 > <! icons 00/00/00 > <! UPDATES: 04/30/12 - posted >

---
Tutti Frutti was a Brazilian group band best known for their work backing Rita Lee in her mid-1970s, post-Os Mutantes days. They also recorded one "solo" album as a band, and some members did session work here and there. Here's a quick look at their history...
---
Discography
---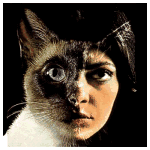 Persona "Som" (1975)
Wanky Brazilian lo-fi hippie-prog, with lots of kooky, spaced-out guitar noodling and ineffective "drumming" as the primary accompaniment. This band featured lead guitarist Luis Sergio Carlini and percussionist Franklin Paolillo, later of Rita Lee's post-Mutantes backup band, Tutti Frutti. This self-released record probably seemed a lot cooler when they were high on whatever they were high on, and I suppose it's a fascinating historical relic, etc. etc., but it's really pretty bad music. It doesn't really hold up well, no matter how rare it was.


<! Locution - Robert Campadello I sing - Carmen Flowers Guitar, Echo Play Efects and Gaita - Carlini Luis Viočo - Lee Marcucci Percussion - Franklin Paolillo Launched in Brazil in 1975, private edition, in long-play mono of 10". Obscure experimental psych band, pre-Tutti-Frutti. Interesting noise and precarious writing, seeming to have been done in a small garage, recorded with a domestic Cassette 2 track, tape mangled bliss! >

Rita Lee "Atras Do Porto Tem Uma Cidade" (Philips, 1974)



(Produced by Mazolla)
Now officially no longer a member of Os Mutantes, Lee pursues a fairly similar musical direction - proggish boogie rock which they hope will pass as glam. Her new band, Tutto Frutto, dress like Gary Glitter clones, but they play fairly belabored, sometimes math-y, guitar rock... the most interesting touch is a frequently-used rising synth riff, lifted straight out of the Zombies' "Hung Up On A Dream." This is still borderline noteworthy, but (in all honesty) still a bit hard to take. If you were able to hang with the later Mutantes albums, then this might also work for you.

Rita Lee "Fruto Prohibido" (EMI, 1975)


(Produced by Andy Mills)
Another hard-edged boogie rock album, with the band now known as Tutti Frutti. This was Rita Lee's first big commerical success; decades later, it's pretty hard to get into. Dutifully banging away at the hard rock riffs of the day, she's pretty much in the swing of things for the times... But since I don't normally sit around listening to old Mountain albums, or Gentle Giant, this doesn't totally bowl me over. Good for what it is, and if you have a hankering to track down all the significant Brazilian rock from the '70s, probably worth checking out.
Various Artists "HOLLYWOOD ROCK" (1975)
A fake "live" album, featuring Tuttu Frutti, Erasmo Carlos, Raul Seixas, and O Peso (whoever they were!)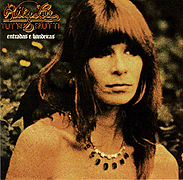 Rita Lee "Entradas E Bandeiras" (EMI, 1976)


(Produced by Peninha Schmidt)
Straight-ahead '70s rock, with plenty of goofy electric keyboard riffs (lifted directly from Keith Emerson...) and crisp guitar riffs. This is as good as most of the English-language commercial rock coming out around the same time... Which is to say, some folks will find it awful, and others will find it cool. Interesting to hear stadium rock being made at this high a level in mid-'70s Brazil -- it sounds kind of like latter-day Pretty Things, only sung in Portuguese, and by a gal. At least she hadn't gone disco yet! Worth checking out.

Rita Lee & Gilberto Gil "Refestanca" (EMI, 1977)


(Produced by Guto Graca Mello)
Ex-Mutantes vocalist Rita Lee and tropicalia legend Gilberto Gil perform together live, mixing their two bands and their material with interesting results. At first blush, this pairing might seem like a mismatch, but makes sense when you consider the poppy direction Gil was already headed in with his new Warner Records contract. Rita Lee's cowbell-and-guitar-solo nordeamericano stadium rock is kind jarring and silly but fascinating nonetheless. It's a side of mid-'70s Brazilian pop that doesn't get a lot of exposure, and this is probably about as good as the style gets. Might be a little embarrassing if your friends caught you really rocking out to it, though.

Rita Lee "Babilonia" (EMI, 1978)


(Produced by Guto Graca Mello)
In musical terms, this is the beginning of the end for Lee... Oh, sure, she made plenty of well-written and meaningful songs in years to come after this, but once that disco tinge started to creep into the mix, the real pep went out of her work and she became just another slick MPB professional. This is still essentially a '70s rock album, but it lacks the frantic glimmers of her old sound, and isn't terribly exciting. I like the soft acoustic "Que Loucura," and the cat-related "Eu E Meu Gato" that follows, but really that's about it. Worth checking out, but hard to want to hang onto.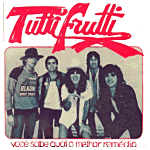 Tutti Frutti "Voce Sabe Qual O Melhor Remedio" (RCA Victor, 1980)
If you thought, maybe, that Tutti Frutti lived too much in Rita Lee's shadow and that given the chance they might do something way cooler and less spazzy than their work with Ms. Lee... Well, think again. This is a truly terrible mix of hard rock, a hint of new wave, a meager trace of their glammish roots... Semi-highlights include the would-be power ballad, "Voca," and some regional stuff like "Chega Mais Meninha," which blends a little forro accordion with lame hand-clappy soft-pop. Pretty tame stuff, really, not unlike some of the bland rock bands that found their way into the lower rungs of American pop at the time, a fairly workmanlike effort from an era that was a low point for mainstream rock, whether in the USA or Brazil. You can skip this one... Seriously. Don't spend any more time wondering about it.
Tibet "Tibet" (1980)

---
Links
---
---



---