<! cd = 05/17/12 > <! MP3 00/00/00 > <! pix 00/00/00 > <! ALLBM 00/00/00 > <! icons 00/00/00 > <! UPDATES: 10/23/12 - posted, needs bio, other reviews >

---
Luis Vagner


<! Paid tribute by Jorge Ben Jor with the song "Luiz Vagner Guitarreiro", Luís Vagner has been a fighter for the cause of Brazilian soul music and reggae since the 60's, having songs recorded by the classic black-psychedelia duo Tony Bizarro & Frankye Adriano (in Tony & Frankye, 1971, "Depois da Chuva no Posto Quatro", by Luís Vagner/Tom Gomes), Paulo Diniz ("Como?"), Bebeto ("Segura a Nega"), Lady Zu, Tony Tornado, Wando ("Se Quiser Chorar por Mim"), Ronnie Von ("Sílvia", "Vinte Horas", "Domingo"), Adriana ("Justo Nesta Noite"), Eliana Pittman ("Vou Pular Neste Carnaval"), Luís Américo ("Camisa 10"), Sílvio Brito ("Espelho Mágico") and others.Luís Vagner appeared in 1963 in Porto Alegre (Rio Grande do Sul) as a member of The Jetsons. Participating in the TV programme Juventude em Brasa (TV Piratini) and recording a single with "Lutamos pra Viver" (1967), in 1966 they moved to Sčo Paulo, changing the band's name for Os Brasas, becoming musicians of the Banda Jovem do Maestro Peruzzi, which accompanied Eduardo Araújo in his successful TV performances. In that period Vagner had his "Magoei Seu Coraćčo" recorded by Demétrius. Os Brasas also backed Deny & Dino and recorded a LP and several singles. After the end of the group in 1969, Vagner recorded a single with "Viagem Para o Sul" and "Moro no Fim da Rua" (having the latter being recorded by Wilson Simonal and Trio Esperanća). His first LP came in 1974, Luiz Vagner Lopes. His "Guria" was included in the broadly popular soap opera Dancin' Days in 1978 and released also in the album Fusčo das Raćas (1979). In 1982 he interpreted "Crioulo Glorificado" (Jorge Ben) in the MPB Shell Festival, included in Pelo Amor do Povo Novo. ~ Alvaro Neder, All Music Guide >

---
Discography
---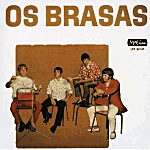 Os Brasas "Os Brasas" (Warner, 1968)


Luis Vagner played guitar in this band -- originally called The Jetsons -- and he wrote a fair chunk of their repertoire... It's mostly fun Beatles-y/Herman's Hermits-ish rock-pop that fits comfortably into the jovem guarda sound, but with hints of grungy garage roots. Other than a weird cover version of the "Davy Crockett" theme, this is pretty cool, at least by contemporary Brazilian standards. There are lapses into some pretty syrupy ballads, and little of the fieriness of their handful of singles, but this is certainly a disc worth tracking down... The band broke up soon after this was recorded, and Vagner worked prolifically as a session player on several notable rock and MPB albums, and had several of his own songs recorded by other musicians.


<! 01.a distČncia(oriental sadness) 02.beija-me agora 03.um dia falaremos de amor 04.quando o amor bater na porta(when love vomes knocking at your door) 05.meu eterno amor que te faz sonhar,linda garota(what makes you dream,pretty girl) 07.pancho lopez(ballad of davy crocket) 08.ao partir encontrei meu amor 09.benzinho nčo aperte 10.temas sem nome(theme without name) 11.nčo vá me deixar 12.sou triste por te amar >


Luis Vagner "Cousas E Lousas" (1975)





Luis Vagner "Luis Vagner" (Copacabana, 1976)


Well look, I know on an intellectual level that this is pretty bad music... As the album opens, guitarist Luis Vagner, known for his studio work with various artists, zonks his way through a sometimes-slick, sometimes-spaced out set of goopy, loosey-goosey soft rock, adding some of the most generic, unmoving electric guitar licks you'll ever hear... There's also a slight sheen of the disco production sound of the day, making this album sound something like the lost lovechild of Barry Manilow and Stevie Vai. It's very dorky, but somehow very heartfelt and sincere. Vagner seems so earnest about what he's doing, it's hard not to find yourself rooting for him on some level. Then, a little deeper into the album, something clicks into place and the disc gains some substance. On "Corcoveia," the fourth track, some Brazilian-ness asserts itself, and the album loosens up and gets kinda funky. The good vibes aren't sustained long, but this disc does have its moments. I guess I'd have to classify this as (ulp!) a sort of a guilty pleasure.
Luis Vagner "Fusao De Racas" (Philips, 1979) (LP)


An eclectic and challenging album, inventive but also a little irritating after a while. There are dynamic forays into funk, soul, acoustic MPB ala Gilberto Gil and Jorge Ben, some cutting-edge rock (with lots of electric guitar!) and a few hints of the reggae sound Vagner would become famous for... But the mix is often shrill and intrusive, the hooks are a little too clipped and aggressive, with a female chorus backing him up that may eventually get on your nerves. Still, this is worth checking out if you want to really explore innovative, rock-friendly Brazilian pop of this era. Includes a wacked-out cover of "Garota De Ipanema," and a caipira-country-rock number, "Entendida," that's kind of nice. Definitely worth a spin.
Luis Vagner "Pelo Amor Do Povo Novo" (Copacabana, 1982) (LP)

Luis Vagner "O Som Da Negadinha - Ao Vivo" (Copacabana, 1986)
This says it's a live album, but you don't hear much of the audience... Pretty bland pop-reggae, with maybe a few echoes of Bob Marley... though really it's closer in spirit and tone to Ziggy. I suppose this is innocuous enough, but it didn't do much for me. Notably, the songs are all pretty long, averaging six minutes or more. But the pop production is just too tinny and light for me. He also dabbles in a little soca, but it's also nothing to write home about.
Luis Vagner "Conscientizaco" (Copacabana, 1988)
More pop-reggae. Given the Brazilian context, I suppose this is pretty roots-conscious and substantive, including dips into dub and a fairly down-to-earth, old-school rocker sound. But it's also pretty monotonous, if the truth be told. Still, to be fair, this really ain't that bad and if you want to check out some solid Brazilian reggae, this would be a good place to start. Definitely better than his live album from '86.
Luis Vagner "Cilada" (1990)

Luis Vagner "Vai Dizer Que Nao Me Viu" (1995)

Luis Vagner "Swingante" (Paradoxx, 2004)

Luis Vagner "Brasil AfroSulRealista" (Obi Music, 2006)

---
Links
---
---



---