<! MP3 09/12/08, 12/26/09 > <! update 09/12/08 > <! pix 12/06/09 > <! icons 01/22/11 >

---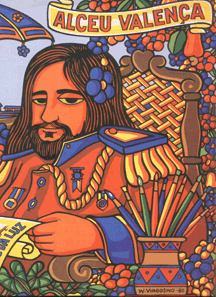 Alceu Valenca is one of Brazil's most famous rock stars, although I have to confess, from my limited exposure I'm not entirely sure I get the appeal. Valenca is notable for mixing hard rock and pop with the unique rhythms of his native Fortaleza and the Brazilian northeast... But forays into forro aside, his poppier leanings may be a bit much for non-Brazilian listeners to get into. Maybe someday I'll get a chance to check out some of his earlier stuff and see if I like it better than the albums reviewed below. Still, here's a quick look at some of his records...
---
Discography
---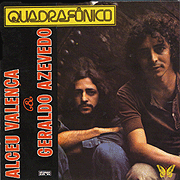 Geraldo Azevedo & Alceu Valenca "Quadrafonico" (Copacabana, 1972)



(Produced by Rogerio Duprat)
There are quite a few recent reissues of lost "psychedelic classics" coming out of Brazil and the rest of South America these days... This is one of the stronger releases you'll come across, the debut album by two of Brazil's biggest "regional music" stars of the 1970s and '80s. Hailing from Pernambuco, Azevedo and Valenca worked for a few years together as a duo, performing in the popular song contests that many artists used to launch their careers back then. This disc shows them very much in debt to the avant-rock of the tropicalia crowd, even working with composer-arranger Rogerio Duprat, who adds the same sheen of highbrow avant artsiness (musique concrete, atonality, etc.) that he brought to seminal albums by Caetano Veloso, Os Mutantes and Gilberto Gil. There's also a rich strain of melodic acoustic-folk, with a distinctive regional flair. Both artists went on to record solo "debuts" that were less effective than this disc, but here there's a real magic, a skillful, challenging mix of both wild and understated... Nice balancing act, great record.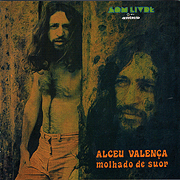 Alceu Valenca "Molhado De Suor" (Som Livre, 1974)


(Produced by Eustaquio Sena)
This is Valenca's solo debut although playing here with him are fellow northeasterners Lula Cortes and Geraldo Azevedo (with whom Valenca had recorded one earlier album)... It's kind of an avant-folk outing, with a lot of energetic, innovative, insistent acoustic guitar work, often colliding and calumphing as much as it connects aesthetically. It's an inventive, vital album, but it's a little hard to listen to, if the truth be told. Hardcore Brazilian music fans will want to check this out, as Valenca went on to become one of the most important young musicians of his era, and for those of us who like difficult music, this may be a treat in that regard as well... I'm glad it finally came out on CD and that I checked it out, but it doesn't really do much for me, on a gut level. Oh, well.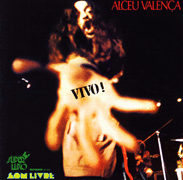 Alceu Valenca "Vivo" (Som Livre, 1976)


(Produced by Guto Graca Mello; arrangements by Alceu Valenca)
A very cool live album, mixing wild, innovative acoustic music with wild, innovative electric rock. The intense, live-wire nature of these performances is felt from start to finish -- here, Valenca is an experimental artist at his creative peak, pushing persistently and playfully at the boundaries of style. It's pretty cool, and pretty compelling. If you're looking for watershed albums from the tropicalia era, this late entry is one of the gems. Ze Ramahlo plays ukulele and guitar; and there's a flute player in there as well...

Alceu Valenca "Espelho Cristalino" (Som Livre, 1977)


(Produced by Guto Graca Mello; arrangements by Alceu Valenca & Paulo Rafael)
An adventurous early album, which shows Valenca at his most creative and challenging. A bit meticulous and mechanical, as well -- uncharitably, he could be billed as a Brazilian version of Rush, but that doesn't quite encompass his remarkable stylistic range. Velenca's deep appreciation for Northeastern Brazilian folk styles is crystal clear here, with bold, wildly imaginative swoops from style to style, and rhythm to rhythm, all cast withing an innovative rock context. There's still something about Valenca's sound -- a certain edginess or lack of grace -- that I find offputting, but I can certainly recognize his groundbreaking creative efforts on this record. If you're only familiar with his more florid later albums, this is definitely worth checking out, just so you can see what the fuss was about.
Alceu Valenca "Coracao Bobo" (Ariola, 1980)


Alceu Valenca "Cinco Sentidos" (Ariola, 1981)

Alceu Valenca "Cavalo De Pau" (BMG/Ariola, 1982)



Wretched, over-amped pop with whiny, Chipmunks-y vocals and tacky electric guitars. Blehh.


<! 1 Rima com rima (Alceu Valen¨a) 2 Tropicana (Alceu Valen¨a - Vicente Barreto) 3 Como dois animais (Alceu Valen¨a) 4 Pelas ruas que andei (Alceu Valen¨a - Vicente Barreto) 5 Martelo alagoano (Alceu Valen¨a) 6 Lava m‡goas (Alceu Valen¨a - Dominguinhos) 7 Cavalo de pau (Alceu Valen¨a) 8 Maracatu (Ascenso Ferreira - Alceu Valen¨a) >

Alceu Valenca "Anjo Avesso" (Ariola, 1983)





Alceu Valenca "Magico" (Barclay, 1984)





Alceu Valenca "Estacao Da Luz" (RCA Brasil, 1985)


Negligible, yuppified pop-rock, with traces of reggae and Afro-Brazilian batucada percussion; Sting might be a good comparison, and I loathe Sting's music. Not my cup of tea.
Alceu Valenca "Ao Vivo" (Barclay/Polygram, 1985)





<! 1. Guerreiro 2. Cavalo De Pau 3. No Balanco Da Canoa 4. Talisma 5. Casinha De Buinha 6. Eu Te Amo 7. Pelas Ruas Que Andei 8. Rainha De Tamba 9. Fe Na Perua/ Papagaio Do Futuro 10. Lenha No Fogo 11. Pelas Ruas Que Andei >

Alceu Valenca "Rubi" (RCA, 1986)


Alceu Valenca "Leque Moleque" (RCA/Ariola, 1987)


I was surprised, actually, that this didn't suck as badly as I'd anticipated. The electric guitar parts are still pretty tacky, and this isn't exactly the kind of thing I would put on for guests at a party, but it does have some interesting touches. Valenca sings a fado, "O P Da Paixao," and he uses voices and a syntheszier to approximate the triangle used for percussion in old-style forro, on "Bobo Da Corte." Yeah, this is hopelessly mired in icky, bad '80s production -- especially Side Two -- but it does sound as if he at least was trying.
Alceu Valenca "Oropa, Franca, E Bahia" (BMG, 1989)

Alceu Valenca "Andar Andar" (EMI-Odeon, 1990)


Alceu Valenca "7 Desejos" (EMI-Odeon, 1992)


Alceu Valenca "Maracatus, Batuques E Ladeiras" (BMG-Ariola, 1994)

Alceu Valenca/Geraldo Azevedo/Elba Ramalho/Ze Ramalho "O Grande Encontro" (BMG, 1996)


Valenca joins fellow Northeasterners Elba Ramalho, Geraldo Azevedo, and Ze Ramalho for a stripped-down, all-star live performance.
Alceu Valenca "Sol E Chuva" (Som Livre, 1997)

Alceu Valenca "Forro De Todos Os Tempos" (Sony-Oasis, 1998)

Alceu Valenca "Todos Os Cantos" (Abril, 1999)

Alceu Valenca "Forro Lunar" (Columbia, 2001)

Alceu Valenca "O Nordeste Eletrico" (BMG, 2002)

Alceu Valenca "Ao Vivo Em Todos Os Sentidos" (Indie Records, 2005)

Alceu Valenca "De Janeiro A Janeiro" (Tratore, 2002)


Alceu Valenca "Na Embolada Do Tempo" (2005)

Alceu Valenca "Marco Zero -- Ao Vivo" (Warner, 2007)


---
Best-Ofs
---
Alceu Valenca "Brasil's Best" (BMG/Ariola, 1993)


Presumedly, these earlier recordings are some of his best work. I thought they were excruciatingly awful. Valenca's claim to fame is that he fused Northeastern music with North American rock; most of what you hear here is dreadful, sub-rock, electricified pop... You wouldn't listen to music like this if it were sung in English; why get sucked in just because it's from Brazil?
Alceu Valenca "Performance" (EMI, 1996)
A best-of from the early '90s. Better than his earlier work, but still pretty mainstream. The rock focus is clearer and the band plays more concisely, though much of this keyboard-heavy world music/pop sounds like the Caribbean music in Disney's "Little Mermaid". Not my cup of tea.
Alceu Valenca "Millennium" (Polygram, 1998)

Alceu Valenca "Focus: O Essential De Alceu Valenca" (BMG, 1999)

Alceu Valenca "Serie Bis" (EMI, 1998)


---
Links
---
---



---