<! MP3 09/12/08, 12/03/09 > <! update 09/12/08 > <! pix 12/03/09 > <! icons 01/22/11 >

---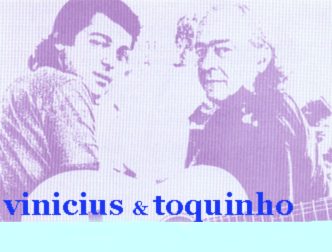 Poet and lyricist Vinicius De Moraes (1913-1980) was one of the original bossa nova scenesters... Already an established artist and intellectual figure when the Bossa Nova scene burst out, DeMoraes hung out with Antonio Carlos Jobim and Joao Gilberto, and wrote or cowrote many of the classic songs of the bossa nova era, includig the famous "first" bossa song, "Chega de Saudade." This page reviews some of the many best-of collections, tribute albums and De Moraes-related links. His original albums, including his collaborations with the guitarist named Toquinho are reviewed on a separate discography page.
---
Best-Ofs
---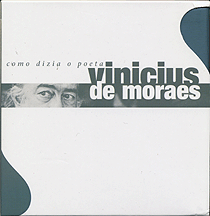 Vinicius De Moraes "Como Dizia O Poeta" (Universal, 2001)


Wow. Well, if you just want to settle the matter and be done with it, then try this 27-CD box set... Yes, that's right: twenty-seven CDs of Vinicius de Moraes and related material. It's a pricey little gem, but if you can afford it, it'll answer pretty much all your questions about his recorded work. As far as I know, it's everything, or practically everything he recorded, including several soundtracks and even some poetry albums from the '60s and '70s. I purchased it from Brazil a few months ago, but haven't had the time to really plow through all the albums. The box set itself is very small (you'd thing there were maybe eight or ten discs total, just looking at it) with the original LPs reproduced in miniature cardboard sleeves... It's a very compact set that can fit on the same shelving as regular CDs, nice for those of us with storage issues. Pretty classy packaging, really. The discs included (in the order they are placed in the box set) are: 1. Orfeu De Conceicao (1956), 2. Vinicius & Odette Lara (1963), 3. No Zum Zum (1967), 4. Os Afro Sambas (1966), 5. Poesia E Cancao, v.1 (1966), 6. Poesia E Cancao, v.2 (1966), 7. GAROTA NA IPANEMA (Soundtrack), 8. Vinicius, 9. Vinicius Em Portugal, 10. Como Dizia O Poeta (1971), 11. Toquinho E Vinicius (1971), 12. A Cancao E A Voz De Marilia Medalha Na Poesia De Vinicius de Moraes, 13. Jesus Cristo Superstar, 14. Nossa Filha Gabriela, 15. O BEM AMADO (Soundtrack) (1973), 16. Fogo Sobre Terra (Soundtrack) (1974), 17. Vinicius & Toquinho, 18. Sarava Vinicius!, 19. Vinicius/Toquinho (1975), 20. O Poeta E O Violao (1975), 21. Deus Ihe Pague (1976), 22. Antologia Poetica (1977), 23. Tom, Vinicius, Toquinho E Miucha (1977), 24. 10 Anos De Toquinho E Vinicius, 25. Um Pouco De Ilusao (1980), 26. Lances De Vinicius, v.1 and 27. Lances De Vinicius, v.2... Reviews of individual albums are listed above; interestingly enough, this does not include the fabled Black Orpheus soundtrack. Oh well... can't have everything.
Vinicius De Moraes & Toquinho "Personalidade" (Verve, 1993)


For poor folks and other mere mortals, however, single CD best-ofs may suffice... Or at least help get your feet wet and see if you want to check out some of the albums listed above. This was the standard-issue best-of for most of the '80s and early '90s, and still holds its own today...
Vinicius De Moraes & Toquinho "10 Anos: O Melhor De Vinicius & Toquinho" (Philips)


Mainly a bunch of "potpurri" medleys of their many and considerable hits, with a couple of straight songs put in as bookends.
Vinicius De Moraes "Minha Historia" (Polygram, 1993)

Vinicius De Moraes & Toquinho "20 Preferidas: Toquinho, Vinicius & Amigos" (RGE, 1997)
An excellent retrospective. Includes a hefty chunk of songs with guest stars on them, especially vocalist Marilia Medalha, whose voice is quite sweet.
Vinicius De Moraes "Millennium" (Polygram, 1999)


Vinicius De Moraes "Serie Sem Limite" (Universal-Mercury, 2001)


Reluctantly recommended. Although I'm a big fan of this particular reissue series, I have to admit I was nonplussed by this collection. Like the other Sem Limite sets, this offers two CDs for the price of one, but unlike the others the music on this set is not as great as it could have been. For some reason, it seems to emphasize their goofier pop side, at the expense of their more solid, traditional bossa nova playing. To be sure, there are lots of great songs on here, but the flow of the album is interrupted by experimental and overly-saccharine material. If you're looking for oddities and atypical numbers from this great duo, then this set may be of interest. Also: not all the material on here is by the Vinicius/Toquinho duo... There are also several songs from the '60s with Vinicius working with Dorival Caymmi, Odette Lara, etc., so this also gives a good glimpse at that period.
Vinicius De Moraes/Maria Creuza/Toquinho "O Grande Encontro De..." (Som Livre)


Speaking of the old stuff, this is a nice collection of classic, early '70s material from the original Vinicius-Toquinho partnership, including some of the best vocals of Maria Creuza's career.
Vinicius De Moraes "Novo Millennium" (Polygram, 2005)

Vinicius De Moraes & Toquinho "Novo Millennium" (Polygram, 2005)

---
Tributes
---
Various Artists "VINICIUS DE MORAES SONGBOOK v. 1" (Lumiar, 1993)


Artists include Tom Jobim, Ivan Lins, Simone, Carlos Lyra, Toquinho, Quarteto Em Cy, and Joyce.
Various Artists "VINICIUS DE MORAES SONGBOOK v. 2" (Lumiar, 1993)


With Joao Bosco, Os Cariocas, Hermeto Pascoal, Wanda Sa, Baden Powell and Elba Ramalho.
Various Artists "VINICIUS DE MORAES SONGBOOK v. 3" (Lumiar, 1993)


Includes Tim Maia, Tom Jobim, Chico Buarque, Caetano Veloso, Joao Bosco, Egberto Gismonti, Gal Costa and Os Cariocas.
Vinicius De Moraes/Various Artists "PURE BOSSA NOVA: A VIEW ON THE MUSIC OF VINICIUS DE MORAES" (Verve, 2007)


Joyce "Negro Demais No Coracao" (CBS, 1988)
A nice tribute by jazz guitarist/vocalist Joyce, who toured with Vinicius in the mid-1970s, as the replacement for Toquinho. Cheesy electric keyboards, but lovely vocals.
Joyce "Chante Antonio Carlos Jobim & Vinicius De Moraes" (Iris Musique, 1988)


Likewise, this bossa nova tribute album has keyboards with that terrible lite-jazz tone which may make the hair on your neck stand up (as you wonder "will Whitney Houston be on this album...?"), but Joyce's vocals are quite lovely. It's mainly a vocal effort -- Joyce's guitar work is non-existant on this disc. But, really, this does highlight her voice quite well, as well as her subtly jazzy inflection. A duet with Maria Bethania ("Tarde Em Itapoan") is particularly nice.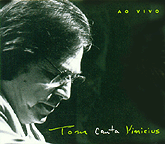 Antonio Carlos Jobim "Tom Canta Vinicius -- Ao Vivo" (Universal, 1990/2001)



A beautiful live tribute to poet/composer Vinicius de Moraes, with Danilo Caymmi on flute, Jaques Morelenbaum on cello, and Paula Morelenbaum on vocals, and Jobim on piano and some vocals, and his son Paulo Jobim on guitar. This is a remarkable about-face for Jobim, almost entirely shedding the sugary overproduction of his later years, in favor of an understated, reverent and leisurely approach to these fab bossa oldies. The Morelenbaums are largely to thank -- Paula has the perfect voice and manner for bossa nova classicism, and as one of Brazil's best modern bandleaders, Jaques Morelenbaum can do no wrong. These musicians later went on to form the equally-impressive Quarteto Jobim-Morelenbaum, whose album on the Velas label is reviewed below. This is a beautiful album in and of itself -- well worth checking out!

Quarteto Em Cy "Sing Vinicius De Moraes" (Iris Musique, 1996)



Quarteto Em Cy "Vinicius Em Cy" (CID)


Two different albums with the same basic concept: a tribute to Vinicius by the ever-chirpy vocal group, Quarteto Em Cy. I've never been into their stuff, but some folks love 'em.
Claudia Telles "Chega De Saudade - Tributo A Vinícius De Moraes" (CID, 1999)


---
Other Media
---
Miucha/Tom Jobim/Vinicius De Moraes/Toquinho "Musicalmente Dallo Studio 3" (DVD) (1978?)


An hour-long, all-star concert filmed for Italian TV in the late '70s (October 18, 1978, to be precise, for an appreciative audience in Lugano, Switzerland...) The show was held in honor of songwriter Vinicius De Moraes, who acts as emcee, cigarette and bourbon both firmly in hand. The entire affair is a bit low-key and sedate, in part becuase of the demure studio audience, but also because Vinicius seems a bit detatched and diminished, not really cutting loose until the final medley. To his credit, Toquinho injects a fair amount of life into the show, even though Jobim and Miucha also both seem a bit uncomfortable and reserved. Still, what a great chance to see all this bossa-MPB heavyweights in action, and to hear them address the crowd in Italian, no less. Worth checking out, but don't get your hopes up too high. (On DVD, with subtitles in English, Spanish and Portuguese.)

Toquinho/Various Artists "Toquinho" (DVD) (Biscoito Fino, 2001)


A beautiful historical portrait of acoustic bossa guitarist, Toquinho, performing in concert and in informal sessions along with his own band, and with several of MPB's biggest stars. Cameos by Paulinho Nogueira, Gilberto Gil, Chico Buarque, Jorge Ben -- and an uncredited Antonio Carlos Jobim -- light up the screen, all aided by Toquinho's graceful, sympathetic accompaniment. The glimpses of him working with Vinicius in the early 1970s are tantalizing and all-too-brief... Is there some other film out there that has more footage of their long, grand collabortation? A nice portrait of one of Brazilian music's most solid and professional performers... Recommended viewing!
---
Links
---
---



---