<! cd = 01/03/06 > <! MP3 09/12/08, 12/03/09 (none) > <! update 09/12/08 > <! pix 12/03/09 > <! icons 01/22/11 >

---
Femme semi-fatale Wanderlea was first famous as a rock'n'roll firebrand. Carlos hosted the popular '60s TV show, Jovem Guarda -- Brazil's version of American Bandstand -- where the would-be rockstars of the Portuguese-speaking world flocked in hopes of future fame. Along with his co-host, Erasmo Carlos, Roberto co-wrote many songs that became standards in the MPB canon. Eventually, he shifted into a more sedate pop style, and lost what rocker edge he once had.... Yet as a pioneer in the early Brazilian rock scene, Here's a quick look at her work...
---
Discography
---

Wanderlea "Wanderlea" (CBS, 1963)


Full of Little Eva-like girl-group spunk, Wanderlea (here a brunette, later a blonde) was one of the most consistent and creditable performers in the jovem guarda prefab teenybopper pop scene. Her first album starts off with a bang, on "Nao Existe O Amor," a cover of a French pop song, but quickly slips away from the real rock feel they were aiming for, and into iffy mainstream pop. A recent CD reissue adds a booming big band version of "Tell Me How Long," which was presumably originally on a single, predating her rock career. The best songs are fluffy fun, though when she falls (and sings) flat, she really falls flat. Features arrangements and backing by Astor Silva and his orchestra.
Wanderlea "Quero Voce" (CBS, 1964)


By the time of her second album, Quero Voce, Wanderlea's rock sound had solidified and toughened up, and the girl group debt was made plainer with the inclusion of covers such as "Meu Bem Lollipop." A couple of covers of German pop hits hint at her success in Continental Europe... It also didn't hurt to have Renato E Seus Blue-Caps backing her up. one of the hardest working and best-seasoned bands of the jovem guarda scene. Again, Wanderlea has terrible, embarassing moments aplenty, but there are some fun, giddy songs as well, and this is certainly a nice document of its time. Not great, but worth knowing about.


<! B000WMGCXU 9/08 >

Wanderlea "E Tempo Do Amor" (CBS, 1965)
Wanderlea "A Ternura De Wanderlea" (CBS, 1966)

Wanderlea "Wanderlea" (CBS, 1967)


On her fifth album it's the still the same old routine -- well-chosen, upbeat rock numbers from up North, although this time around there's a bit more kick to the production. The manic, amphetimine-driven beat of the Swinging London mods is present on almost every song -- the slow stuff was left behind and whoever it was backing her up here got a chance to cut loose a little. The rock sounds are much slicker and more engaging, with twangy, reverb-ed guitars and competent, contemporary 'Sixties rock riffs. Sure, it's still pretty wimpy compared to the music it's imitating, but in relative terms the song selection is impressive, ranging from the Seeds ("Pushing Too Hard") to proto-bubblegum like Neil Diamond ("The Boat That I Row") and Boyce & Hart ("Alice Brown"), along with some homegrown stuff by Ed Wilson and Erasmo Carlos. Overall, one of her better albums.


<! B000WMGCYO 9/08 >

Wanderlea "Pra Ganhar Meu Coracao" (CBS, 1968)


Ever so slowly, Wanderlea shifted from her original Little Eva/girl-group sound into a more "serious" pop singer... Or, at least what they hoped would be taken for a serious singer. The trouble was of course that she was really quite limited -- bad even -- particularly when she tried anything complex or subtle, and when the tempo slowed and her arrangements softened, this became even more of a problem. Towards the end of the 'Sixties, Wanderlea seems to have been inhabited by the spirit of Nancy Sinatra -- kitschy and emotive, her husky voice seems ill-suited to slower pop ballads and soul songs, even James Brown's funky rhythm was denuded of all excitement by Wanderlea and her crew. Indeed, listening to these bloodless runthroughs of various hits of the day, it's hard to believe that her heart was still in it at this point. I imagine this disc would appeal mainly to middle-aged Brazilians on a nostalgia kick; it might be worth it for a few other brave souls, but I wouldn't recommend you take any heroic measures to track this one down.


<! B000WMGCYY 9/08 >

Wanderlea "Wanderlea Maravilhosa" (Polydor, 1972)



<! PIC: I am so very scared of her hair! >

Wanderlea "Feito Gente" (Polydor, 1975)





Wanderlea "Vamos Que Eu Ja Vou" (EMI-Odeon, 1977)

Wanderlea "Mais Que A Paixao" (EMI-Odeon, 1978)
(Produced by Renato Correa)
The languid, fusion-y "cool" approach of the music is an ill fit for her limited vocal skills... Plus, Wanderlea sounds like she's on some kind of sedative or something; completely flat and not very expressive. There are some interesting touches, though: Djavan makes a guest appearance on his own song, "O Canto Da Lira," which has a mildly funky Afro-Brazilian beat to it, and a couple of songs on Side Two are decent as well. Moraes Moreira and Egberto Gismonti also make cameos, but overall I'd say there's no "there" there.
Wanderlea "Wanderlea" (CBS, 1981)

Wanderlea "Wanderlea" (3M, 1989)

Wanderlea "Te Amo" (Som Livre, 1992)

Wanderlea & Waldir Greyck "Frente A Frente" (Sony, 1998) <! ?date? >

---
Best-Ofs
---
Wanderlea "20 Supersucessos" (Sony-Brasil, 1999)

Wanderlea "Serie Bis -- Jovem Guarda" (EMI, 2000)

Wanderlea "Serie Novo Millennium" (Polygram, 2000)

Wanderlea "As Melhores" (Sony-Brasil, 2002)
A pleasant surprise! I had expected this generically-packaged best-of set to be heavy on later, lamer recordings, but it's actually a pretty enjoyable and well-programmed set of 14 of her best oldies. Just a couple of slow, sappy ballads, and then the rest of it is cute teenybopper JG material. This is about as much Wanderlea as any casual listener will ever need... Worth picking up, though depending on your tolerance level for pop-culture kitsch, you may end up wondering what the fuss was all about.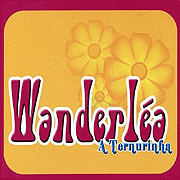 Wanderlea "A Ternurinha" (Box Set) (Sony-Brasil, 2005)


A 6-CD box set, collecting her early work in the jovem guarda years... Coolsville!
Wanderlea "Antologia Da Jovem Guarda" (2007)

---
Other Media
---
"Roberto Carlos E O Diamante Cor Da Rosa" (1970)
Fast-fading jovem guarda idols Roberto Carlos, Wanderlea and the Erasmo Carlos star in this paper-thin action comedy, wherein a hunt for long-lost Phonecian treasures lead our heros across the globe, and then back home to Brazil. Musically, this is disappointing -- the film starts with a sizzling soul number (an early Tim Maia song), but that is the only staged "live" performance in the film, the other numbers are either brought in as incidental music or in cheesy playback lip-synchs that have nothing to do with the plotline. Some kooky early '70s fashion (lots of big gold chains, leather vests, skintight jerseys and flared bell-bottoms) but less of a glimpse of the world itself. The film pingpongs from Tokyo to Jerusalem and then back to Rio, but most of the cameratime is spent on our heroes, and they are stuck, frankly, a rather dull script... If you wanted to be charitable, you could see this as an absurdist romp, much like the Hong Kong films we know and love... Or, alternately, you could just skip it. Other than the song at the start, there's little to recommend this film.
---
Links
---
Planeta Rei is commercial website with information about both Roberto and Erasmo Carlos. It includes information about their film and television appearances, offers CDs for sale, and has an enormous year-by-year biography which covers both the "Jovem Guarda" years, and his subsequent career as a pop crooner cheezoid. (In Portuguese.)
Brazzil Magazine has a more sober presentation of Carlos' career and the JG scene... a very informative article from 1996.
---



---