<! cd 05/30/10 > <! MP3 05/30/10 > <! update 05/30/10 - needs bio > <! outside 00/00/00 > <! pix 00/00/00 > <! 208-pix: 00/00/00 > <! icons 11/15/10 >
---
One of the most commercially successful country acts of the 1980s, Alabama was also one of country's most successful group acts, spearheading a sound that included other harmony-oriented bands such as the Oak Ridge Boys and Shenandoah. Here's a quick look at their work...
---
Discography - Best-Ofs
---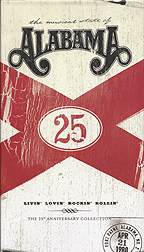 Alabama "Livin,' Lovin,' Rockin,' Rollin': The 25th Anniversary Collection" (Sony-BMG Legacy, 2006)



In a sense, at least as their songwriting is concerned, the band Alabama is a victim of its own success -- when you've landed over 50 #1 singles into the Country charts, it gets kinda hard for all but the most diehard fans to hear anything else besides your biggest songs. These days, Alabama exists in the record stores primarily as one "greatest hits" package after another; if you want to hear the other, nonblockbuster material, you'll have to track down all those old, out-of-print original albums. This generous 3-CD retrospective fills in a few of those gaps -- it has plenty of big hits, but its sprinkled with rarities and previously unreleased material. Most of the eight "new" tracks are live performances, which is appropriate, since the band is one of the great warhorses of the country touring circuit, the Rolling Stones of the Stetson set. Still, it's a little disappointing there isn't more stuff from their early days, the decade or so before they hit it big, and plugged away as an unsigned bar band, first under the name Young Country, and then as Wildcountry, a band that released three albums. There are some goodies that dig way back, such as a 1973 Randy Owens demo, but mostly this collection focusses on their career on RCA/BMG. In the early 1980s, Alabama burst on the scene to become one of the biggest country bands of the decade, recording relatively rootsy material amid the high-tech fashion of the time. This is an interesting retrospective in that it's laid out more like a radio show than as a just-the-facts, top-to-bottom, standard-issue, best-of set. It isn't organized chronologically or with all the biggest hits loaded in the front, but rather with the actual flow of music taken into account: if you just want to pop this into the stereo and let it play, it's pretty well thought out. Also, although honkytonkers and hard country purists may find Alabama a little hard to handle, if you're willing to swing the Top 40 way, their music holds up surprisingly well. Although there are a billion other best-ofs by this same band, this new collection is a darn fine way to check 'em out.
---
Discography - Albums
---
Alabama "Wild Country" (LSI, 1976)





<! not sure if B000K0YLVO ASIN is right >

Alabama "Deuces Wild" (LSI, 1977)





Alabama "Alabama Band No. 3" (MDJ, 1979)





Alabama "My Home's In Alabama" (RCA, 1980)


Alabama "Feels So Right" (RCA, 1981)


Alabama "Mountain Music" (RCA, 1982)


Alabama "The Closer You Get..." (RCA, 1983)


Alabama "40 Hour Week" (RCA, 1985)


Alabama "The Touch" (RCA, 1986)


Alabama "Alabama Live" (RCA, 1988)


Alabama "Southern Star" (RCA, 1989)


Alabama "Pass It On Down" (RCA, 1990)


Alabama "American Pride" (RCA, 1992)


Alabama "Cheap Seats" (RCA, 1993)


Alabama "Gonna Have A Party... Live" (RCA, 1993)


Alabama "In Pictures" (RCA, 1995)



Alabama "Christmas, v.1" (RCA, 1996)



The songs on this album are pretty sappy (duh) and the production style is pretty soft, but it still has a few things going for it... First off, the songs are new ones, not the same old "White Christmas" oldies we always here, and some of these new tunes have distinctly "country" themes, like "Tennessee Christmas" and "Christmas In Dixie," so this disc can claim to be more rootsy than some other Nashville Noels, even if the musical end is hopelessly cheesy and pop-oriented. Also, even though I don't really care much for Alabama's formula, there's something to be said for its purposeful rough edge, which is to say, how the clunky lead vocals stand out in relief from the super-smooth musical backdrop. (And if you think this is a slam on the band, it's not: I think it's always been one of their most calculated and successful moves...) At any rate, even though this album is too sappy for my tastes, I think it has a lot to offer for mainstream country fans in search of new, original holiday material. It coulda been a livelier, more upbeat performance, but it's kinda par for the course for Alabama's later work.

Alabama "Christmas, v.2" (RCA, 1996)



The slick pop production on most of these songs is truly heinous, but there are some nice songs. "Christmas In Your Arms" and "Hangin' Round The Mistletoe" are alright, but for the most part, you have to be a big fan of syrupy pop to appreciate this one.
Alabama "Dancin' On The Boulevard" (RCA, 1997)


Alabama "Twentieth Century" (RCA, 1999)



Oh, come on! Give me a break...! This mishmosh of tinkly keyboards and slick, bland vocals ain't country. '70s-style MOR, sure -- but not country! Way too slick and way too wimpy for me.
Alabama "When It All Goes South" (RCA, 2001)


Alabama "The American Farewell Tour" (RCA, 2003)


Alabama "Christmas Collection" (Madacy, 2006)

Alabama "Songs Of Inspiration" (RCA, 2006)


Alabama "Songs Of Inspiration II" (RCA, 2007)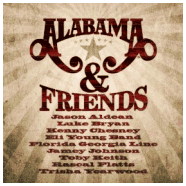 Alabama/Various Artists "Alabama & Friends" (Ten Spot, 2013)



It's an all-star guest-fest with these diehard '80s old-timers hosting a bunch of younger guys, such as Jason Aldean, Luke Bryan and the Eli Young Band, as well as some folks who nowadays can be considered the Nashville old guard -- Kenny Chesney, Toby Keith, Rascal Flatts and Trisha Yearwood. The results are surprisingly vigorous, with good, solid production and soulful vocal performances. Highlights include Jamey Johnson's gritty honkytonk ballad, "My Home's In Alabama," which closes the album, and a couple of tracks that the Alabama guys sing by themselves. A few tracks are too prefab -- "I'm In A Hurry (And Don't Know Why)," featuring Florida Georgia Line, is a wall-of-sound barrage of tinny, hyperactive pop-twang, but other than that, this is a pretty strong record. If you're a fan, it's worth checking out.
---
Links
---

Wikipedia has a nice band profile and discography page


---