<! cd = 10/09/15 > <! MP3 00/00/00 > <! outside 00/00/00 > <! pix 00/00/00 > <! 208-pix: 00/00/00 > <! styles: Top 40, Real Hicks, Michigan > <! UPDATES: 10/09/15 - posted, minimal reviews >
---
Pete Anderson is the brilliant, gifted, genius producer/guitarist who brought true twang back into the country mainstream with his highly productive partnership with Dwight Yoakam. On a remarkable run that lasted from 1983-2004, Yoakam and Anderson first conquered the LA's post-safety pins and mohawks cowpunk scene, then scored a major label contract that made Yoakam one of the most vital country artists of his era. In no small part it was Anderson's clarity as a producer that made their records so appealing -- tapping into the bright, straightforward sensibilities of classic honkytonk and the Bakersfield Sound, he brought earthiness and directness back into twang. In the early 1990s, Anderson started his own label, Little Dog Records, and released albums by numerous artists in addition to his own music. Here's a quick look at his work...
---
Discography - Albums
---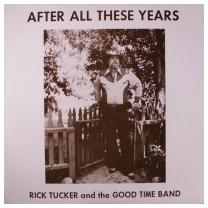 Rick Tucker & The Good Time Band "After All These Years" (Sound Of Clovis) (LP)


Apparently Rick Tucker was once upon a time a guitar player for rock'n'roll forefather Buddy Holly, and here he covers "Everyday" at the end of an album that is otherwise dominated by his own material -- eight out of ten songs were Tucker originals. Norman Petty plays celeste on one song, and it seems likely he also produced the album... The big wow for me, though is the credit for Pete Anderson on lead guitar -- yup, that's right: this was the group he was in before he hooked up with Dwight Yoakam in LA. Also in the band was drummer Pete Gavin, who was in Albert Lee's old group, Head, Hands & Feet, so you know these guys were the real deal.


<! "...When I moved to L.A., by '79 I joined a group called Rick Tucker & the Good-Time Band, with Pete Gavin, who was the drummer with Head, Hands & Feet. We worked constantly, especially after Urban Cowboy hit. So my playing just leaped, and I really formed a style." >

Pete Anderson "Working Class" (Little Dog Records, 1995)


Pete Anderson "Dogs In Heaven" (Little Dog Records, 1997)








Pete Anderson "Live At Ohio University" (Little Dog Records, 1998)



<! - no ASIN 10/10/15 >
Pete Anderson "Daredevil" (Little Dog Records, 2004)



(Produced by Tony Rambo & Jason Robbins)
Guitar slinger Pete Anderson, best known as Dwight Yoakam's longtime lead guitarist and producer, cuts loose and kicks back on this fine, twangy set of original instrumental tunes. Anderson's tone is gentle and measured, his soundscapes lulling and lush, his leads tart and tasteful, as he mixes loungey exotica with West Coast twang and a smidge of funky electronica... Previous solo outings had seemed a bit frantic and forced, but this one sounds classy and calm -- It's a good listen, particularly for folks who dig instrumental music to begin with, although the last few tracks on the disc are kind of nondescript... Nice to hear that the fella who helped sculpt Yoakam's multi-layered modern twang kept some of the good stuff in reserve for himself as well... Worth checking out.
Pete Anderson "Even Things Up" (Little Dog Records, 2009)


Pete Anderson "Birds Above Guitarland" (Little Dog Records, 2013)





<! - no MP3 10/10/15 >

Pete Anderson "Enjoy The Ride" (Little Dog Records, 2014)


---
Other Media
---
Pete Anderson "Roots Rock Workshop" (Warner Brothers, 2005) (DVD)

---
Links
---
---