<! cd = 05/17/13 > <! MP3 00/00/00 > <! outside 00/00/00 > <! pix 00/00/00 > <! 208-pix: 00/00/00 > <! styles: Hippiebilly, link to Levon Helm > <! UPDATES: 00/00/00 >
---
<! mention/link to Ronnie Hawkins > Throughout the '70s The Band were hailed as avatars of roots-meets-rock earthiness, backing Dylan on key sessions after he plugged in, and establishing themselves as one of the deepest and most durable bands of the '70s. When it was time to call it quits in 1978, they threw an epic farewell party, with the cream of roots-rock royalty performing as their guests. Afterwards, the various Band members pursued solo careers, with Rick Danko, Levon Helm, Garth Hudson and Robbie Robertson all releasing solo albums, while the fifth member, Richard Manuel, struggled to find his footing and mainly played supporting roles on others' albums. Here's a quick look at their work...
---
Discography - Best-Ofs
---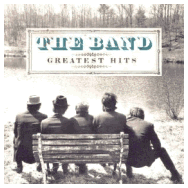 The Band "Greatest Hits" (Capitol, 2000)


The Band "Live At The Academy Of Music: 1971" (Capitol, 2013)



This 4-CD, 1-DVD box set is basically an expanded version of The Band's 1972 Rock Of Ages concert album... There's some new material, about an album's worth, though most of these tracks are already available elsewhere...
---
Discography - Albums
---

<! add Dylan albums? >

The Band "Songs From Big Pink" (Capitol, 1968)



Everyone knows about "The Band," right? Buncha scruffy bar-band locals picked out of nowhere to be "the band" backing Bob Dylan through his audacious early moves into electric rock. When Bob wrecked his motorcycle, nearly died, and then quit touring for a while, the time seemed ripe for these fellas -- Levon Helm, Rick Danko, Richard Manuel and the others -- to make a name for themselves. This is their debut album which many folks consider their best, and is certainly a landmark for the roots-rock movement. "The Weight" played interminably on FM radio throughout the 'Seventies, and their version of "I Shall Be Released" is also a plaintive classic.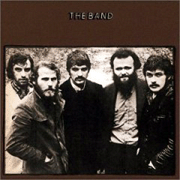 The Band "The Band" (Capitol, 1969)



Big Pink may be a critic's darling, but the group's biggest, most enduring (and most country) hits come from this, their second album. "Across The Great Divide," "Up On Cripple Creek," "Rag Mama Rag" and the unkillable radio hit, "The Night They Drove Old Dixie Down" are a pretty potent batch of tunes... and that's just the stuff on Side One of the original LP! This one's a real doozy. Highly recommended.

The Band "Stage Fright" (Capitol, 1970)



Well, I guess some Band fans don't care much for this album, but it's an old favorite of mine. There's a loose, disjointed poppiness about many of these songs, wed to a whistful sadness that makes it doubly appealing. The spasmodic, herky-jerky boogie riffs of "Time To Kill," "Just Another Whistlestop" and "Shape I'm In" have a slight guilty pleasure whiff about them, but the lyrics have a sincere sense of pathos which redeems these songs from being mere hippie frolicks. This disc is also definitely worth picking up!
The Band "Cahoots" (Capitol, 1971)


The Band "Rock Of Ages: The Band In Concert" (Capitol, 1972)



A live album
The Band "Moondog Matinee" (Capitol, 1973)



An album of 1950s/'60s rock and R&B cover tunes... Fun stuff and familiar territory for The Band itself, but to fans it may have felt like they were treading water a bit on this one...
The Band & Bob Dylan "Before The Flood" (Sony, 1974)


The Band "Northern Lights, Southern Cross" (Capitol, 1975)


The Band "Islands" (Capitol, 1977)



Their last studio album, released after the much-vaunted breakup concert that became known as "The Last Waltz." Apparently most folks in the know don't think too highly of this one, though I have to confess I've never heard it. When I do, though, I'll give you a full report!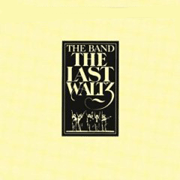 The Band/Various Artists "The Last Waltz" (Warner Brothers, 1978)


The Band/Various Artists "The Last Waltz" (Warner Brothers, 1978/2000) (big old box set)

The Band/Various Artists "The Last Waltz" (DVD) (MGM, 1978)


---
Links
---
---