<! cd = 03/07/13 > <! MP3 03/07/13 > <! outside 03/07/13 - WP > <! pix 00/00/00 > <! 208-pix: 00/00/00 > <! icons 03/07/13 > <! UPDATES: 03/07/13 - posted, w/ links in mersh & gospel >
---
John Berry was never all that into what I'd call "hard" country music... A crooner at heart, he started out with a little twang, but very quickly staked out his turf as Nashville's answer to Michael Bolton. A chart-topper for a while, when the hits started to thin out, he began to specialize in Christmas music and more recently in pretty much straight-up Contemporary Christian albums. Here's a quick look at his work...
---
Discography - Best-Ofs
---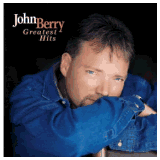 John Berry "Greatest Hits" (Capitol, 2000)



Right from the start, '90s crooner John Berry had a penchant for soft-pop ballads... Some of his hits, like "She's Taken A Shine," have a residual "young country" twang, but those tinny, Christopher Cross-style keyboards sink him every time. Cheesy, but inoffensive in that bland kinda way that some folks find comforting. His slow keyboard ballads ("Your Love Amazes Me," et al.) are as florid and cloying as anything Kenny Rogers ever moo-ed his way through...
John Berry "Certified Hits" (Capitol, 2002)


John Berry "Hits" (Clear Sky, 2007)

---
Discography - Albums
---
John Berry "Humble Beginnings" (Cloud, 1979) <! no ASIN >

John Berry "Waiting For You" (Chamblee, 1982) (LP)


John Berry "Saddle The Wind" (Patriot, 1994)


These demo-y tracks -- recorded in 1990, before Berry signed to Liberty Records -- show him as a powerful performer early in his career, and also an artist willing to try a variety of styles to get to the top. It also feels very much like an audition reel, with the singer moving from rough, bluesy roadhouse shouters (after the style of Delbert McClinton) to several Springsteen-wannabee tracks and finally into drippy romantic ballads, which were the most strained-sounding material, but which also wound up being his bread and butter. It's the more rugged material that will prove most surprising to fans who only know Berry for his later incarnation as a country version of Michael Bolton.
John Berry "John Berry" (Liberty, 1993)


John Berry "Things Are Not The Same" (Liberty, 1994)





<! - apparently a reissue of 1986 indie release - >

John Berry "Standing On The Edge" (Patriot, 1995)

John Berry "O Holy Night" (Capitol, 1995)


John Berry "Faces" (Capitol, 1996)

John Berry "Wildest Dreams" (Lyric Street, 1999)


John Berry "My Heart Is Bethlehem" (Ark 21, 2000)


John Berry "All The Way To There" (Ark 21, 2001)

John Berry "O Holy Night - Live" (Clear Sky, 2003)


John Berry "I Give My Heart" (Clear Sky, 2004)


John Berry "Those Were The Days" (Clear Sky, 2006)

John Berry "Celebrate This Christmas" (Clear Sky, 2008)

John Berry "Songs And Stories" (Clear Sky, 2008)

John Berry "Real Man. Real Life. Real God." (Daywind, 2012)


---
Links
---
---