<! cd = 10/15/11 > <! MP3 10/15/11 > <! update 10/15/11 > <! outside 00/00/00 > <! pix 00/00/00 > <! 208-pix: 00/00/00 > <! icons 10/15/11 >
---
Dale Ann Bradley came to the public eye as a member of the New Coon Creek Girls, an all-gal bluegrass group that took its name from a 1930s old-timey band... Bradley toured with the band for a few years, then set out on her own, and has established herself as one of the leading artists in contemporary bluegrass music. Here's a quick look at her work...
---
Discography - Albums
---
The New Coon Creek Girls "The L&N Don't Stop Here Anymore" (Pinecastle, 1994)


The New Coon Creek Girls "Ain't Love A Good Thing" (Pinecastle, 1995)



(Produced by Sonny Osborne)
One of their most solid albums, with Dale Ann Bradley taking the lead vocals... Nice picking, and a very firm sense of the sound they wanted -- a pleasant, cohesive, modern melodic bluegrass set. Recommended!
The New Coon Creek Girls "Everything You Do" (Pinecastle)



(Produced by Sonny Osborne)
A sweet all-gospel album, gets a little gooey in places, but mostly it's pretty solid. The repertoire includes several distinctive songs as well as standards... If you enjoyed Dolly Parton's classic country gospel recordings, this album has a very similar feel.
The New Coon Creek Girls "Our Point Of View" (Pinecastle, 1998)



(Produced by Sonny Osborne)
Dale Ann Bradley is the lead vocalist here, although Ramona Church Taylor sings lead on one of her own original compositions, "Heaven's The Way To Go," one of several gospel songs that are standouts on this album. Actually, most of the secular songs are a bit syrupy for me, hinting at the Alison Krauss-ization of Bradley's sound as a solo artist. It's all okay, reasonably traditional sounding but a little slick overall. Worth checking out... and as ever, the all-gal vocal harmonies are mighty, mighty sweet.

Dale Ann Bradley "East Kentucky Morning" (Pinecastle, 1997)



Softened, sweetened, melody-dripping popgrass, of the same stripe that Alison Krauss took to the tops of the charts. Former New Coon Creek gal Dale Ann Bradley's probably a little too down home (and less stereotypically glamorous) to share the same sort of commercial success as Krauss and her young'un set, but if you enjoy that lugubrious style of music, this is a mighty fine album. The fabled Osborne Brothers pitch in: Sonny Osborne produced the disc, and he and Bobby sing along on "The Day I Lose My Mind." Ron Block, Gene Wooton and others all pitch in, with Union Station-y lushness. Ultimately, this isn't my cup of tea, but I can see the appeal.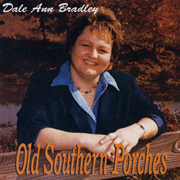 Dale Ann Bradley "Old Southern Porches" (Pinecastle, 1999)



Pleasantly heartfelt and sentimental, sort of like Gail Davis's old country albums, but with a back-porch truegrassiness that makes Bradley seem less of a square peg and more of a calm authoritativeness. A nice, low-key set, with varying degrees of sappiness and one big novelty number (a cover of Steeler's Wheel's "Stuck In The Middle With You") which also turns out quite nice. Soft, a little slick, but also rootsy and well worth checking out... One of her best solo albums!

Dale Ann Bradley "Songs Of Praise And Glory" (Pinecastle, 2001)



Bradley returns to her childhood roots with a fine all-gospel album -- rootsy, heartfelt and full of gorgeous harmonies and solid, down-to-earth picking. One of her best, and the kind of album that gives bluegrass gospel a good name, even for the secular-minded among us. Recommended!

Dale Ann Bradley "Cumberland River Dreams" (Doobie Shea, 2001)


A pretty slick, Kraussed-out album, starting off with the super-saccharine "I Wish It Had Been You," and inching slowly back into rootsier terrain on later tracks. Bradley has a beautiful voice and is well-suited to this material -- if you like all that fancy-schmancy crossover stuff, then this disc will knock your socks off, especially on the tunes where Allison herself sings harmony. I personally find it a little cloying, and prefer Bradley's more traditional sounding material, but in musical terms, Bradley is unbeatable in this format, and this album's a classic for the style. Union Station fans, take heed!
Dale Ann Bradley "Send The Angels" (Mountain Home, 2004)



Another all-gospel outing...

Dale Ann Bradley "Catch Tomorrow" (Compass, 2006)



A wealth of talent backs Ms. Bradley here... Next to her ever-satisfying vocals, fiddler Michael Cleveland provides some of the most consistently sweet playing on here; Compass Records' own Alison Brown plunks the banjo throughout, while Jim Lauderdale, Larry Sparks, Stuart Duncan and Todd Phillips also rub elbows with Bradley's band. Probably the strongest collaboration comes from ex-Shenadoah vocalist Marty Raybon, who digs deep into the a heartrending duet, "Holding On To Nothing," helping impart as much pathos into it as the Porter Wagoner/Dolly Parton original. Another highlight comes with Bradley's version of Billy Joe Shaver's "Live Forever" -- oddly enough, Bradley sees it as an inspirational song; I always thought it was ironic and rueful, either way, it's one heckuva good song. There are a couple of missteps, such as her amped-up, mountain breakdown update of "Can't Stand The Rain," which -- while radically different -- certainly doesn't add much to the previously definitive Ann Peebles/Tina Turner/Lowell George versions. Likewise, the cover of "Me And Bobby McGee" doesn't do much for me. Still, Bradley is one of bluegrass music's great hidden weapons. She puts her heart into her work, and plays with grit and fire. She also writes some really nice songs, as the remainder of this record amply demonstrates. Slick and twangy, bouncy and smart, this is a 'grass album worth checking out.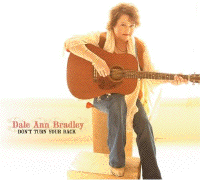 Dale Ann Bradley "Don't Turn Your Back" (Compass, 2009)



(Produced by Alison Brown)
Dale Ann Bradley is one of the rocks of contemporary bluegrass -- she's a reliably satisfying, comforting presence, with a sweet, sincere voice, solid musicianship and impeccable taste in song selection. This is another fine album, with material from a wide range of sources. There's a nice Carter Family gospel tune -- "Fifty Miles Of Elbow Room" -- a couple of rock cover tunes (Tom Petty's "Won't Back Down" and "Over My Head" by Fleetwood Mac are two pleasant surprises) and a slew of tunes from divergent sources. Songwriter Louisa Branscomb, from the band Gypsy Heart, contributes three songs, including the title track and "Will I Be Good Enough," a sentimental but effective song about the self-doubts of parenthood. Two of the best tracks are Bradley originals, her adaptation of the traditional tune "Blue Eyed Boy" (with fine banjo plunking by Stuart Duncan) and "Music City Queen," which closes the album on a sweet, nostalgic note. Also playing banjo on a couple of tunes is album producer (and label owner) Alison Brown, who lends a measured, mellow vibe throughout. Good contemporary truegrass; Bradley and her crew keep things pretty down to earth here -- there aren't any breakneck, high-test breakdowns but the picking is solid throughout. Definitely worth checking out.
Download picks:

Won't Back Down


Blue Eyed Boy


Music City Queen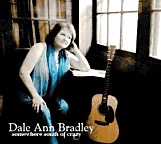 Dale Ann Bradley "Somewhere South Of Crazy" (Compass, 2011)



(Produced by Alison Brown)
Another rock-solid set from bluegrass grand dame Dale Ann Bradley, who mixes pure tradition and contemporary songwriting with an ease that rivals that of Alison Krauss or Dolly Parton. The title track is co-written with country's Pam Tillis, with propulsive backing from an all-star band: Stuart Duncan on fiddle, Steve Gulley on guitar, Sierra Hull playing mandolin, Mike Bub anchoring them all on bass, and producer Alison Brown with some smoking banjo riffs. After a bouncy opening, Bradley slows things down for a while, with a trio of tunes that include a cover of the Seals & Crofts oldie, "Summer Breeze," and an evocative soldiers-at-war song, "Come Home Good Boy." The rest of the record is split between Flatt'n'Scruggs style romps ("In Despair," etc.) and softer, introspective tunes. Includes a nice gospel number, a cover of Dottie Rambo's "New Shoes." As with Bradley's other recent records, this one is mostly on a slower, mellow tip, but offers plenty of sweet songs for fans to enjoy.
---
Links
---
---