<! cd = 08/30/13 > <! MP3 08/30/13 > <! outside 08/30/13 - WP, B&S website > <! pix 00/00/00 > <! 208-pix: 00/00/00 > <! styles: Country-rock, Hippiebilly > <! UPDATES: 08/30/13 - posted w/ link to Hippiebilly section >
---
Brewer & Shipley, the duo of Mike Brewer and Tom Shipley, were one of the great hippie pop acts of the early 1970s, melding rock, country and harmony-drenched folk vocals into a smooth blend that brought them briefly into the top of the Pop charts. The two Midwesterners met in Los Angeles, where they were separately building careers in the same folk-rock scene that nurtured bands such as The Byrds and Buffalo Springfield, but when their early albums brought them some notoriety, they made a very unique and unlikely decision. In an era when many people talked romantically about "dropping out," Brewer & Shipley actually did: they left the show business nexus of California and made Kansas City their new home. Instead of pursuing big money on the urban coasts, the duo chose to tour regionally and build up a loyal following in the American heartland, where college students and counterculture rebels happily embraced them as hometown heroes. Their biggest hit, "One Toke Over The Line," was a cheerfully pro-druggie singalong song that hit the Top Ten (and earned them the public condemnation of America's most humorless Vice President, Spiro Agnew) but after that, the hits became fewer and father down the charts. Here's a quick look at their work...
---
Discography - Best-Ofs
---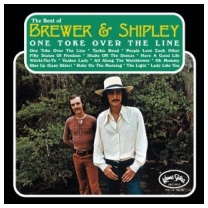 Brewer & Shipley "One Toke Over The Line: The Best Of Brewer & Shipley" (Buddah, 2001)


Brewer & Shipley "Greatest Hits" (Pair Records, 1989)

---
Discography - Albums
---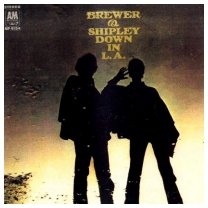 Brewer & Shipley "Down In L.A." (A&M, 1968)


In retrospect, their debut album was kind of a trial run: as the title implies, it was very much a product of the LA studio system, and echoes musical trends that had peaked already, and didn't entirely showcase them at their best. There's some by-the-books SoCal sunshine pop, folk vocals that have that fly-in-amber quality of coffeehouse folkies trapped inside formulaic studio arrangements. Their own distinctive style comes out as well, but is more hinted at than fully realized: what comes out most clearly is their verbose, half-preachy tendentiousness in some (but not all) of the lyrics and, more positively, the distinctive lead and harmony vocals that would become their trademark. This album didn't do very well, and it's understandable why... This is less a case of "the world wasn't ready for them" than they weren't quite ready to take control of the process. Some nice moments, but not as good or as concise as their later work.


<! Mike Brewer Ð vocals, guitars, percussion Tom Shipley Ð vocals, guitars, percussion Nick DeCaro Ð strings, horns Jim Gordon Ð drums Hal Blaine Ð drums Milt Holland Ð percussion Lyle Ritz Ð bass Jim Messina Ð bass Joe Osborn Ð bass Russell Bridges Ð electric piano, organ Mike Melvoin Ð organ Lance Wakely Ð electric guitar, harp >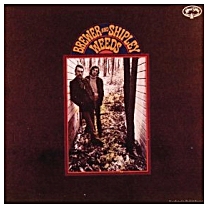 Brewer & Shipley "Weeds" (Buddah/Kama Sutra, 1969)



(Produced by Nick Gravenites)
The duo's own sound comes out more clearly on this lushly produced pop-folk album, which features definite country touches along with tons of gooey hippie philosophizing. The studio crew is impressive, with Mike Bloomfield and Mark Naftalin (of the Butterfield Blues Band) adding blues-rock oompf, while on the country side, pedal steel whiz Red Rhodes and fiddler Richard Greene add some sweet licks that compliment the duo's dreamy, gentle acoustic strumming. A lot of this album is, admittedly, pretty cloying, notably their folkie version of Dylan's "All Along The Watchtower," which sounds like a Smothers Brothers parody, or the gauzy, amorphous "Indian Summer," and even the half-preachy sermonizing about karmic balance in "Boomerang." A more durable song, both musically and historically, is "Pig's Head," a political paranoia garage-rocker with a Grateful Dead-ish feel, with lyrics about the pigs (cops) brutalizing people as soon as the sun goes down, sort of a companion piece to Buffalo Springfield's "For What It's Worth," though not quite as dour. For purely pleasurable country-rock, the album's opener, "Lady Like You," is the album's clear winner, with sweet pedal steel and a lively Cajun-flavored fiddle... If I'm being totally honest, though, most of this album doesn't really resonate with me.


<! recorded in in San Francisco Mike Brewer - Vocals, Guitars, Shakers & Vibra-slap Tom Shipley - Vocals, Guitars Mike Bloomfield & Fred Olson - Electric Guitar Mark Naftalin & Ira Kamin - Piano & Organ John Kahn & Robert Huberman - Bass Bob Jones - Drums Orville 'Red' Rhodes - Pedal Steel Guitar Richard Greene - Fiddle AppleJack - Harmonica Rienol Andino - Congas Nicky Hopkins - Piano Leo De Gar Kulka Engineer Vance Frost Assistant Engineer >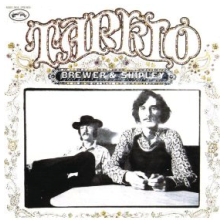 Brewer & Shipley "Tarkio" (Buddah/Kama Sutra, 1970)



(Produced by Nick Gravenites)
One of the ultimate, classic hippie folk-rock albums, and certainly one of the best. This is Brewer & Shipley at their finest -- with their tightest, most soulful harmonies, their best songs, best arrangements, clearest artistic vision and perhaps their most sympathetic backing band. The lineup includes Butterfield Band alumni Mark Naftalin and Paul Butterfield, balanced by the Grateful Dead's Jerry Garcia on pedal steel, and his bassist and drummer, John Kahn and Bill Vitt, giving B&S some big-time West Coast acid-rock cred. Each track is a strong affirmation of the duo's creative style, of their canny synthesis of pop and avant-folk, and of the vibrant counterculture for which they suddenly became standardbearers. Most importantly, Brewer & Shipley represented hippies in the heartland, rather than the East Coast, West Coast or the South: what Joni Mitchell and Neil Young were to Canada, these guys were for Kansas City, Topeka and Omaha, hometown heroes playing on an international stage. Clearly they were conscious of their roles as newfound icons, particularly on this album, which mixes good-natured drug references (in the underground radio hit, "One Toke Over The Line") with more pointed political musings. This album in particular shares a common bond with early CSNY, made at a moment when the starry-eyed, drugs-only drop-outniks were confronted with the harder realities of the post-'68 political landscape. But where CSNY reacted to the Kent State shootings with a fist-pumping, oppositional anthem ("Ohio") Brewer & Shipley -- recording this album in a pre-Kent State world -- still represented the idealistic, all-American side of the counterculture, the kids who grew up in Kennedy's Camelot and felt themselves to be part of the national fabric -- freaky and hairy, sure, but still solidly American. In a couple of songs they take conservatives to task for claiming to be more patriotic than hippies, citing the Constitution and the right to free speech in their defense. On "Oh Mommy" they forcefully rebut the love-it-or-leave-it types who labeled every liberal-leftie as a communist, while also comparing the hippie hordes to the Tea Party patriots of yore. The album closes out with "Fifty States Of Freedom," which repeats this inclusive/rebellious sentiment, effectively telling their political opponents, hey, we belong here, too, though we plan to make a few changes around the old place. They take a darker trn on "Don't Want To Die In Georgia," which presents a more paranoid point of view, though on the whole this is a more gentle, optimistic record, with a comfy feel that's insulated from the tensions and turmoil of the time. The album has a softer side, as well, with the overt political material outweighed (though not overshadowed) by more contemplative, pastoral tunes that bring out the group's folkie side. For country fans, there's a strong sense of twang embedded throughout, and this remains a highly listenable, rewarding album, worth a spin for decades to come.


<! Mike Brewer - Vocals & Guitars Tom Shipley - Vocals & Guitars Mark Naftalin - Piano & Organ John Kahn - Bass Paul Butterfield & Fred Burton - Electric Guitar Bill Vitt & Bob Jones - Drums Noel Jewkes - Flute Jerry Garcia - Pedal Steel Guitar >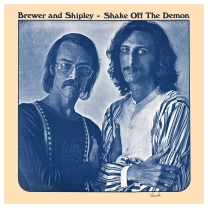 Brewer & Shipley "Shake Off The Demon" (Buddah/Kama Sutra, 1971) (LP)


(Produced by Michael Brewer & Tim Shipley)
A pleasant, though somewhat gooey acoustic-based folk-rock set, where religious messages come explicitly to the fore... Having bailed out of the hectic, big city music scene, Brewer & Shipley tap into the communal, back-to-the-land, do-your-own-thing ethos growing in the counterculture, in the Midwest and elsewhere. They explore themes of disillusionment and disaffection, redemption and renewal, a gentle message but a firm stand. It's a back-to-the-land, drop-out and be born-again "Jesus freak" album in which they reject the shrill politics of the era, and also condemn the hard drug use of "heroin heroes" and "cocaine disciples," closing the album with a mournful plea to get "Back To The Farm." (One suspects, though, that they were still pro-psychedelic, what with their reference to a "crystal communion," and the generally hazy, smoky feel of the entire album...) The songs are all Brewer & Shipley originals, with the exception of a slow, contemplative version of Jackson Browne's "Rock Me On The Water," a track that I would call a cover song, except that Browne hadn't released his first album yet(!) This is definitely super-hippie-dippy stuff, but with a few exceptions (such as the gloopy "Natural Child") it's pretty good listening, and certainly what they were saying in their lyrics had some real resonance, at least as far as the hippie scene of the time. Worth a spin... It'll take you into the mindset of a certain time and place.
Brewer & Shipley "Rural Space" (Buddah/Kama Sutra, 1972) (LP)

Brewer & Shipley "ST11261" (Capitol, 1974) (LP)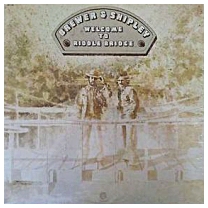 Brewer & Shipley "Welcome To Riddle Bridge" (Capitol, 1975) (LP)


(Produced by Norbert Putnam)
They kinda wanted to have it both ways on this album, which was the duo's major-label swan song: the record opens with a blaring electric guitar barrage, which turns out to be a parody of Top Forty rock, on the irony-drenched "Commerical Success," a novelty number that decries the blandness and conformity demanded of those who seek wealth and fame. Still, the song has a bouncy, bubblegummy rhythm similar to the Bay City Rollers, and other tracks have a bubblegum-boogie feel that suggests B&S wouldn't have minded a late-career hit, if one should just happen to come their way. Mostly, though, they are in a reflective mode, detached from the competitive hurly-burly of the dog-eat-dog world, content to get high on life, and leave all the "head trips" aside. The one song that really made it on radio (freeform radio, that is) was the faux-cynical "Brain Damage," where they cheerfully sing about cancer and nuclear war, and once again seem to turn their backs on the drug culture of the hippie era:
I got brain damage
From takin' those drugs
Brain damage from smokin' those rugs
All I got to show for my time
Is just an empty head...
A lot of people who were toking up when they heard this on the radio doubtless thought Brewer & Shipley were kidding and being all nudge-nudge, wink-wink, but I'm not so sure... The tilt of this album seems to be towards a deeper, more contemplative life, and though the crypto-Christian/spiritual songs have a slightly preachy edge, there's also thoughtfulness there, and shadings of depth that will probably be rewarding to listeners who are in the right frame of mind. Worth a spin, for sure... You just have to leave your anti-'Seventies cynicism at the door.
Michael Brewer "Beauty Lies" (Warner Brothers, 1984) (LP)


(Produced by Dan Fogelberg)
This solo album from Michael Brewer sports a ton of LA-scene talent, ranging from veteran country-rockers to diehard soft-pop studio-crew regulars. Although it almost painfully reflects the gooey, ornate sound of mid-to-late-'70s AOR, it still has its charms. Producer Dan Fogelberg leaves a strong mark on the sound (including a few of his own songs in the set list) and there is a certain formulaic feel that may be distracting or, depending on your point of view, a welcome throwback to the pop music of several years earlier. Either way, it's nice to hear Brewer sing, with that distinctive, reedy tone that is still distinctive and strong, a decade or so after his salad days. Worth a spin, if you're already a fan.
Brewer & Shipley "Shanghai" (One Toke Productions, 1993)

Brewer & Shipley "Archive Alive!" (Archive Recordings, 1997)

Brewer & Shipley "Heartland" (One Toke Productions, 1997)

---
Links
---
---