<! cd = 01/08/06> <! MP3 04/10/09, 03/25/11 > <! update 04/10/09 > <! outside 00/00/00 > <! pix 00/00/00 > <! 208-pix: 00/00/00 > <! icons 03/25/11 >
---
I gotta confess, I have mixed feelings about twang-banger Junior Brown -- on one hand, he's got all the instincts, tipping his hat towards old-time honkytonkers like Ernest Tubb and truckerdelic singers such as Dave Dudley and Red Simpson. On the other hand, I'm actually not that fond of his much-vaunted guitar style, and his nods towards the past have often struck me as too close to the originals, and a bit canned. In the final analysis, though, I've become a fan -- after all, us hicks have got to stand together, right? So here are my thoughts on Brown's albums, some critical, some charitable, some outright adulatory... So, let's get started!
---
Discography
---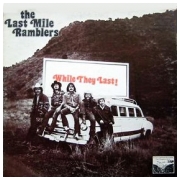 The Last Mile Ramblers "While They Last!" (Blue Canyon, 1974) (LP)


Based in Albuquerque, NM, the Last Mile Ramblers were stalwarts of the Southwestern roots-revival scene; founded in 1970, they recorded two albums in the '70s and stayed together in various formations over the next three decades. Like a lot of these regional roadhouse bands, the Ramblers were both local legends and a waystation for talented musicians: the band's founder Steve Keith eventually got a gig with "Classical Gas" guitarist Mason Williams, and went on to work with a number of country and roots artists... At one point alt-country guitar star Junior Brown was in the band (and is said to be on this album...) This was their first album, and one of the earliest -- and best -- self-released records in the 1970s hippie/desert country scene.


<! also on an Asleep At THe Wheel album asleep_at_the_wheel_01.html >
Alvin Crow "Welcome To Texas" (Austex Records, 1984) (LP)


Dude, check it out: I'm pretty sure that the "Jr. Brown" listed on steel guitar is in fact our boy, Junior Brown, the twang-bang king of the 1990s Americana scene... Also on this album? Texas blues queen Marcia Ball, plunkin' some funky piano. Now there's a lineup of the stars for you!
Junior Brown "Guit With It" (Curb, 1993)


Junior Brown "Twelve Shades Of Brown" (Curb, 1993)


Junior Brown "Junior High" (Curb, 1995)



A noteworthy album, with several of Brown's best-known songs, including the arch "other woman" song, "My Wife Thinks You're Dead," and the road-a-rific "Highway Patrol." The spirit of Red Simpson hovers closely over this disc, as well as Ernest Tubb and Floyd Tillman, on the slower tunes. Those are pretty powerful patron saints, and while Brown frequently falls short of their lofty heights, at least his heart is in the right place. Definitely worth checking out...
Junior Brown "Semi-Crazy" (Curb, 1996)



Perhaps alone among my alterna-country peers, I've never really been all that keen on Junior Brown. His guitar work doesn't wow me; in fact it seems downright sloppy at times, and while I recognize the merit of defying expectations and genre-bending, I can live without his occassional crossovers into Stevie Ray Vaughan territory or twanged-up surf licks. And as a vocalist, he's obviously pretty derivative... personally, I can just crank up my old Ernest Tubb or Ray Price albums and be perfectly satisfied. This album has a few good tracks, but they don't balance out the liabilities -- the whole thing just seems a little too contrived for my personal sensibilities. Besides, since Deke Dickerson staked out his turf as a zip-bang geetar god, Brown has some pretty stiff competition in the twangmeister department. I suppose there's room for everyone, but something about Brown's work never quite clicked for me...
Junior Brown "Long Walk Back" (Curb, 1998)



A nice one! Leaving blues bombast like "Lookin' For Love" or "Keepin' Up With You" aside, this disc is packed with some nice country gems, from stately, slow weepers like "Read 'Em And Weep" and "Just A Little Love" to upbeat stompers like "All Fired Up" and "The Better Half," which is this album's high point. Possibly Brown's best album to date!
Junior Brown "Mixed Bag" (Curb, 2001)


Oh, I know, I know... All the other kids love this guy, but I have never been able to get into Junior's act. For some reason, he just doesn't move me. Sure, his guitar work is fast and flashy... but it's not very expressive or nuanced. As a vocalist he has his moments, but he's still too self-consciously imitative of others, such as Dave Dudley and Ernest Tubb. It's odd. I think that most of Brown's songs -- his cover tunes and originals -- are pretty good, but for me his performances fall just shy of carrying the material. As I say, the guy just doesn't move me. If you're already a Junior Brown fan, though, you'll love this new album -- it's as good as anything else he's ever done, and has plenty of good novelty material. I'm not into it, but I'd recommend this disc to the Jr. B true believers.
Junior Brown "Down Home Chrome" (Telarc, 2004)



Pretty standard fare for this guitar-slingin' cowpicker... A mix of good old-fashioned honkytonk, rockaboogie, blues and even some standards vocals and some wailing acid rock as well (a blaring cover of Jimi Hendrix's "Fahk-seyyy Lay-dehhhh...") I'm still not a big Junior Brown booster, but I'm sure his fans will like this disc. I do think Brown's got his heart in the right place, but for whatever reason, he just never really resonates with me. This disc has him working through his same bag of tricks: if you're a fan, you'll love it, if you're a skeptic, it'll have its moments, and if you're new to Brown's work, you'll probably like it just fine.
Junior Brown "The Austin Experience: Recorded Live At The Continental Club" (Telarc, 2005)


Gravel-voiced guitar whiz Junior Brown, with a live album? Dang! What took 'em so long?? If you ask me, this may be Brown's strongest album to date, capturing the live-wire intensity that so many of his fans talk about. Playing to a rollicking, participatory crowd at one of his regular stomping grounds -- Austin's Continental Club -- Brown plows through his "hits" with conviction and gusto. Yeah, there's a slight air of by-rote professionalism, but far less so than on his studio albums... Overall, this is a pretty captivating record, with a wide variety of styles and moods, and through it all bubbles Brown's deep, hearty growl and his chunky, twanged-out guitar. It's a good show: Brown puts himself into it whole-hog, and his enthusiasm is contagious. If you wanna hear Brown at his best, check this album out!
Junior Brown "Greatest Hits" (Curb, 2005)


---



Hick Music Index



---
Top photo by George Brainard, courtesy of Telarc Records.
---