<! cd = 07/19/09 > <! cd = 02/20/08 > <! MP3 07/19/09, 12/18/10 > <! outside 00/00/00 > <! pix 00/00/00 > <! 208-pix: 00/00/00 > <! icons 11/20/10 > <! UPDATES: 07/19/09 >
---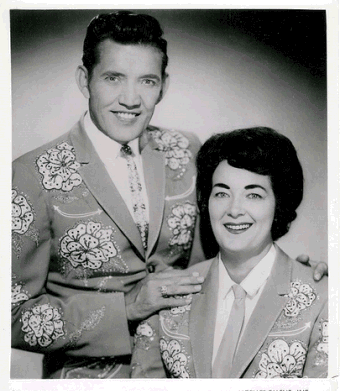 Best remembered for the early 1960s smash, "Don't Let Me Cross Over," the husband-and-wife team of Carl Butler and Pearl snuck into Nashville at a time when their brand of straightforward hard country singing shouldn't have gotten the time of day, amid all the goopy pop crossovers of the time... Yet, there they were, hitting the charts regularly with their rough, wonderful vocals and dopey songwriting -- plain old hicks with strong country backbeat. Fans of country duets will want to check their work out -- what little there is of it in print -- and hardcore fans might want to track down some of those old albums as well... Here's a quick look at their work...
---
Discography
---
Carl & Pearl Butler "Crying My Heart Out Over You" (Bear Family, 1993)

Carl & Pearl Butler "Don't Let Me Cross Over" (Highland, 1996)



Like many of the best old hard country artists, there's very little of their material available in print today. This disc only has ten songs on it, but they're all pretty good, including such winners as "She Didn't Come Home" and the moralistic "Temptation Keeps Twisting Her Arm." Worth checking out!
Carl & Pearl Butler/Johnny & Jonie Mosby "Best Of: A Family Affair" (Koch, 2005)


A curious reissue, pairing the work of two husband-wife duets from the 1960s... The Butlers already have several albums devoted to them, but the Mosbys are an obscure old act who have long been forgotten by most country fans. I have several of their old LPs, and enjoy them a lot; the Mosby's were marginal figures on the country scene of the time, but they had a nice homespun charm... Nice to see them on CD at last!
Carl Butler "A Blue Million Tears" (Bear Family, 2004)

Carl Butler & The Webster Brothers "I Wouldn't Change You If I Could" (Bear Family, 2006)


I'm a big fan of Carl Butler & Pearl's work in the 1960s, classic honytonk pop recorded for the Columbia label that has all the rough charm and catchiness you'd expect from the genre. So I was surprised by how much of a letdown this disc was, the second of two discs that collect Butler's earlier recordings made in the 'Fifties, when he was still a struggling regional musician in the Knoxville area. Butler's career at the time encompasses a who's-who of East Tennessee talent -- he started out playing with the bluegrass-oriented bands of the Bailey Brothers and the Sauceman Brothers, and slowly eked out a position for himself as a solo performer. His earliest recordings were included in Bear Family's A Blue Million Tears collection, which covered his career from 1950-51, when he was recording for Capitol Records. In '52 he signed with the Okeh label, and released a small but steady stream of marginally successful singles with them over the next few years. He also worked with the Knoxville-based Webster Brothers, Audie and Earl, two teens who sang in a Louvin Brothers/Blue Sky Boys style, and whose complete recorded output (both under their own name and as Butler's backup) is apparently included here. As I said, I was surprised how underwhelmed I was by this set of pure, unrefined hillbilly music... Normally I'm all over this stuff like an ant on a soggy lollypop, but for some reason these particular recordings didn't grab me. Maybe it's because so many of the songs are covers of songs that were already hits for others -- the kind of thing that the the cover artist can't have much hope for in commercial terms -- or maybe it's just the flat, stark sound that doesn't change much from tune to tune. Butler does seem to have been an artist who benefited greatly from experience, emerging in the following decade as a seasoned singer who could really own a song. Here, he's more energy, less emotion, kinda banging away at his cage. Don't get me wrong: there are some striking songs on here, but not in the same high proportion I'm used to with Bear Family releases. There's also a preponderance of gospel material here, which is sung with great energy and feeling, but doesn't always hit me the same way a really good heartsong does. This is a nice historical set, taking us from 1953 to 1958, when Butler's star was finally about to rise... It's worth checking out, but it still isn't as much fun as I wish it could have been.
---
Original LPs
---
Carl Butler "Don't Let Me Cross Over" (Columbia, 1963)

Carl Butler & Pearl "Loving Arms" (Columbia, 1964)

Carl Butler & Pearl "Old And The New" (Columbia, 1965)

Carl Butler "The Great Carl Butler Sings" (Harmony, 1966)

Carl Butler & Pearl "Avenue Of Prayer" (Columbia, 1967)

Carl Butler & Pearl "Our Country World" (Columbia, 1968)

Carl Butler & Pearl "Honky Tonkin' " (Columbia, 1969)

Carl Butler & Pearl "Greatest Hits" (Columbia, 1970)

Carl Butler "For The First Time" (Harmony, 1971)

Carl Butler & Pearl "Watch And Pray" (Harmony, 1972) (LP)

Carl Butler & Pearl "Temptation Keeps Twisting Her Arms" (Chart, 1972)

Carl Butler & Pearl "Country We Love" (Pedaca, 1980)

Carl Butler & Pearl "Honky Tonkitis" (CMH, 1980)

---
Links
---

<! Carl Robert Butler was born in Knoxville, Tennessee, on June 2, 1924. He grew up influenced by Roy Acuff and the old time music around his home. He began singing at local dances at the age of 12 and, after service in World War II, sang with several bluegrass bands and then as a solo act on numerous radio shows, including the "Mid Day Merry Go Round" on WNOX in Knoxville, Tennessee. During this period he met Pearl Dee Jones, a Nashville native born September 30, 1927, who he married in 1952. In 1961, Carl Butler recorded "Honky Tonkitis" which made it to number 25 on the country charts. The following year, the Butlers were invited to join the Grand Ole Opry, and the exposure provided by the show helped them push "Don't Let Me Cross Over" to number one. Their first single as a duo spent almost three months at the top of the country music charts and they remained one of country music's most popular duos for the next 2 decades. Later chart records included "I Wouldn't Change You If I Could", "Too Late To Try Again", "Loving Arms" and "I'm Hanging Up The Phone". Carl Butler was also a gifted songwriter, penning classics including "If Teardrops Were Pennies", a #8 hit for Carl Smith in 1951 and a top 10 single for Porter Wagoner and Dolly Parton in 1973, and "Crying My Heart Out Over You" which became Ricky Skaggs' first number one hit in 1981. The Butlers were also among Dolly Parton's earliest supporters, whom they had worked with in Knoxville in the 50's, and helped to get her established in Nashville in the early 60's. The Butlers continued to record throughout the 70's but essentially retired to their ranch, "Crossover Acres", near Franklin, Tennessee, in the early 80's. They made occasional guest appearances on the Opry until Pearl Butler died at the age of 61 on March 1, 1988. Carl made an unsuccessful attempt at a comeback after her death and died of a heart attack on September 4, 1992. > <! Carl Butler "Don't Let Me Cross Over" (Columbia, 1963) Carl Butler & Pearl "Loving Arms" (Columbia, 1964) Carl Butler & Pearl "Old and the New" (Columbia, 1965) Carl Butler "The Great Carl Butler Sings" (Harmony, 1966) Carl Butler & Pearl "Avenue of Prayer" (Columbia, 1967) Carl Butler & Pearl "Our Country World" (Columbia, 1968) Carl Butler & Pearl "Honky Tonkin' " (Columbia, 1969) Carl Butler & Pearl "Greatest Hits" (Columbia, 1970) Carl Butler "For the First Time" (Harmony, 1971) Carl Butler & Pearl "Watch and Pray" (Harmony, 1972) Carl Butler & Pearl "Temptation Keeps Twisting Her Arms" (Chart, 1972) Carl Butler & Pearl "Country We Love" (Pedaca, 1980) Carl Butler & Pearl "Honky Tonkitis" (CMH, 1980) >


---



Hick Music Index



---

<! cd=02/20/08>