<! cd = 06/26/13 > <! MP3 08/01/13 > <! outside 08/01/13 - WP, PF > <! pix 08/01/13 > <! 208-pix: 00/00/00 > <! styles: Real Hicks, Top 40, Hawaiian > <! UPDATES: 08/01/13 - posted, new reviews >
---
Jerry Byrd (1920-2005) was one of the all-time great lap steel guitar players, a prolific session player and soloist on countless early country classics. Byrd was also a champion of classic Hawaiian music who moved to the islands later in life to devote himself to keeping the Hawaiian lap steel tradition alive, encouraging a new generation of musicians to learn a style that had been most popular in the 1920s and '30s. As a soloist, Byrd delved into both Hawaiian and country music, and kept the link between the two alive in his work. In the postwar honky-tonk era, the older lap steel was superseded by the more expansive pedal steel guitar, but Byrd resolved to stick with the older instrument, which partly influenced his decision to leave Nashville in the early '70s. Here's a quick look at his music...
---
Discography - Best-Ofs
---
Jerry Byrd "Steel Guitar Favorites" (Mercury Wing, 1965) (LP)


An outstanding selection of country-oriented recordings from Byrd's Mercury Records years... Includes some original hits as well as instrumental renditions of popular songs... All of it pure gold. Byrd added more texture to his playing as the years went on (and recording technology got better as well) but these early twangtunes are a real delight. Classic steel guitar from a true master.


<! also "Country Steel Guitar Hits" - different album?? >

Jerry Byrd "By Request" (Mountain Apple, 2002)

Jerry Byrd "Steel Guitar Hawaiian Style" (Mountain Apple, 2002)


Jerry Byrd "Master Of The Steel Guitar, Vol. 1" (Hana Ola, 2005)


This disc collects fifteen tracks from a half-dozen albums that Byrd recorded for the Monument label between 1961-67, albums packed with masterful musicianship and the sometimes-outlandish musical notions of the so-called "lounge music" or "exotica" style. A fine example is the swelling string arrangements on Byrd's big hit instrumental, "Memories Of Maria," which evoke the over-the-top romanticism of Roy Orbison's ballad style, and for good reason: Orbison himself composed the song with Byrd's guitar in mind. This collection will appeal to connoisseurs of various styles, mostly to the easy-listening crowd, but also to country fans -- who will appreciate the twangier tracks from the Admirable Byrd album -- and of course to Hawaiian music fans. It was during the time that these albums were made that Byrd first visited the islands, in 1964, and several years later he moved there full-time and devoted himself to preserving Hawaiian-style steel guitar tradition. You can hear all these influences on these recordings, and even on the cornier cuts ("Ebb Tide" and "Maria Elena," for example) you can't help but marvel at his soulfulness and technique. Who will most appreciate this collection? Steel guitar buffs! Byrd's performances are flawless and compelling, as is his mastery of several kinds of instruments. Definitely worth a spin!
---
Discography - Albums
---
Jerry Byrd "Nani Hawaii" (Mercury, 1950) (10" LP)


A 10-inch LP with Danny Kuaana & His Islanders...
Jerry Byrd "Guitar Magic" (Mercury, 1952) (10" LP)

Jerry Byrd "Byrd's Expedition" (Mercury, 1952) (10" LP)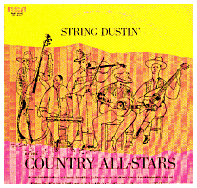 The Country All-Stars "String Dustin' " (RCA Victor, 1953) (10" LP)
This high-powered team of Nashville studio superpickers included Chet Atkins, George Barnes, Jethro Burns, Jerry Byrd, Homer Haynes, fiddler Dale Potter and others, plunking out playful jazz with a twangy touch... The tracks off this 10" can be found on Bear Family's lively Jazz From The Hills album listed below. Great stuff!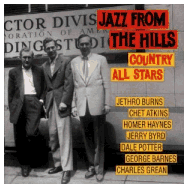 The Country All-Stars "Jazz From The Hills" (Bear Family, 1993)


This includes the entire String Dustin' 10" as well as other sessions with a few different artists. Want to hear Chet Atkins indulge his jazz sweet tooth? And Jerry Byrd add a few gorgeous licks on the steel guitar? Then you'll want to check this one out... it's a mighty fine record!
Jerry Byrd "On The Shores Of Waikiki" (Mercury Wing, 1956) (LP)


An excellent set of authentic island music, with a tiny hint of country twang. Byrd shows the depth of his devotion to Hawaiian music here, playing gorgeous, pure Hawaiian-style steel guitar with a varied mix of classic songs. At times he pushes a little at the edges of the style, just experimenting with the notes and tone, though not forsaking the music itself. There are several vocal number on here, including both hapa haole pop exotica and more authentic traditional material; it's all pretty good except for a couple of number, like "Pagan Love Song," where the vocalist delves into cornball vocals reminiscent of the big band era. Mostly, though, this is a very lovely, very pure-sounding album, with Byrd showing a mastery of several styles of Hawaiian steel, from uptempo numbers such as "Hilo March" and "Maui Chimes" to slower, dreamier tunes, including some he composed himself.


<! date per PF, AMG says 1960 > <! also B0077CWOOE >

Jerry Byrd "Hi-Fi Guitar" (Decca, 1957) (LP)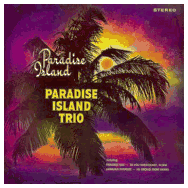 The Paradise Island Trio "Paradise Island" (Decca, 1957) (LP)



An island-themed studio group led by legendary country producer Owen Bradley. Jerry Byrd provides some gorgeous steel guitar work, but it is constantly overshadowed by terrible, dreary, drippy organ riffs. Alas.
Jerry Byrd "Steel Guitar Favorites" (Mercury, 1958) (LP)

Jerry Byrd "Hawaiian Beach Party" (Mercury, 1960) (LP)

Jerry Byrd "Byrd Of Paradise" (Monument, 1961)

Jerry Byrd "Memories Of Maria And Other Great Hits" (Monument, 1962)
This was later reissued under the title Satin Strings Of Steel...
Jerry Byrd "Blue Hawaiian Steel Guitar" (Mercury, 1963) (LP)

Jerry Byrd "Man Of Steel" (Mercury, 1964) (LP)

Jerry Byrd "Admirable Byrd: The Steel Guitar Magic Of Jerry Byrd" (Monument, 1964) (LP)





<! Theme For A DJ / Surprize Waltz / Reminiscing / Someone Else Not Me / Kissy Ling / Steelin The Chimes / I Wanta Learnt To Play The Steel / Someday You ll Call My Name / Blues Guaranteed / Faded Love / I ll Be All Smiles Tonight / Chime In >

Jerry Byrd "Satin Strings Of Steel" (Monument, 1965) (LP)


A reissue of the 1962 Memories Of Maria album...
Jerry Byrd "Potpourri" (Monument, 1966) (LP)

Jerry Byrd "Burning Sands, Pearly Shells And Steel Guitars" (Monument, 1967) (LP)

Jerry Byrd "Steel Guitar Hawaiian Style" (Lehua, 1970)


Jerry Byrd "The Master Of Touch And Tone" (Midland/Mountain Apple, 2005)


This originally came out as an LP in the early 1970s, on the Midland label...
Jerry Byrd "Polynesian Suite" (Sony, 1969)

Jerry Byrd "Byrd In Hawaii" (Maple, 1973)
An indie release with vocals by Nina Kealiiwahamana...
Jerry Byrd "Christmas In Hawaii" (Lehua, 1979)






<! year not sure >

---
Links
---
---