<! MP3 04/10/09, 10/20/11- several adds > <! outside 00/00/00 > <! pix 00/00/00 > <! 208-pix: 00/00/00 > <! icons 03/26/11 > <! UPDATES: 04/10/09 04/16/14 - increased imgs sizes; 04/23/14 - loaded new pix, did some editing >
---
Canada's Neko Case moved from punk rock catharsis to becoming one of alterna-country's icons... and back again! This gal rocks! Literally. In more ways than one. She started off as a grrrly punker, then took her rockabilly leanings a few steps further to go all-out hick during the height of the twangcore scene. One of the most dynamic artists to come down the pike in a while, Case has got the real goods. I'm sure she could've held her own with Wanda Jackson or Janis Martin any day... Here's a quick look at her work...
---
Discography
---
Neko Case And Her Boyfriends "The Virginian" (Bloodshot/Mint, 1998)



Peppy, raggedy-ass countrybilly from Canada. An auspicious "debut," which owes more than a slight debt to various '50s rockers (including the Everly Brothers, whose "Bowling Green" she covers). The band has some nice chops -- especially the pedal steel -- although their rock roots come to the fore pretty readily, and sometimes they sound a little stiff around the hillbilly material. Neko herself is frequently stuck in a Maria McKee-style yelping mode, not quite in command of her own vocals, and in some respects falls a bit flat. I think it'd be fair to say that at this point in their career, Neko and and the Boys were a bit overrated, although it's not difficult to see where the appeal lay. Many people consider this album to be a watershed of '90s twangcore -- in retrospect, I see it more as a warm-up to Furnace Room Lullaby, which is a much more accomplished album. Most of the songs are Case originals.
Neko Case And Her Boyfriends "Furnace Room Lullaby" (Bloodshot/Mint, 2000)



WOW. This is where it all clicks into place for Neko and the Boys. Once again, most of the songs are original material; the highlight is the arresting ballad, "No Need To Cry," with a keen, stately pop standards-y sound that actually rivals the best stuff by Patsy Cline. There's also several raucous rockabilly numbers and some hard country honkytonk -- as well as some mildly overwritten, hard-edged singer-songwriter material that might not sit as well as the other stuff. Mainly, this album is marked by Case's increased confidence and presence as a vocalist - she sounds very sure of herself, and also sounds like she ought to be. I'm looking forward to the follow up... in the meantime, check this one out!!
Neko Case "Canadian Amp" (Lady Pilot, 2001)


Less gratuitous twang, and more sultry croon... Case follows up on the Patsy Cline-styled neo-countrypolitan vibe she explored on Furnace Room Lullaby with "No Need To Cry." It's a nice direction to head in, though after several songs at the same moderate tempo, this disc could use a little variety in the pacing. Worth checking out, though -- moody and intriguing. Fellow alt.country chantuese Kelly Hogan harmonizes nicely on a couple of tunes, and SF Bay Area power popster Chris Schneidern also pitches in on a tune or two.
Neko Case "Blacklisted" (Bloodshot, 2002)


Neko Case "The Tigers Have Spoken..." (Anti, 2004)



...and the tigers say: ROOOOAAAAARRRRR!!! Let's just cut to the chase and say flat out that this live set is Neko Case's best album to date, no question about it. Backed by the ever-versatile Sadies, Case mixes in some of her rock roots with a few power-poppy tunes, and simply kicks ass on the country stuff. This is a record that's made to be played loud, and is probably her most cohesive, appealing record yet. Recommended!
Neko Case "Fox Confessor Brings The Flood" (Anti, 2006)


Neko Case "Live From Austin, TX" (New West, 2007)


Neko Case "Live From Austin, TX" (New West, 2007) (DVD)

Neko Case "Middle Cyclone" (Anti, 2009)


Neko Case "The Worse Things Get, The Harder I Fight, The Harder I Fight, The More I Love You" (Anti/Epitaph, 2013)


---
Related Records
---

<! Weasles ? any recordings? >

Cub "Betti-Cola" (Mint Records, 1993)



Case plays drums on some tracks; she was only with this lovable cuddlecore band for a little while...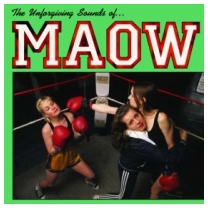 Maow "The Unforgiving Sound Of..." (Mint Records, 1997)



Case's first band cranked out loud, cowpunky grrrly pop-punk which ain't quite as raspy as you might imagine. Pretty bouncy and melodic, as a matter of fact. The songs are all pretty short and to the point -- and the point usually has something to do with casual sex with some loser who needs to be ditched ASAP... This fits into a long line of brash, punkier-than-thou chick rockers, from the Pleasure Seekers on down to L7, the Raunchettes, Bratmobile and the like. The band wears its sneery distain on its sleeves, and even though the songs are catchy, after a while the subject matter seems a bit same-y. Neko's country leanings are clear fron the word go, what with a gnarly cover of Wanda Jackson's "Mean Mean Man," and various other twang-ish numbers. Cool record... it's the kind of thing you might outgrow pretty quickly, but if you're in the mood, this totally rocks.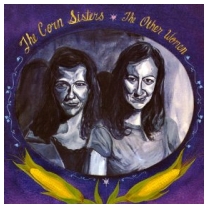 The Corn Sisters "The Other Woman" (Mint, 2001)



Pacific Northwest lo-fi collides with alt.country DIY as Neko Case and Canadian rocker Carolyn Marks joins forces for a rowdy live performance at a Seattle venue... They play the hick schtick a little bit broadly for my tastes: echoing some aspects of her Maow days, this disc is full of exaggerated accents, clattering Loretta Lynn covers and various white trash stereotypes... Still, their performance is undeniably high-energy and the crowd seems into it. This is actually an older performance, from a gig in 1998, and in many ways it's mainly Mark's show -- most of the original material is hers, only one song is by Case. Not my cup of tea, but it's got a scrappy DIY vibe that may resonate with the cowpunk crowd.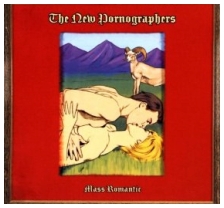 The New Pornographers "Mass Romantic" (Mint, 2001)



This is a real sizzler... one of the funnest goddamn rock records to come out in years.!! No, it's not country, and no, Neko doesn't sing on all the songs. Don't let that slow you down though -- run, don't walk, to your local record hut and snap this puppy up... This loose grouping of Vancouver rockers tinkered away at these songs for several years, on and off, and no doubt about it, they struck pure gold. With a refreshingly uncomplicated faith in the sheer physicality of loud, well-crafted rock music, the Pornographers shamelessly cop old licks by glam bands like T-Rex, The Sweet and even the Bay City Rollers. It's not a blank-eyed nostalgia trip, though, nor is it a sneeringly ironic hipster novelty act... and therein lies their strength. While everyone else in indieland endlessly retreads the same hard-to-pin-me-down-isn't-it? artsy-fartsy, ironical detachment and fuzzyheaded, loose-limbed "songwriting" philosophy, the Pornographers toss that empty, coy posturing out the window in favor of a return to tight, densely-packed pop production. These are great songs, with great production and killer, collosal guitars. The way they bury the vocals under a few extra layers of music is also pretty cool -- they make you work at catching the lyrics, in another throwback to the days of listener participation. Most of all, this record is simply a lot of fun... something that has been sorely lacking in rock music of late. HIGHLY recommended!
Destroyer "Streethawk: A Seduction" (Misra, 2001)



Okay, so Neko isn't actually on this album at all, but that other New Pornographer fellow, Daniel Bejar, is... It's pretty much a solo outing for him, packed with his now-familiar Bowie-isms and dense, somewhat seedy lyrics. The production is perhaps not as grand as the NP material, but if you liked that album, you should check this one out, as well...
New Pornographers "Electric Version" (Matador, 2003)



The first New Pornographers album was a hard act to follow, and though the follow-up disc is maybe a little more conventional sounding, it builds on the glammy strengths of the first, and is packed with plenty of poppy pleasures. The band leads with their best material, such as "From Blown Speakers," which is a marvel of stop-and-start melodicism, although deep into the disc, gems such as "The New Face Of Zero And One" emerge, showcasing writer Dan Bejar's way with mystifying, inscrutable lyrics. It's a pity Neko Case isn't as prominent on this album; her keening vocals are well-suited to the band's treble-heavy style, helping push the songs beyond the same-old indie rock territory. But as is, this is a mighty fine disc, and should keep the fans coming back for more.
New Pornographers "Twin Cinema" (Matador, 2005)


New Pornographers "Challengers" (Matador, 2007)


---
Links
---
Take your pick which of Neko's labels you wish to patronise... Canada's Mint Records actually produces her albums, while Bloodshot Records in Chicago picks them up for distribution in the US and beyond. Mint, however, provides a spiffy artist profile which gives a pretty good overview of Case's career... Either way, you're supporting scruffy, for-real indie labels when you drop in on either of these folks...
Neko's home page will help you keep up on her comings...
Wikipedia: Neko Case
---