<! MP3 04/12/09, 10/23/10, 04/24/13 > <! outside 00/00/00 > <! pix 10/23/10, 04/24/13 > <! 208-pix: 00/00/00 > <! icons 10/23/10 > <! UPDATES: 04/12/09 10/23/10 - some albums still need reviews! 04/24/13 - reviewed purple valley and chicken skin (jeez!) and edited pix & links >
---
One of the world's most diverse and most talented musicians, Ry Cooder's career has spanned three decades of unusually rich, fun musicmaking. Before recording as a solo artist, Cooder had already racked up impressive credits as a studio musician, backing the likes of Randy Newman, Little Feat, Van Morrison, Maria Muldaur, and even the Rolling Stones, back in their early-70s prime. Cooder's records were a staple of '70s "free-form" FM radio programming, and helped inspire the country/stringband renaissance that continues to this day. Drawing on several traditions at once, Cooder typically weaves together country music, the blues, Tin Pan Alley pop and rock'n'roll sass. He has also worked with master musicians from Hawaii, Mexico, Mali, India, and -- most recently -- has had phenomenal success with the Cuban Buena Vista Social Club.
---
Discography
---
Ry Cooder "Ry Cooder" (Warner Brothers, 1970)



After gigging around with Taj Mahal and playing on various studio sessions in the late '60s, Cooder got his chance at a solo album, and he made the most of the occasion. This features his memorable versions of Tommy Tucker's "Alimony", and the classic "One Meat Ball," as well as a slew of blues tunes from the likes of Sleepy John Estes, Blind Willie Johnson and Leadbelly. He's paying tribute to the past, but his individual stamp is clearly on these recordings. There's a fluidity and warmth here that few of his fellow blues aficianados (then or now) could ever hope to match. It's interesting, though, to hear the uncharactistically hippie-boogie rhythm of the band on tunes like "Do Re Mi" -- it wouldn't be long before Cooder had greater control over the sound and style of his recordings.
Ry Cooder "Into The Purple Valley" (Warner, 1972)



One of Ry's best, with hummable classics such as "Teardrops Will Fall," "On A Monday" and "Taxes On The Farmer Feed Us All," and a whole brace of topical and historical songs from the Great Depression and beyond, tunes like "FDR In Trinidad," "Vigilante Man," "Billy The Kid," and "How Can You Keep Moving (Unless You Migrate Too)," a biting satire of anti-immigrant bigotry. It's the melodies you'll remember, though, along with Cooder's sweet, sinuous, insistent slide guitar work. Required listening, really.
Ry Cooder "Boomer's Story" (Warner, 1972)



Another solid example of Cooder's blues revivalism, with several slinky, sly numbers. Ry combines acoustic guitar with New Orleans-y piano, tuba and drums to build a unique sound. Most of the songs on here come from deep in the blues and R&B tradition -- his version of "Dark End of The Street" doesn't hit the heights of James Carr's original (but that would be asking a lot, anyway...) Also, his soft, hushed take on "Maria Elena" hints at his wider interests in Latin American music. Another great Ry record.
Ry Cooder "Paradise And Lunch" (Warner, 1974)



Another one of Ry's early masterpieces. For some reason, this features a bunch of songs about marriage, from "Married Man's A Fool" to "Mexican Divorce..." On the similarly-themed "Tattler," Cooder introduces his trademark echo-y slide sound, and is backed by the lush vocal harmonies of Bobby King, who would remain a staple of Ry's sound for manhy years to come. The song selection here is all first rate, and the vibe is, quite simply, one of pure, unmitigated fun... The lineup is pretty amazing, too -- highlights include an acoustic reggae version of Bobby Womack's "It's All Over Now" and the explosively joyful "Ditty Wah Ditty," which features some old-time jazz heavyweights, including Plas Johnson, Red Callendar and even the venerable Earl "Fatha" Hines(!) on piano. As usual, Cooder's a real class act.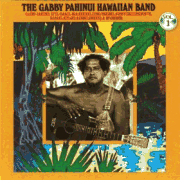 Gabby Pahinui "The Gabby Pahinui Band" (Panini, 1974)


Gabby Pahinui "The Gabby Pahinui Hawaiian Band, v. 1" (Panini, 1976/reissued on Edsel)


Gabby Pahinui "Best Of The Gabby Pahinui Band: 1972-1977" (Panini, 1993)
In addition to his long association with Tex-Mex accordionist Flaco Jimenez, Cooder was widely praised in the 1970s for helping make Hawaiian slack-key guitar music popular among the counterculture/roots music in-crowd. His work with the Panihui family rank as some of the best records in the genre. And again, Cooder left his own special stamp on the music, a graceful, well-sculpted sense of melody which can instantly be spotted in the mix. (For more info on Gabby Pahinui and other classic island artists, check out my Hawaiian music section...)
Ry Cooder "Chicken Skin Music" (Warner, 1976)



Ry further refines his amazing amalgamation of Delta blues, Hawaiian guitar, gospel and Tex-Mex accordion music... Another classic album with gems such as "I Got Mine," "Smack Dab In The Middle," and sleek Tex-Mex updates of the Jim Reeves country oldie, "He'll Have To Go" and Leadbelly's "Good Night Irene," as well as a soulful group vocal rendition of Ben E. King's "Stand By Me." There are sweet dips into Hawaiian-style music with "Yellow Rose" and "Chloe," and an overall mastery of America's musical roots, with an uncanny ability to find the connections and blend these strands together. Plus, it's just plain fun to listen to!


<! 130 x 130 >
Ry Cooder "Show Time" (Warner, 1977)



A great live album which, among other things, features Ry's awesome and irresistible version of the seasonal anthem, "School Is Out."


<! 130 x 130 >
Ry Cooder "Jazz" (Warner, 1978)



The Tin Pan Alley influence which was bubbling underneath the surface of all Ry's solo work takes center stage on this excellent album, an homage to the trad jazz and tunesmiths of the 1920s and '30s. Strangely, this record feels a little too formal and academic compared to the brightness and vigor of similar material elsewhere, but it still rocks. Notably, Ry defies PC cultural revisionism when he includes the complete and racially explicit, verses from the original version of the song, "Shine". Needless to say, these stereotypical "happy-darkie" lyrics are usually left out of the song, but Cooder puts them back in, seeing the value of owning up to the weird and often offensive aspects of early popular culture, which most folks would rather just push under the rug. The result? Though it isn't as much of a feelgood tune as you might have been led to believe, the song makes a lot more sense, and also has a lot more impact.
Ry Cooder "Bop 'Til You Drop" (Warner, 1979)



Billed as the first digitally recorded rock album, this is also one of Cooder's best releases. Includes a cover of Solomon Burke's "Look At Granny Run," a funky duet with Chaka Khan ("Don't You Mess Up A Good Thing"), the sardonic (and potentially offensive) urban travelogue, "Down In Hollywood," and a whole slew of killer singalong tunes. The success of this album is due in no small part to the excellent backing vocals of Bobby King and Terry Evans, who hit a soulful sympathetic vibe with Cooder that doesn't stop for a second. Highly recommended.
Ry Cooder "The Long Riders" (Soundtrack) (Warner, 1980)


Ry Cooder "Borderline" (Warner, 1981)


Ry Cooder "The Slide Area" (Warner, 1982)


Ry Cooder "Paris, Texas" (Soundtrack) (Warner, 1985)



Cooder has made about a dozen soundtrack albums, dating back to the early '70s. This one, made for Wim Wenders' arthouse masterpiece, is certainly one of the best. It would be hard to imagine the impact of the film without this incredible aural bed -- spooky, haunting slide guitar which stands up on its own, separate from the film. This also includes the famous, "I knew this man" monologue by Harry Dean Stanton. Recommended.
Ry Cooder "Alamo Bay" (Soundtrack) (Warner, 1985)



<! with David Hildago, Cesar Rojas, John Haitt >
Ry Cooder "Crossroads" (Warner, 1986)


Ry Cooder "Get Rhythm" (Warner, 1987)


Ry Cooder "Johnny Handsome" (Soundtrack) (Warner, 1989)


Ry Cooder & V. M. Bhatt "A Meeting By The River" (Water Lily Acoustics, 1993)



A strong collaborative effort with Indian classical player, Bhatt. Cooder is almost out of his depth here, seeking to match his slide style to the uniquely complex tonalities of Indian classical music. But the respectfulness with which he approaches it, and the restraint he shows in his playing place him leagues above any sitar-wielding wannabees you can imagine. Bhatt and Cooder hit a gorgeously sympathetic groove, with Cooder subsuming himself to the classical style for the first half of the disc, then moving in the second part to more overtly define the melodies in terms of the Delta blues riffs that he is a master of. "Isa Lei," the dreamy Hawaiian/acoustic folk instrumental which rounds the record off, is pure beauty. You should give this one a try.
Ry Cooder & Ali Farka Toure "Talking Timbuktu" (Rykodisc, 1994)



Less successful, or perhaps just less interesting, is this set of duets with African pop star, Ali Farka Toure. I think the main problem for me is that I've never been taken much with Farka Toure's music... It sounds great on paper -- a master musician from Mali who plays his own version of American blues -- but his records always leave me flat. There are plenty of other people, however, who absolutely adore this album, so take my gruff distain with a grain of salt.

Buena Vista Social Club "Buena Vista Social Club" (Nonesuch/World Circuit, 1997)



Ry put together this fabulous Cuban ensemble, produced the album, and played on most of the tracks, along with his son, percussionist Joaquim Cooder. Ry's influence is pretty profound, particularly in the gently insistent melodic bluesiness... Some folks think it's an intrusion on the rhythmic emphasis of Cuban son; Personally, I like it a lot. For more information, check out my Buena Vista Social Club page.
Ry Cooder & Miguel Galban "Mambo Sinuendo" (Nonesuch, 2003)



A playful instrumental collaboration with Cuban guitarist Manuel Galban, of the 'early 60s doowop/pop/son ensemble, Los Zafiros. It took me a while to warm to this record, but when I did I was won over... It's a fun, spirited collabration, and Cooder and Galban obviously got a real kick out of working together. It did seem, however, like territory that's already been covered in recent years -- rock-tinged. latin-dance-y, neo-exotica, as heard in the work of bands such as The Friends Of Dean Martinez, Marc Ribot, et al. Still, Ry's a master of world pop, a trailblazer who was touching on this material decades ago, and he still has a masterful touch. Longtime fans and devotees-by-way-of-Buena Vista alike will not be disappointed.
Ry Cooder "Chavez Ravine" (Nonesuch, 2005)



A densely-packed, musically eclectic concept album exploring the cultural losses and economic conflicts brought about when the Dodgers baseball team moved to Los Angeles and plowed over a vibrant Latino neighborhood in order to build their new stadium. Cooder tackles the topic from a variety of perspectives, and even ties the postwar push for gentrification and whitening-up of LA with political topics like the postwar "red scare" that led the Congressional House Un-American Activities Committee to subpoena local civic activists and community leaders. The album pays homage to various musical figures of the era, such as pachuco boogie and LA's vibrant bop and post-bopjazz scene, and features contributions from numerous guest artists, including David Hildago of Los Lobos, pachuco elders Lalo Guererro and Don Tosti, Little Willie G, jazz pianist Jacky Terrason and Ry's old pal, Flaco Jimenez, who adds a little ranchera swing alongside the latino blues... His son, Joaquim, plays percussion and drums throughout, and seems to be stepping up to take over the family business... I'm not sure Cooder always hits the right balance between politics and art, and parts of this album may be a little thick for the average listener... But at least it does have substance, and Ry should be applauded for trying to say something meaningful and for giving an audience to some of our country's forgotten voices and musical styles... The old barrios come alive in this sometimes swinging, sometimes spooky album, which should rank as one of the more notable Americana releases of the year. Worth checking out.
Ry Cooder "My Name Is Buddy" (Nonesuch, 2007)


Ry Cooder "I, Flathead" (Nonesuch, 2008)


Ry Cooder & The Chieftains "San Patricio" (Hear Music, 2010)


Ry Cooder "Pull Up Some Dust And Sit Down" (Nonesuch, 2011)


Ry Cooder "Election Special" (Nonesuch, 2012)


Ry Cooder "Live In San Francisco" (Nonesuch, 2013)






<! Nonesuch / Perro Verde Records release Ry Cooder's first live record in more than 35 years, Live in San Francisco. Recorded in 2011 during a special two-night engagement at San Francisco's Great American Music Hall, the album includes 12 songs and was produced by Cooder. The Corridos Famosos band includes Joachim Cooder on drums; Robert Francis on bass; vocalists Terry Evans, Arnold McCuller, and Juliette Commagere; Flaco Jimenez on accordion; and the ten-piece Mexican brass band La Banda Juvenil. Live in San Francisco includes original songs and interpretations of other material ranging across Cooder's entire career, from classics like "Boomer's Story" and "Dark End of the Street" to more recent originals such as "Lord Tell Me Why" and "El Corrido de Jesse James, " with a detour for Sam the Sham and the Pharaohs' "Wooly Bully" and Lead Belly's "Goodnight Irene. " Cooder's only previous live album was the 1977 release Show Time, on which Evans and Jimenez were also featured. Show Time was also recorded at San Francisco's Great American Music Hall. >

---
Best-Ofs & Related Records
---
Rising Sons "The Rising Sons... Featuring Taj Mahal And Ry Cooder" (Sony-BMG/Columbia Legacy, 1992)


Bobby King & Terry Evans "Live And Let Live" (Rounder, 1987)


Ry Cooder "Why Don't You Try Me: The Best Of Ry Cooder" (WEA, 1992)


Only thirteen tracks, but they all sure are nice...
Ry Cooder "River Rescue: The Very Best Of Ry Cooder" (WEA, 1999)


Nineteen slices of pure Cooder heaven.
Ry Cooder "Music By Ry Cooder" (Warner, 1995)



Although his score for Paris, Texas was fabulously spooky and evocative, I find a lot of his other soundtrack work to be comparatively lackluster. Here's two whole CDs worth with which you can form your own opinion. Mostly pretty easy on the ears -- pretty much the mellow, moody slide work you would expect. However, there are also some jarring (and not particularly wonderful), clangy rocknroll sequences as well.
Ry Cooder "The UFO Has Landed" (Rhino, 2009)


---
Links
---
Rylanders has tons of great information -- a complete discography, including scans of all his album covers and track listings, as well as a complete list of all his singles, soundtracks, collaborations and studio work. The one thing it surprisingly lacks is a biography(!) A stripped-down version of the discography is also posted at Rylanders website. It may be a little easier to navigate.
Marc's Easy Guitar Chords page includes user-friendly tabs and lyrics for the lion's share of Ry's music, as well as some info about the tunings and types of guitars Cooder uses. Nice resource!
Addicted To Noise has a nice interview article by Neil Strauss that was written when Cooder released his 1994 album with Ali Farka Toure. This looks like the kind of webpage that will disappear some day... so enjoy it while you can!
---