<! cd = 05/17/14 > <! MP3 00/00/00 > <! outside 00/00/00 > <! pix 00/00/00 > <! 208-pix: 00/00/00 > <! styles: Hillbilly Fillies, Real Hicks > <! UPDATES: 00/00/00 >
---
Helen Hagstrom, aka Carolina Cotton, is a little-remembered, post-WWII yodeler who worked extensively with guitarist Merle Travis, bandleaders Spade Cooley and Bob Wills, and many of the West Coast honkytonk-swing scene elite. A dynamic and prolific performer, Carolina had her peak in the era before LPs, and is one of the many great hillbilly stars whose legacy was unremembered for many years as a result. Here's a quick look at her work...
---
Discography - Best-Ofs
---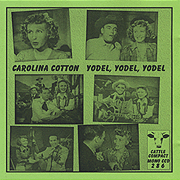 Carolina Cotton "Yodel, Yodel, Yodel" (Binge Discs, 2003)
Outstanding! A great selection that embodies the captures the wildness and verve of West Coast country in the postwar years. There's lots of accordion on here, as well as Cotton's winsome vocals -- and she was one heck of a singer! Her signature tune was "Three Miles South Of Cash (In Arkansas)," a reference to her hometown, where she was born just before the Great Depresssion... There are three versions of the song on here, two from live transcription recordings, and one from a 1952 MGM single; the material on this disc comes from a variety of sources, mostly from "Soundies" transcriptions and other radio shows, but also from various movie appearances and a handful of singles, scattered over several labels. It's all pretty good, with some stuff that's surprisingly electrified and other material that's straight out of the West Coast playbook... This disc was one of my big new discoveries of the year -- a great country gal singer, with a big, friendly voice and plenty of great songs. The only weak spot on the album is a live 1946 recording of a great novelty song, "I'd Like To Be A Cowgirl (But I'm Afraid Of Cows)," which has the hilarious chorus, "Moo! Moo! Moo! How they scare me..." A wonderful tune, but unfortunately the source material is very poor, and while you can easily enjoy the song at home, I wasn't able to play it on the radio. The rest of the album sounds fine, though... All in all, this disc is a real find. Highly recommended!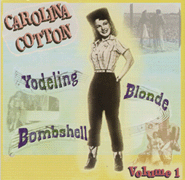 Carolina Cotton "Yodeling Blonde Bombshell, v.1" (Self-Released, 2006)



This is a real gem, a lively, long-overdue collection of prime material from one of the West Coast's most vivacious postwar country gals... Carolina Cotton, was a consummate country performer, belting out lively western swing novelty tunes, heartsongs, yodels and Western ballads, singing alongside folks like Bob Wills, Ernest Tubb, Spade Cooley, Joe Maphis, Deuce Spriggins, and Hank Penny... She easily kept up with all these high-power bandleaders, singing with as much gusto and guts as the style required. It's amazing, really, that she isn't more well-known -- she certainly must have cut quite a figure in California's booming country scene, and there weren't many women out there in the forefront at the time. Anyway, this is great record, self-released by Carolina Cotton's daughter, and available through her website, www.carolinacotton.org It has great sound quality, tons of fun songs and great performances... Her high energy and good cheer will win you over every time... If you're into discovering the hidden history of women in country music, this disc is a must-have!

Carolina Cotton "Yodeling Blonde Bombshell, v.2" (Self-Released, 2010)



As in the first volume, this second disc of archival recordings is uniformly magnificent and full of fun. It's packed with tons of zesty songs and great performances, including several singles on the MGM label and old airchecks for the Armed Forces Radio Service and even an extended sample of her own radio show, "Carolina Cotton Calls," where she's backed by Joe Maphis and others. The sound quality is great, as are the songs, which include a great version of "I'd Love To Be A Cowgirl (But I'm Afraid Of Cows)" which is one of my all-time favorite cowpunchin' novelty songs. Carolina's high energy and gutsy good cheer will win you over every time... If anything, this volume is even better than the first -- and that one was a gem! Highly recommended.

<! 144 x 144 >

---
Links
---
---