<! MP3 04/05/09 > <! update 04/05/09 > <! outside 00/00/00 > <! pix 00/00/00 > <! 208-pix: 00/00/00 > <! icons 03/14/11 >
---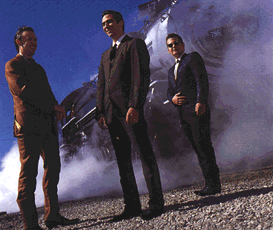 These snappy dressers from Austin, TX are the Buck Owens band with the rockabilly look. You don't believe me? Then check out their records! They've got a big, bright, blow-your-mind sound that echoes Buck's glory days with Don Rich, with pretty much the same electric guitar tone and rock-flavored bounce. Heck, Owens even asked them to back him up a time or two, down at his Crystal Palace club in Bakersfield, so I guess that makes it official. Fine, old-fashioned, uncomplicated, super-catchy country music with a roots rock feel... A fun band!
---
Discography
---

The Derailers "Live Tracks" (Freedom, 1995)


Apparently the band has disavowed this CD of old radio performances and demo tracks -- released by an indie label after their first album (below) came out -- although I don't know what they're so worried about... Sounds fine to me! I guess these tracks that were taped live at an Austin radio station are too demo-y and raw for them now, but fans should find it quite enjoyable. They were a darn good band!

The Derailers "Jackpot!" (Watermelon, 1996)


(Produced by Dave Alvin)
My favorite Derailers album. An exuberant burst of Buckophilia that's pretty hard to resist, what with its joyous mix of melody, twang, catchy lyrics and nasal choruses-- this is country pop like it oughtta be. It has exactly the same appeal as Owens' music had in the early 1960s: it's FUN. Produced by Dave Alvin, this one's a winner.

The Derailers "Reverb Deluxe" (Watermelon/Sire, 1997)


(Produced by Dave Alvin)
This one seems a little choppier, and less sure of its aesthetic direction, but it still rocks. Sounds like they were trying to second-guess the larger audience that major-label distribution would bring them. Fortunately, they don't screw it up with overly-bombastic production, and there's plenty of good stuff on here (especially "California Angel" And "Pawnshop Wedding Rings")... It'll be interesting to see where they go from here.

The Derailers "Full Western Dress" (Sire, 1999)



(Produced by Dave Alvin)
Well, here's the answer. This is a surprisingly lightweight offering from these kings of the West Coast Country revival... they seem to have made the (natural?) progression from Buck Owens worshippers into a band that might have appeared as Buck's guest on Hee Haw, circa 1974... Which isn't to say that this album is bad, just that it's much poppier and less hard country than their old stuff, and maybe a bit gimmickier in the songwriting department. Lots of numbers about the Working Man, and novelty songs with simple, paradoxical turns of phrase... the are even some light, Beatles-y vocals on songs such as "Whatever Made You Change Your Mind". I suppose this means they're aiming for the same audience as the Mavericks; this "new" sound will take a little getting used to, but good luck to them, anyway. If anyone deserves a crack at the Top Forty, it's these guys.

The Derailers "Here Come The Derailers" (Sony/Lucky Dog, 2001)



(Produced by Kyle Lehning)
Whew. What a relief!! The Derailers recapture their hard country muse, delving a little into their Buck-like reserves, but also branching into a few other styles... The good news, no, wait, the great news is that they've "got it" again, and this is an album that will cheer up the troops and give hope for the future of honkytonk country. Sure, there are a few slower tunes worthy of Don Williams in his gruffer, early-'80s phase, but there are also winners such as "More Of Your Love" (which opens the album) and the George Jones-y "I'd Follow You Anywhere," which reaffirm their faith in good old simple country songs that are just what they are. Worth checking out.
The Derailers "Genuine" (Sony/Lucky Dog, 2003)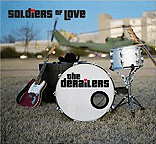 The Derailers "Soldiers Of Love" (Palo Duro, 2006)



These alt-country elders are still chuggin' away, though some might say with mixed results. There's some true twang on here, as on the album's opener, "Cold Beer, Hot Women & Cool Country Music," the slower "Every Time It Rains," and the Johnny Cash tribute, "An American Man." But there's also some would-be mainstream pop ("Hey, Valerie," "Everything I Believe In"), some strained metaphors ("She's A Lot Like Texas") and a strong sense that the band is kind of doing it by the numbers... They're solid musicians and when they play with a backbeat, I'm right there with 'em, but some of their digressions lose me a little. Not as much of an outright blast of fun as some of their earlier albums, but still some fun stuff... If you've been a fan before, this is worth checking out, but it's not as twangy as you might expect.
The Derailers "Sony Connect Sets" (EP) (Palo Duro/Fontana, 2006)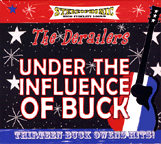 The Derailers "Under The Influence Of Buck: Thirteen Buck Owens Hits" (Palo Duro, 2007)



(Produced by Brian Hofeldt)
Not just under the influence of the late, great Buck Owens, but under his direct tutelage... During Buck's last few years, the Austin-based Derailers frequently played at the Owens' fabled Bakersfield nightclub, the Crystal Palace, and often backed Buck himself, on some of his own live gigs. The band started out in the 1990s with a heavy debt to the bouncy, popped-up "Bakersfield Sound" that Buck Owens pioneered, so here they've come full circle, paying a direct homage to their idol after having met him and done gigs in his home turf. These faithful covers of "Love's Gonna Live Here," "Tiger By The Tail," "Cryin' Time," et al., don't quite match the goofball intensity of the Owens originals, but they're still pretty fun. Wonder if they recorded any stuff with Buck himself? That'd be fun to hear! In the meantime, the pop-twang of Buck is alive and well, courtesy of his young pals in Texas.

The Derailers "Guaranteed To Satisfy" (Palo Duro, 2008)



Yahoo! Now that they've come out with another winner, I guess I can sheepishly admit that this Austin-based twang band had lost my attention on their last couple of albums... But with this latest, they've definitely got me hooked, particularly with a bouncy, twangy, irresistible opener like "Bad Bad Girl," and the title track, "Guaranteed To Satisfy," which is a perfect combination of their '60s-ish power pop fixation and a pedal steel drenched pure country. Longtime fans bemoan the loss a while back of the band's co-founder Tony Villanueva, but y'know what? Life goes on. Just looking at this album for what it is, I'd say it's a pretty strong offering... I still find pure-pop digressions (like "The Get-Go" and "The Sun Is Shining On Me") to be a little incongruous, but I've grown to accept the band's sincere interest in the style, and I can cut 'em some slack when they deliver on the more rugged stuff. This is definitely worth checking out.
Download picks:

Bad Bad Girl


Guaranteed To Satisfy


Wallflower

The Derailers "Live! From Texas" (Varese Fontana, 2010)


One of the stalwart bands of the Austin indie scene chugs along with a good-timin' live set... Bandleader Brian Hofeldt has been the doing most of the heavy lifting since lead singer Tony Villanueva left (almost a decade ago! how time flies...) and this disc leans heavily on Hofeldt originals, which of course have plenty of twang. Nice to see these guys keeping the faith.
---
Best-Ofs
---
The Derailers "The Derailers Retrospective: Just One More Time" (Varese Sarabande, 2006)

---